2015 Leaf Q trading cards, where everything is autographed unless the name is Babe Ruth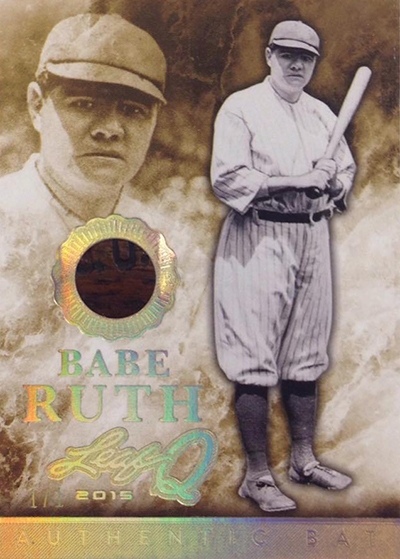 By Ryan Cracknell | Hobby Editor
2015 Leaf Q covers several sports with a high-end flare, just like it did in its debut 2014 release. Overall, there's a lot of continuity in the themes and content. However, the biggest difference is that, unless the card features Babe Ruth, every card in the product is autographed.
Each single-pack box of 2015 Leaf Q has five cards.
The focus is on-card signatures when it comes to autographs in the product. This isn't the case for all cards, but it is for the majority. Signed cards come in several forms including base-style autographs and autographed memorabilia cards.

2015 Leaf Q also has a selection of Pure autographs that are done on thick plexiglass stock. Never say never, but according to Leaf, these are slated to be the last Pure autographs for a while.
It takes a lot to make an intriguing Pete Rose autograph these days and this product manages to do it. Baseball's all-time hit leader is paired with cut signatures of A. Bartlett Giamatti, the late MLB commissioner who banned Rose from baseball for gambling.
Babe Ruth, who is getting his own set from Leaf in 2016, is featured on game-used bat cards.
One of the most notable cards in 2014 Leaf Q was a Pure autograph featuring Ed O'Neill as Al Bundy from TV's Married with Children. Further adding to the cards appeal was the football pose that was a big part of the show and Al's character. Leaf is bringing more pop culture to 2015 Leaf Q. Chevy Chase has a certified autograph for the first time (barring a surprise card that comes out before Q). The picture used on the card comes from Fletch. The product also has Al Pacino on the checklist, featured from the football film Any Given Sunday.
Other signers in 2015 Leaf Q include: Tom Brady, Pele, Ken Griffey Jr, Cristiano Ronaldo, Hank Aaron, Lionel Messi, Brett Favre, Neymar Jr, Mike Tyson and Jack Eichel.
The print run of 2015 Leaf Q is limited to 399 cases, each with four boxes.
2015 Leaf Q at a glance:
Packs per box: 1
Cards per pack: 5
Boxes per case: 4
Release date: April 27, 2016
What to expect in a hobby box:
• Autographs or Memorabilia Cards – 5
Comments? Questions? Contact Ryan Cracknell on Twitter @tradercracks.