2015 Leaf 25th Baseball recalls memorable 1990 set
1990 Leaf Baseball is one of those sets that helped guide the hobby into premium territory. Although it might not hold as much monetary value as it used to, it's still a modern classic. While the set has been commemorated a few times in the last couple of years, it hasn't been quite like 2015 Leaf 25th Baseball.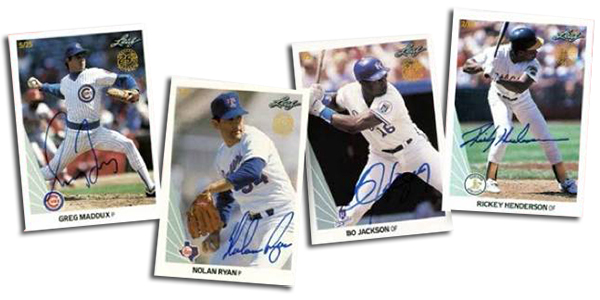 The all-autograph release mixes new spins on the old design as well as signed buybacks from the original release.
Every box of 2015 Leaf 25th Baseball has four cards. The approach is sort of like a blend of the Leaf Memories Baseball products released in 2012 and 2013 with Leaf Trinity.
For starters, there are signed buybacks of original 1990 Leaf Baseball cards. These come with a special foil stamp that show what release they're from. Similar buybacks in Leaf Memories products were stamped differently and numbered to the player's jersey number. 2015 Leaf 25th Baseball Buyback Autographs also have parallels of varying quantities. All are numbered to 25 or less.
Here's where the Trinity comparisons come into play.
The 1990 design is used as the basis for three different autograph inserts. Metal is done on chromium-style stock. Pure Autographs use thick plexiglass. Finally, there's Clear autographs, which are printed on acetate. All three designs come with multiple parallels.
Signers are a mix of prospects and retired players. Jameis Winston has also signed a limited number of cards for all three designs.
2015 Leaf 25th Baseball sees the return of Ichiro autographs for the company. New cards featuring the 2011 Leaf Metal Draft design, including parallels, can be found.
2015 Leaf 25th Baseball at a glance:
Packs per box: 1
Cards per pack: 4
Boxes per case: 12
Release date: December 17, 2015
What to expect in a hobby box: