2015 Donruss Soccer Variations Gallery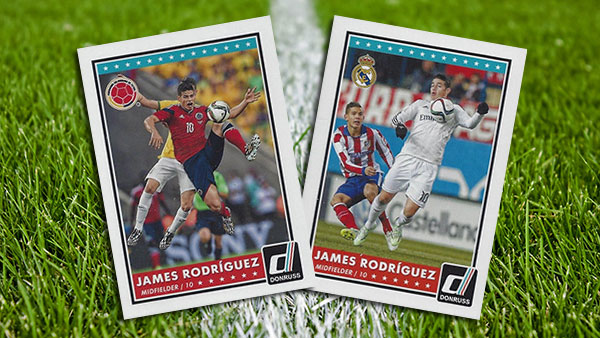 By Ryan Cracknell | Hobby Editor
The 2015 Donruss Soccer variations take a patriotic spin. More than 20 players have an alternate base card that pictures them in their national team uniforms instead of their professional kits like their main cards.
With the set's international flavor, that means players are among the world's best like James Rodriguez, Neymar Jr. and Lionel Messi.
Panini hasn't released odds on the variations, but they don't appear to be very tough to find.
If you're familiar with soccer's international scene, spotting them should be easy. The images, kits and logos are all different. Backs also come with different logos and write-ups.
Like the base set, 2015 Donruss Socccer variations all have lots of parallels, all of which are serial numbered:
Bronze Press Proof /299
Silver Press Proof /199
Gold Press Proof /99
Red Soccer Ball /49
Green Soccer Ball /25
Gold Panini Logo /10
Black 1/1
It is worth noting that the set was originally advertised as having 25 variations. The final tally on the checklist is 21, though.
If you're wondering if you've pulled one of the variations from 2015 Donruss Soccer, here's a look at all of them. They're paired up with their respective base cards for easy reference and comparison.
2015 Donruss Soccer Variations Gallery
3 James Rodriguez
12 Stephan El Shaarawy
26 Mario Mandzukic
27 Antoine Griezmann
36 Wesley Sneijder
40 Manuel Neuer
41 Thomas Muller
43 Arjen Robben
44 Philipp Lahm
46 Mario Gotze
48 Alan Dzagoev
53 Edinson Cavani
54 Thiago Silva
55 David Luiz
56 Thiago Motta
63 Orbie Peralta
68 Lionel Messi
69 Neymar Jr.
70 Luis Suarez
74 Dani Alves
76 Kostas Mitroglou