2015 Cryptozoic Penny Dreadful Season 1 trading cards info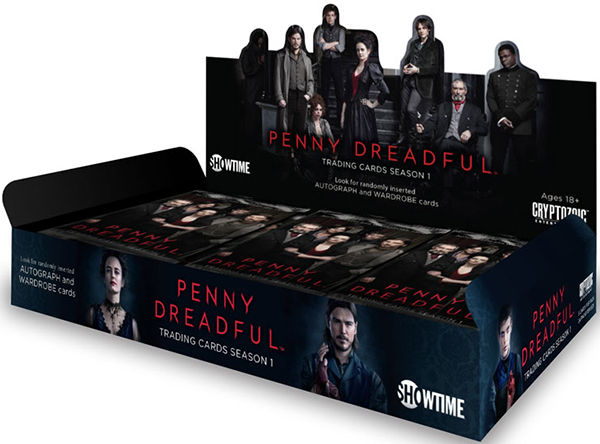 By Ryan Cracknell | Hobby Editor
What happens when you take some of the 19th Century's greatest literary characters and put them together into a cable TV series? You get Penny Dreadful. It's a little creepy, sometimes edgy and filled with familiar names — both in its stars and character names. 2015 Cryptozoic Penny Dreadful Season 1 trading cards follow a familiar pattern for the card maker.
The set has a mix of base cards, themed inserts and several premium chase elements. Boxes have both an autograph and a costume card.
Base Set
The 2015 Cryptozoic Penny Dreadful Season 1 base set has 72 cards. With just eight episodes to draw from, it allows for some room to go a little more in depth than a season with more than 20 episodes or a set that covers a show's entire run.
Base cards stick to the episodes themselves with each using images from the show. Other elements and promotional artwork are saved for the inserts.
The only parallels announced at this point are Printing Plates.
Autographs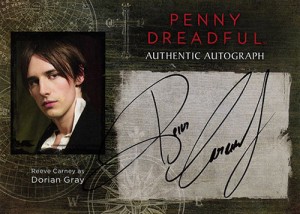 Signed cards are inserted one per box. The show's biggest names are Eva Green (Vanessa Ives), Timothy Dalton (Sir Malcolm Murray) and a returning Josh Hartnett (Ethan Chandler) who hasn't been in much in nearly a decade. None of these have been confirmed as signers.
As a company policy, Cryptozoic only announces autographs once they're in-hand. Here's a list of who will be (so far):
Simon Russell Beale as Ferdinand Lyle
Reeve Carney as Dorian Gray
Henry Goodman as Priest
Oliver Cotton as Father Matthews
Michael James Ford as Gordon Ives
Rory Kinnear as The Creature
Joseph Millson as Captain Branson
Robert Nairne as Vampire
Nathan O'Toole as Ernest
Alex Price as Proteus
Danny Sapani as Sembene
Noni Stapleton as Gladys Murray
Hannah Tointon as Maud Gunneson
Harry Treadaway as Dr. Victor Frankenstein
Wardrobe and Memorabilia Cards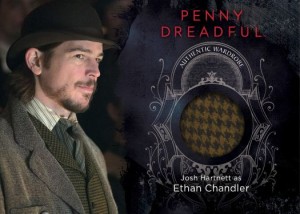 2015 Cryptozoic Penny Dreadful Season 1 has both Wardrobe and Relic cards that use items from the show's production. Like autographs, Wardrobe cards are also one per box. Main and secondary characters make their way into this part of the set. The intricate period clothing should make for swatches that are more intriguing than a plain, single-colored shirt.
A Quintuple Wardrobe card is limited to 25 copies. It has costume pieces from Dorian Gray, Dr. Frankenstein, Sir Malcolm Murray, Vanessa Ives and Ethan Chandler.
Memorabilia cards are harder to find. Inserted 1:72 packs, they work out to every third box. Among them is a deck of tarot cards used by Green's character, Vanessa Ives. These have been cut up to fit the dimensions of trading cards. They're reminiscent of relic cards from Rittenhouse's Complete James Bond released back in 2007. That set included pieces of tarot cards used in Live and Let Die. Other pieces come from artifacts and props found in the show.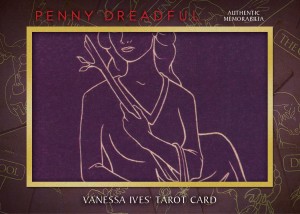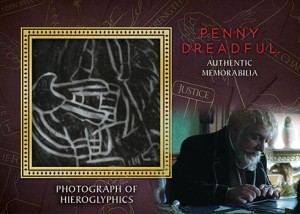 Other Inserts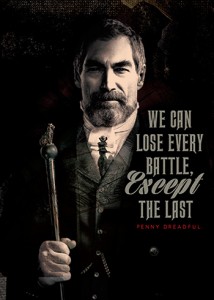 It's not unusual for Cryptozoic to include multiple insert sets to go along with the hits. However, this product sees them seeded in a way that most packs will have some sort of chase card. Character Bios, Etchings and Quotable expand on the product's focus without repeating elements from the base set. All three are inserted at a rate of 1:4 packs.
On the tougher side are Tarot inserts that land 1:32 packs.
Sketch cards are the toughest inserts in 2015 Cryptozoic Penny Dreadful Season 1. Falling 1:344 packs, these have original artwork. The tarot theme carries over with colorful interpretations of what the cards could look like.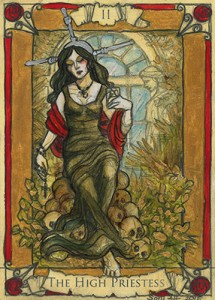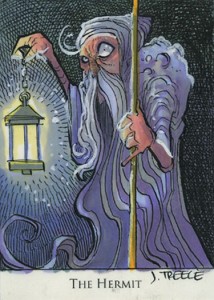 Sketch Card Artists
Melike Acar
Soni Alcorn-Hender
Mark Bloodworth
Matt Hansen
Tirso Llaneta
Chris Meeks
Jeremy Treece
A binder is available separately that comes with a Prop card of Dr. Victor Frankenstein's Anatomy book that's not available in packs.
2015 Cryptozoic Penny Dreadful Season 1 at a glance:
Packs per hobby box: 24
Cards per pack: 5
Set size: 72 cards
Tentative release date: TBA
What to expect in a hobby box:
Autographs – 1
Wardrobe Cards – 1
Character Bios Inserts – 6
Etchings Inserts – 6
Quotable Inserts – 6