2016 Cryptozoic Hobbit: Battle of the Five Armies Trading Cards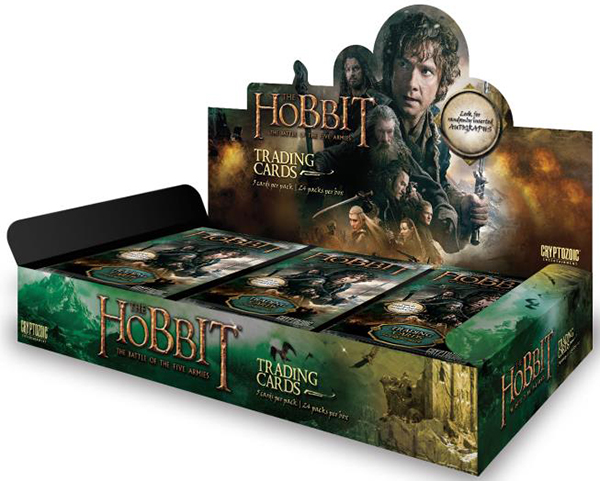 By Ryan Cracknell | Hobby Editor
One book, three (long) movies. Peter Jackson's epic take on The Hobbit has long since wrapped. 2016 Cryptozoic Hobbit: Battle of Five Armies trading cards bring a sense of closure to the trilogy from a hobby perspective. Like the sets for the previous two films, the product offers a rounded look at the Middle Earth adventure.
Autographs and Fine Art cards highlight the chase elements.
Get a fully sortable 2016 Cryptozoic Hobbit: Battle of Five Armies checklist and price guide access.
Base Set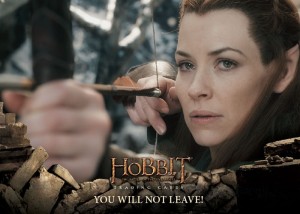 The base set has 90 cards. All come with movie images. Because the trading cards are coming out well after the film's release, it covers the entire story and uses effects shots that might not have been available if they came out while The Battle of the Five Armies was in theaters.
Base cards and Weapons inserts have a couple of parallels. Foil are the most common, landing 1:6 packs. Canvas cards are one per box. Arkenstone Foil are one-of-ones inserted 1:1,745 packs. Printing Plates (1:398) are also randomly included.
Autographs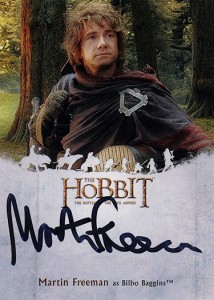 Autographs are inserted one per box. 2016 Cryptozoic Hobbit: Battle of Five Armies does have multiple designs for signed cards. This is in line with The Desolation of Smaug. Signers include Martin Freeman (Bilbo Baggins), director Peter Jackson, Evangeline Lilly (Tauriel), Lee Pace (Thranduil) and composer Howard Shore.
Basic autographs come with a design similar to the previous two Cryptozoic Hobbit sets. Jackson and Shore have Creator Autographs, which use a Middle Earth map as its backdrop.
Rarer signed cards come in the form of Poster Design (/75) and Illustration (/25). These are only available for a small number of signers.
In addition to these are a very limited number of redemptions for signed over-sized cards. One has five signatures while the other has 13.
Autographs Checklist
Basic Autographs
AB Adam Brown as Ori the Dwarf
AT Aidan Turner as Kili the Dwarf
EL Evangeline Lilly as Tauriel
GM Graham McTavish as Dwalin the Dwarf
IH Sir Ian Holm as Bilbo Baggins
JN James Nesbitt as Bofur the Dwarf
JBR Jed Brophy as Nori the Dwarf
JBE John Bell as Bain son of Bard
JC John Callen as Oin the Dwarf
JT John Tui as Bolg
KS Ken Stott as Balin the Dwarf
LP Lee Pace as Thranduil
LE Luke Evans as Bard the Bowman
MB Manu Bennett as Azog
MH Mark Hadlow as Dori the Dwarf
MF Martin Freeman as Bilbo Baggins
MN Mary Nesbitt as Tilda
PN Peggy Nesbitt as Sigrid
PH Peter Hambleton as Gloin the Dwarf
RA Richard Armitage as Thorin Oakenshield
RG Ryan Gage as Alfrid
SH Stephen Hunter as Bombur the Dwarf
WK William Kircher as Bifur the Dwarf
Creator Autographs
CA-1 Peter Jackson, Director
CA-5 Howard Shore, Composer
Poster Autographs – /75
AT-P Aidan Turner as Kili the Dwarf
GM-P Graham McTavish as Dwalin the Dwarf
KS-P Ken Stott as Balin the Dwarf
LP-P Lee Pace as Thranduil
MF-P Martin Freeman as Bilbo Baggins
Illustration Autographs – /25
AT-I Aidan Turner as Kili the Dwarf
GM-I Graham McTavish as Dwalin the Dwarf
KS-I Ken Stott as Balin the Dwarf
LP-I Lee Pace as Thranduil
MF-I Martin Freeman as Bilbo Baggins
Over-Sized Autograph Redemptions – 1:7,280
R5 Richard Armitage, Martin Freeman, Lee Pace, Sylvester McCoy, Manu Bennett
R13 Richard Armitage, Graham McTavish, Ken Stott, Aidan Turner, Dean O'Gorman, Mark Hadlow, Jed Brophy, Adam Brown, John Callen, Peter Hambleton, William Kircher, James Nesbitt, Stephen Hunter
Fine Art Cards
Fine Art cards feature original artwork. While a lot of sets, including many of Cryptozoic's own, opt for the sketch card label, the distinction here is the level of the art work. They're more than a quick doodle or simple drawing. Fine Art cards are inserted approximately 1:3 boxes.
Artists
Here's a list of the artists working on the product:
Melike Acar
Kristin Allen
Kyle Babbitt
Mikey Babinski
Dan Bergren
Scott Blair
León Braojos
c4nbaran
Carlos Cabaleiro
Scott Carola
Francois Chartier
Dana Condel
Doug Cowan
Paul Cowan
Richard Cox
Ted Dastick, Jr.
David Desbois
Louise Draper
Marcia Dye
Carolyn Edwards
Gabe Farber
Andy Fry
Fer Galicia
Mick & Matt Glebe
Javier Gonzalez
Ken Gordon
Dan Gorman
Charles Hall
Patrick J. Hamill
Ingrid Hardy
Robert Hendrickson
Scott Houseman
Gavin Hunt
Seth Ismart
Debbie Jackson
Mike James
Achilleas Kokkinakis
Eric Lehtonen
Tim Levandoski
Lee Lightfoot
Shane McCormack
Chris Meeks
Ken Meyer Jr.
Sol Mohamed
Rich Molinelli
Nathan Nelson
Nick 'NIK' Neocleous
Veronica O'Connell
Sean Pence
Kris Penix
Plinio Marcos Pinto
Ashleigh Popplewell
Jason Potratz and Jack Hai
Tim Proctor
Fabian Quintero
Jack Redd
M. Jason Reed
Keven Reinke
Nathen Reinke
Richard Salvucci
Clay Sayre
Danny Silva
John Sloboda
James Henry Smith
Bob Stevlic
Matias Streb
Matthew Sutton
Damien Torres
Brad Utterstrom
Helga Wojik
Inserts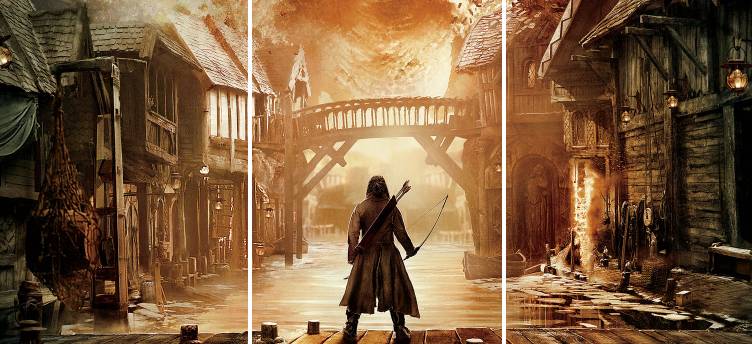 Some of the basic inserts make themselves distinct with how they're produced. A Smaug Puzzle (three cards, 1:24 packs) uses Cryptomium, the card maker's spin on chromium. Portraits (six cards, 1:48) offer close-up looks at key characters. Lenticular Poster (five cards, 1:144) cards can also be found in the product. Other inserts include Weapons (nine cards, 1:4) and foil Character Biographies (six cards, 1:12).
2016 Cryptozoic Hobbit: Battle of the Five Armies trading cards at a glance:
Packs per box: 24
Cards per pack: 5
Set size: 90 cards
Release date: February 3, 2016
What to expect in a box:
Autographs – 1
Smaug Puzzle Inserts – 1
Character Biography Inserts – 2
Weapons Inserts – 6
Canvas Parallels – 1
Foil Parallels – 4