Yea or Nay? 2015 Contenders Football Jarryd Hayne rookie card gets "No Autograph" stamp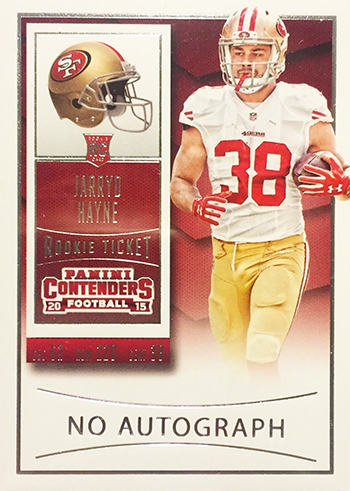 By Ryan Cracknell | Hobby Editor
If you pull a 2015 Panini Contenders Jarryd Hayne (they're short-printed, so they're tough), you'll immediately notice something curious about it. Unlike all the other Rookie Ticket Autographs, there's no signature to be found. In its place? A foil stamp stating, "No Autograph."
The lack of signature makes that obvious, but for Panini, it's intended to be a throwback to past Contenders cards where autographs were, ultimately, not available. But this was only after autographs were thought possible and included in packs as redemptions.
Hayne, an Australian rugby star, joined the San Francisco 49ers this season. According to their blog, The Knight's Lance, Panini tried to get Hayne to sign autographs but were unable to. Rather than leaving him out of the product entirely, the card maker opted to still produce a card, albeit with the "No Autograph" notation.
Panini notes that the 2015 Panini Contenders Jarryd Hayne is an "SSP" meaning that few copies exist. And while it's numbered within the Rookie Ticket Autographs subset, it does not count as an autograph among the promised hobby box hits.
The blog post also points out that they didn't want to leave a hole in the checklist, although there are still a few gaps.
This is not the first time the "No Autograph" stamp has been used, but the circumstances are different. In the past, similar cards have been sent to collectors in place of redemptions where the athletes didn't end up signing. A replacement autograph was also included. These go all the way back to the Donruss/Playoff days before Panini acquired the company.
The thing here is that while previous "No Autograph" cards did fill in gaps in checklists, to many collectors, the stamp on these cards is likely a reminder of a long wait that ended up in something they weren't expecting. If they were disappointed, they're probably not going to connect with the intended nostalgia.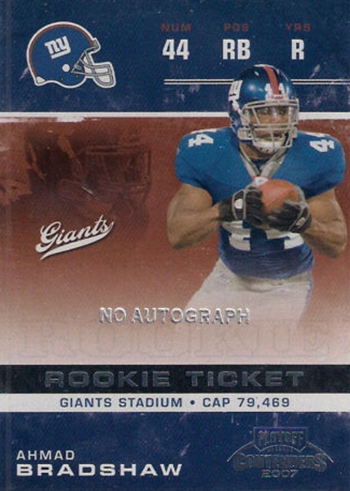 Hayne marks the first time a "No Autograph" card has been included in packs. While it's not likely to cause any ill will in the sense that collectors were expecting a signed card, it begs the question whether the stamp was necessary if there wasn't a signature to start with.
Year after year, Contenders Football delivers one of the deepest checklists when it comes to rookie autographs. Releasing at the end of the season, it let Panini go back and get autographs from breakout players who weren't projected to do much at the start of the season. That's a huge part of the brand's identity.
Short prints and variations are also a big part of the brand now. There's no argument that there's a wide base of collectors who chase both singles and the set. This creates some surprising premiums for players you might not expect to simply because demand from set builders outpaces available supply.
This is what appears to be happening with the Hayne card. It's the first that Panini has confirmed as an SSP. A handful have been listed on eBay already but no base versions have sold. Of the three listed as auctions, bids range from $35 to $101. There's also one sitting with a $799.95 asking price.
In future instances like these, perhaps there's room to play into Contenders' history even more. If it's deemed that a player is unlikely to sign, maybe start with a plain unsigned base card. Then the variation could be a similar card with the "No Autograph" stamp. This plays into the brand's heritage in a couple of different ways while giving collectors a choice in the version they want.
So what do you think of the 2015 Panini Contenders Football Jarryd Hayne "No Autograph"?
Feel free to add your own comments below or connect with us on Twitter.
Comments? Questions? Contact Ryan Cracknell on Twitter @tradercracks.