2015 Breygent Women of Dynamite Sketch Book Series are more fierce than your average Mona Lisa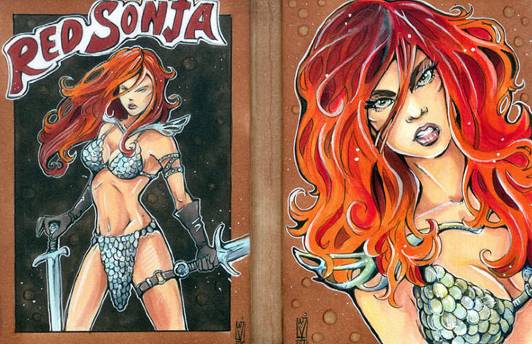 By Ryan Cracknell | Hobby Editor
Why do only one character when you can draw from a much larger selection? 2015 Breygent Women of Dynamite Sketch Book Series takes a premium approach to original art cards covering a variety of popular and fan favorite characters.
The limited edition series is done in conjunction with Dynamite Entertainment. Red Sonja, Lady Death and Vampirella are among the notable names in the publisher's portfolio.
Cards come in two formats. The more common is a standard-sized book card. The second clocks in at a much larger 8″ by 10″.
Standard sketch books open up to have either two separate pieces of artwork or a panoramic piece that stretches across both of the inner panels. Fewer than 450 of these have been produced.
Limited to 40 copies, the larger cards are much more scarce. These have artwork on only only panel but it's big. They're still done like a book card, though.
Compared to a lot of other sketch card checklists, the number of artists participating in the project is somewhat small. That said, there are still more than 30 each with their own style and take on the characters.
2015 Breygent Women of Dynamite Sketch Book Series artist list:
The following list is tentative and may change when the set is released.
Adam Braun
Adam Cleveland
Anastasia Catris
Andy Price
Ashleigh Popplewell
benjamin su
Bill Maus
Charles Hall
Clay Sayre
Edward Cherniga
Erica Hesse
Free Isabelo
Gabby Untermayerova
Gary Kezele
George Webber
Helga Wojik
Huy Truong
Kat Laurange
Kenneth Hutcheson
Kevin West
Kristin Allen
Louis Small Jr.
Marcia Dye
Melike Acar
Mitch Ballard
Roy Cover
Samantha Johnson
Sanna Umemoto
Scott Rorie
Shawn Conn
Steven Miller
Tim Levandoski
Tim Shay
Tirso Llaneta
Veronica O'Connell