And the 2015 Bowman Chrome Baseball Autographs are…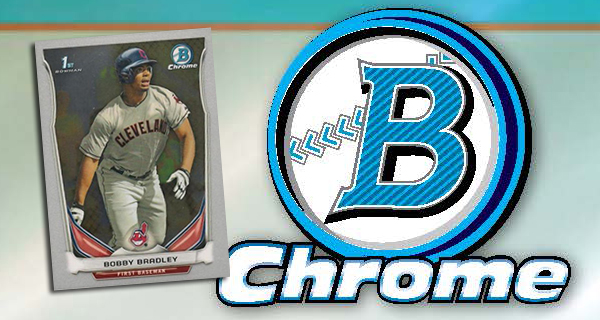 By Ryan Cracknell | Hobby Editor
Much like the first Bowman set of the year, the 2015 Bowman Chrome Baseball Autographs list is huge. Most are prospects appearing in the product for the first time. Collectors can expect a mix of recent draft picks, international signees and others trying to work their way through the minor league ranks.
As was started last year, 2015 Bowman Chrome Baseball hobby boxes have a pair of autographs instead of just one like in Bowman and Bowman Draft. Jumbo boxes come with five autographs.
Besides regular versions each of the 2015 Bowman Chrome Baseball Prospect Autographs comes with a variety of Refractor parallels.
For some of these prospects, this isn't the first time they've appeared on autograph cards. Between USA Baseball and other prospect-driven releases, there are a few oplaces to find some of these signatures. However, it's likely the Bowman Chrome cards will be held in the highest regard as they are their first in a MLB uniform.
In addition to prospects, rookies also have their own line of autographs in the product. Kris Bryant, Byron Buxton, Joc Pederson and Jung Ho Kang are among the players on that part of the checklist
See who has autographs in 2015 Bowman Chrome Baseball after the jump. We've also included pertinent info like existing cards, their draft year, other autographs and more.
2015 Bowman Chrome Baseball Prospect Autographs Checklist
If you want to see full checklists of the players' existing cards, click on the names.
Tampa Bay Rays
SS
Drafted: n/a
DOB: September 2, 1995
Previous autographs in: n/a
Arizona Diamondbacks
SS
Drafted: n/a
DOB: July 10, 1996
Previous autographs in: n/a
Philadelphia Phillies
P
Drafted: n/a
DOB: February 7, 1995
Previous autographs in:
Los Angeles Dodgers
1B
Drafted: 2013, Round 4 (124th overall)
DOB: July 13, 1995
Previous autographs in: n/a
Los Angeles Dodgers
P
Drafted: 2012, Round 9 (296th overall)2013, Round 4 (124th overall)
DOB: July 14, 1994
Previous autographs in: n/a
Cleveland Indians
1B
Drafted: 2014, Round 3 (97th overall)
DOB: May 29, 1996
Previous autographs in:
2013 Leaf Perfect Game
2013 Leaf Power Showcase
2014 Elite Extra Edition
2015 Upper Deck Goodwin Champions
Detroit Tigers
P
Drafted: n/a
DOB: February 7, 1992
Previous autographs in: n/a
Philadelphia Phillies
OF
Drafted: 2014, Round 3 (81st overall)
DOB: June 20, 1992
Previous autographs in:
Chicago Cubs
2B
Drafted: 2012, Round 7 (224th overall)
DOB: November 17, 1990
Previous autographs in: n/a
Chicago Cubs
C
Drafted: 2013, Round 2 (65th overall)
DOB: August 17, 1993
Previous autographs in:
2013 Elite Extra Edition
2013 Panini Prizm Perennial Draft Picks
San Francisco Giants
OF
Drafted: n/a
DOB: March 29, 1991
Previous autographs in: n/a
Toronto Blue Jays
P
Drafted: n/a
DOB: December 24, 1994
Previous autographs in: n/a
New York Yankees
OF
Drafted: 2011, 6th Round (209th overall)
DOB: December 4, 1992
Previous autographs in:
New York Mets
OF
Drafted: 2014, Round 1 (10th overall)
DOB: March 1, 1993
Previous autographs in:
2012 Elite Extra Edition
2012 Prime Cuts
2012 USA Baseball
2013 USA Baseball
2013 USA Baseball Champions
2014 Bowman Sterling
2014 Elite Extra Edition
2014 Leaf Metal Draft
2014 Leaf Trinity
2014 Leaf Valiant Draft
2014 Panini Prizm Perennial Draft Picks
2014 USA Baseball
2015 Bowman
2015 Bowman Inception
2015 Elite
2015 USA Baseball Stars and Stripes
Seattle Mariners
OF
Drafted: 2014, Round 3 (80th overall)
DOB: April 17, 1993
Previous autographs in:
2009-10 USA Baseball
2012 Elite Extra Edition
2012 Prime Cuts
2012 USA Baseball
2013 USA Baseball
2013 USA Baseball Champions
2014 Elite Extra Edition
2014 Panini Prizm Perennial Draft Picks
Houston Astros
3B
Drafted: 2014, Round 3 (75th overall)
DOB: April 27, 1993
Previous autographs in:
Miami Marlins
OF
Drafted: 2012, Round 4 (137th overall)
DOB: October 14, 1993
Previous autographs in: n/a
Texas Rangers
SS
Drafted: n/a
DOB: January 14, 1997
Previous autographs in: n/a
Washington Nationals
SS
Drafted: n/a
DOB: April 2, 1992
Previous autographs in: n/a
Marcos Diplan
Milwaukee Brewers
P
Drafted: n/a)
DOB: September 18, 1996
Previous autographs in: n/a
Baltimore Orioles
3B
Drafted: 2013, Round 7 (219th overall)
DOB: June 24, 1992
Previous autographs in:
Arquimedes Gamboa
Philadelphia Phillies
SS
Drafted: n/a
DOB: September 23, 1997
Previous autographs in: n/a
New York Yankees
SS
Drafted: n/a
DOB: January 7, 1998
Previous autographs in:
2014 Elite Extra Edition
2014 Panini Prizm Perennial Draft Picks
Miami Marlins
P
Drafted: n/a
DOB: January 18, 1993
Previous autographs in: n/a
Wilkerman Garcia
New York Yankees
SS
Drafted: n/a
DOB: April 1, 1998
Previous autographs in: n/a
Amir Garrett
Cincinnati Reds
P
Drafted: 2011, Round 22 (685th overall)
DOB: May 3, 1992
Previous autographs in: n/a
Tampa Bay Rays
1B
Drafted: 2014, Round 1 (20th overall)
DOB: January 25, 1993
Previous autographs in:
2014 Elite Extra Edition
2014 Leaf Metal Draft
2014 Leaf Trinity
2014 Leaf Valiant
2014 Panini Prizm Perennial Draft Picks
Seattle Mariners
P
Drafted: n/a
DOB: July 31, 1996
Previous autographs in: n/a
Oakland Athletics
P
Drafted: 2014, Round 3 (101st overall)
DOB: January 30, 1993
Previous autographs in:
2014 Elite Extra Edition
2014 Panini Prizm Perennial Draft Picks
Detroit Tigers
C
Drafted: 2014, Round 3 (99th overall)
DOB: October 11, 1992
Previous autographs in:
2013 USA Baseball
2014 Elite Extra Edition
2014 Panini Prizm Perennial Draft Picks
Tampa Bay Rays
P
Drafted: 2014, Round 2 (72nd overall)
DOB: March 31, 1995
Previous autographs in: n/a
Washington Nationals
C
Drafted: 2012, Round 5 (174th overall)
DOB: March 16, 1991
Previous autographs in:
Toronto Blue Jays
P
Drafted: n/a
DOB: March 7, 1994
Previous autographs in: n/a
Milwaukee Brewers
SS
Drafted: n/a
DOB: October 30, 1997
Previous autographs in:
2014 Elite Extra Edition
2014 Panini Prizm Perennial Draft Picks
Los Angeles Dodgers
C
Drafted: n/a
DOB: January 24, 1996
Previous autographs in: n/a
Oakland Athletics
SS
Drafted: 2014, Round 6 (192nd overall)
DOB: May 23, 1995
Previous autographs in:
2013 Elite Extra Edition
2013 Leaf Perfect Game
2013 USA Baseball
2014 Elite Extra Edition
Washington Nationals
P
Drafted: n/a
DOB: January 4, 1994
Previous autographs in: n/a
Yoan Lopez
Arizona Diamondbacks
P
Drafted: n/a
DOB: January 2, 1993
Previous autographs in: n/a
Detroit Tigers
SS
Drafted: n/a
DOB: February 22, 1992
Previous autographs in:
2013 Elite Extra Edition
2013 Panini Prizm Perennial Draft Picks
Boston Red Sox
P
Drafted: n/a
DOB: February 17, 1992
Previous autographs in: n/a
Juan Meza
Toronto Blue Jays
P
Drafted: n/a
DOB: February 4, 1998
Previous autographs in: n/a
Minnesota Twins
1B
Drafted: n/a
DOB: January 30, 1996
Previous autographs in:
Texas Rangers
SS
Drafted: 2014, Round 3 (95th overall)
DOB: November 16, 1995
Previous autographs in:
2013 Leaf Perfect Game
2014 Elite Extra Edition
2014 Panini Prizm Perennial Draft Picks
New York Mets
P
Drafted: 2010, Round 10 (302nd overall)
DOB: November 14, 1992
Previous autographs in:
Cincinnati Reds
P
Drafted: 2012, Round 4 (142nd overall)
DOB: August 15, 1991
Previous autographs in: n/a
San Francisco Giants
P
Drafted: 2012, Round 4 (148th overall)
DOB: July 9, 1991
Previous autographs in: n/a
Los Angeles Dodgers
3B
Drafted: n/a
DOB: April 5, 1985
Previous autographs in: n/a
San Diego Padres
2B
Drafted: 2012, Round 3 (102nd overall)
DOB: September 13, 1993
Previous autographs in:
Houston Astros
OF
Drafted: 2012, Round 6
DOB: May 30, 1994
Previous autographs in:
2014 Topps Heritage Minor League
2015 Bowman Inception
Washington Nationals
P
Drafted: 2013, Round 4 (136th overall)
DOB: February 14, 1993
Previous autographs in: n/a
Colorado Rockies
1B
Drafted: 2012, Round 12 (378th overall)
DOB: February 18, 1994
Previous autographs in: n/a
New York Mets
SS
Drafted: 2014, Round 3 (84th overall)
DOB: October 26, 1995
Previous autographs in:
2013 Leaf Perfect Game
2014 Elite Extra Edition
Cody Reed
Arizona Diamondbacks
P
Drafted: 2014, Round 2 (54th overall)
DOB: June 7, 1996
Previous autographs in: n/a
Zac Reininger
Detroit Tigers
P
Drafted: 2013, Round 8 (246th overall)
DOB: January 28, 1993
Previous autographs in: n/a
Jefry Rodriguez
Washington Nationals
P
Drafted: n/a
DOB: July 26, 1993
Previous autographs in: n/a
Pittsburgh Pirates
P
Drafted: 2012, Round 5 (166th overall)
DOB: October 7, 1991
Previous autographs in:
Chicago White Sox
P
Drafted: 2012, Round 2 (74th overall)
DOB: July 21, 1991
Previous autographs in: n/a
Colorado Rockies
P
Drafted: n/a
DOB: January 21, 1995
Previous autographs in: n/a
Washington Nationals
C
Drafted: n/a
DOB: July 20, 1993
Previous autographs in: n/a
Seattle Mariners
P
Drafted: 2011, Round 8 (243rd overall)
DOB: October 19, 1989
Previous autographs in:
Atlanta Braves
OF
Drafted: 2012, Round 5 (165th overall)
DOB: May 6, 1993
Previous autographs in:
Miami Marlins
OF
Drafted: 2014, Round 5 (137th overall)
DOB: June 8, 1995
Previous autographs in:
Isael Soto
Miami Marlins
OF
Drafted: n/a
DOB: November 2, 1996
Previous autographs in: n/a
Chicago Cubs
P
Drafted: 2014, Round 5 (139th overall)
DOB: July 11, 1995
Previous autographs in:
Los Angeles Dodgers
2B
Drafted: 2012, Round 13
DOB: February 1, 1991
Previous autographs in:
2014 Leaf Metal Draft
2014 Leaf Trinity
2014 Leaf Valiant Draft
Chicago Cubs
SS
Drafted: n/a
DOB: December 13, 1996
Previous autographs in:
Detroit Tigers
P
Drafted: 2014, Round 2 (63rd overall)
DOB: September 18, 1992
Previous autographs in:
2014 Elite Extra Edition
2014 Panini Prizm Perennial Draft Picks
New York Mets
3B
Drafted: n/a
DOB: September 1, 1994
Previous autographs in: n/a
Cleveland Indians
3B
Drafted: n/a
DOB: October 11, 1991
Previous autographs in: n/a
Washington Nationals
P
Drafted: 2013, Round 5 (166th overall)
DOB: June 26, 1992
Previous autographs in: n/a
Oakland Athletics
P
Drafted: 2013, Round 5 (161st overall)
DOB: March 21, 1992
Previous autographs in:
2012 Elite Extra Edition
2012 Prime Cuts
2012 USA Baseball
2013 USA Baseball Champions
Oakland Athletics
2B
Drafted: 2012, Round 6 (203rd overall)
DOB: April 26, 1990
Previous autographs in:
2013 Topps Heritage Minor League
St. Loouis Cardinals
P
Drafted: 2014, Round 2 (68th overall)
DOB: January 6, 1996
Previous autographs in:
Baltimore Orioles
OF
Drafted: 2013, Round 14 (429th overall)
DOB: August 23, 1990
Previous autographs in:
San Francisco Giants
P
Drafted: n/a
DOB: April 27, 1992
Previous autographs in: n/a
2015 Bowman Chrome Baseball Rookie Autographs Checklist
Archie Bradley, Arizona Diamondbacks
Bryce Brentz, Boston Red Sox
Kris Bryant, Chicago Cubs
Byron Buxton, Minnesota Twins
Kendall Graveman, Oakland Athletics
Raisel Iglesias, Cincinnati Reds
Jung Ho Kang, Pittsburgh Pirates
Francisco Lindor, Cleveland Indians
James McCann, Detroit Tigers
Joc Pederson, Los Angeles Dodgers
Carlos Rodon, Chicago White Sox
Jorge Soler, Chicago Cubs
Noah Syndergaard, New York Mets
Yasmany Tomas, Arizona Diamondbacks
Devon Travis, Toronto Blue Jays