2015-16 Upper Deck Trilogy Hockey Details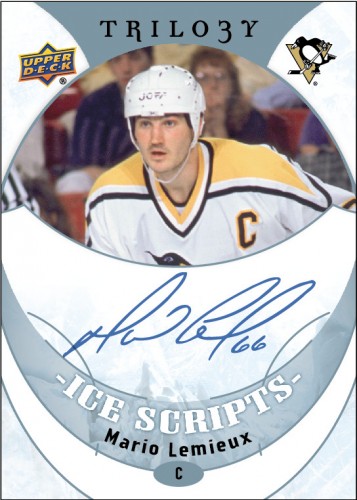 By Stephen Laroche | Beckett Hockey Editor
2015-16 Upper Deck Trilogy Hockey is out to prove that good things come in threes as the long-standing brand returns to card shops once again with premium rookie cards and autographs from members of the newest freshman class.
After making some noted improvements to the product in recent years, Upper Deck is once again out to prove that Trilogy can deliver strong content and offers up a little bit of everything to help justify its premium price point. Each box of 2015-16 Upper Deck Trilogy will contain eight packs and there is a something of note to be expected in each one. According to preliminary product information provided by Upper Deck, boxes are expected to have four numbered cards, one Rookie Autograph, one relic, one premium autograph card, and an additional hit.
What can collectors expect to find in packs of 2015-16 Upper Deck Trilogy? Find out after the jump.

Get a fully sortable 2015-16 Upper Deck Trilogy Hockey checklist and price guide access.
Base Set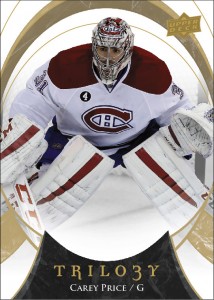 The base set in 2015-16 Upper Deck Trilogy is loaded up with 100 of the game's top stars as per usual, but there is a new twist for this year's release in the form of limited parallels based on themes. The first of these is Career Stats, which are numbered to one of a player's on-ice accomplishments. Next up are the Debut Year Jersey Relics and they are limited to the year the player hit the ice for the first time. Finally, there are Season Stats Premium Material Relics, which may be a mouthful to say, but they are numbered to an individual single-season statistic.
Each freshman player featured in the product is featured three times within the set and there are a wide array of variations and parallels to collect. The common rookie cards are numbered to 999 copies while the uncommon Auto Rookies (/499) and rare Inscribed Auto Rookies (/49) make up the remainder of the base set. Each of these cards has blue parallels (/399 for commons, /199 for uncommons, and varied numbering for rares) along with much tougher Black (/49 for commons, numbered to draft spot for uncommons, and one-of-ones for rares) and Relic (jerseys /799 for commons, auto patches /65 for uncommons, and tags /5 for rares) parallels.
Autographs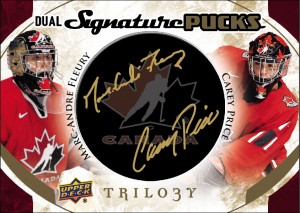 One of the most popular additions to Trilogy in recent years have been the Signature Pucks (1:14) cards and they return once again feature a bold autograph on top of a puck piece that has been embedded into the card. For a bigger chase, collectors can also look for two variations in Retro Logo (/16) and NHL Shield Logo (/3). New to 2015-16 Upper Deck Trilogy, however, are the Dual Signature Pucks (1:432) which pair up two players that have signed the same puck piece.
Like the single player cards, they will have Retro (/5) and NHL Shield Logo (one-of-one) parallels as well. Rookies are not left out of the autograph program, either, as there are Triple Rookie Autos which are numbered to 25 or less, depending on the version. The most limited parallel of this set are the Tag Relic cards which are numbered to just three copies each.
As expected, Ice Scripts are back again and have been a staple in Trilogy over the past decade. Boldly signed on acetate stock, these are substantially thick cards and should offer a strong mix of current stars, legends, and prospects.
Here's a full list of 2015-16 Upper Deck Trilogy Hockey autograph short prints for cards that aren't serial-numbered.
Memorabilia
Last season, Triptych Relics were brought into the Trilogy and they allowed for collecting along certain themes such as an individual player or teammates and could be displayed together. Back again in 2015-16 Upper Deck Trilogy, they are produced in varying quantities and contain pieces of jerseys, autographs, or even patches, sticks and other pieces of memorabilia.
2015-16 Upper Deck Trilogy Hockey at a glance
Packs per box: 8
Cards per pack: 4
Boxes per case: 18
Release date: January 13, 2016
What to expect in a hobby box:
Rookie Autographs – 1
Additional Autographs – 1
Relic Cards – 1
Additional Premium Insert – 1
Numbered Cards – 4
Stephen Laroche is the editor of Beckett Hockey, Beckett Basketball, and Beckett Sports Card Monthly magazines. Have a comment, question or idea? Send an e-mail to him at slaroche@beckett.com. Follow him on Twitter @Stephen_Laroche.