2015-16 Upper Deck SPx Hockey Details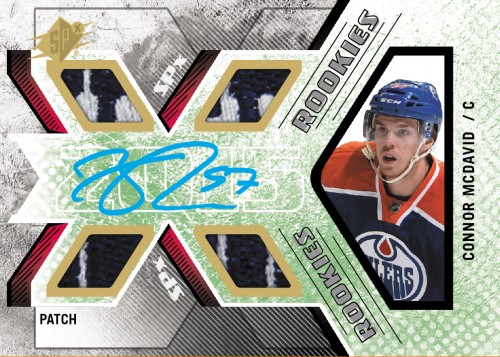 By Stephen Laroche | Beckett Hockey Editor
2015-16 Upper Deck SPx Hockey has made some changes to the look of its rookie cards and has also made a few tweaks, which could help it become a success.
Now featuring 10 packs per box, collectors can expect to find at least one Autographed Jersey Rookie or Retro Autographed Jersey Rookie inside along with two additional autograph, memorabilia, or premium insert hits. Considering the loaded freshman class this season, the action has the potential to be hot and heavy for limited cards of Connor McDavid, Jack Eichel, Max Domi, Dylan Larkin, and more.
Get a fully sortable 2015-16 SPx Hockey checklist and price guide access.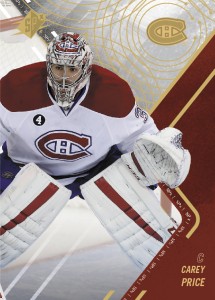 Base Set
The 2015-16 Upper Deck SPx Hockey base set is rather small at just 60 cards, but it will be augmented by Rookie High Series Foil SP cards that are seeded once in every four packs.
What most collectors will be hunting for, however, are the Acetate Rookie Cards. Split into several varieties and tiers, it all begins with Acetate Auto Rookies that are numbered to 299 and Acetate Jersey Rookies limited to 349. Even more desirable are the Acetate Auto Jersey Rookies. The first tier cards are numbered to 499 while the second tier have more desirable players. Only 349 copies of each are available. Red (/50) and Green (/10) patch parallels are also available, some of which also contain inscribed autographs.

Memorabilia
New in 2015-16 Upper Deck SPx Hockey are Monochromatic Jersey cards and they can be pulled, on average, once in every other box. The company has made some strong changes to its memorabilia program this time around and there are multi-swatch cards called X-Jersey Dual (1:80) and X-Jersey Quad (1:160) which will have an X-Patch edition numbered to 10 for duals and to just three for Quads.
A decade after one of the strong rookie classes in NHL history, Upper Deck pays tribute to how this product appeared 10 years ago with '05-06 Retro Jerseys (1:15). The iconic rookie design from 2005-06 is revisited as well with '05-06 Retro Auto Jerseys (two tiers, /125 and /225) plus '05-06 Auto Patch and unsigned Patch which are crash-numbered to 15.

Autographs
In addition to all of the signed memorabilia cards, 2015-16 Upper Deck SPx Hockey brings back a collector favorite with Sweet Shot Autographs. With signatures on wood, they should have strong eye appeal. However, they are limited to just 25 copies each and secondary market competition for them should be stiff.

See Also: 2015-16 SPx Hockey Autograph and Memorabilia Short Prints
Inserts
2015-16 Upper Deck SPx Hockey has a strong selection of insert cards for collectors to find and the easiest ones to pull are Shift Change and Stick Wizards, which both come once in every five packs. Name on the Front are a bit more challenging to pull at 1:24 packs, but all three insert sets will have signed versions. Shift Change Auto is found at a 1:120 rate while Stick Wizards Auto is slightly tougher at 1:160 packs. As expected, Name on the Front Autos are the hardest to get and they are limited to just 10 copies each.
Upper Deck also added a small bonus for collectors in the form of Trilogy Rookie Update cards. Made up of players who didn't make it into 2015-16 Upper Deck Trilogy, the basic version of each rookie card is numbered to 799 with Auto and Rare Auto versions limited to 399 and 49 copies respectively.
2015-16 Upper Deck SPx Hockey at a glance:
Packs per box: 10
Cards per pack: 4
Boxes per case: 8 per inner shipper (two inner shippers per case)
Set size: 60 cards
Release date: March 23, 2016
Stephen Laroche is the editor of Beckett Hockey, Beckett Basketball, and Beckett Sports Card Monthly magazines. Have a comment, question or idea? Send an e-mail to him at slaroche@beckett.com or follow him on Twitter @Stephen_Laroche.