2015-16 Upper Deck SP Game Used Hockey Card Details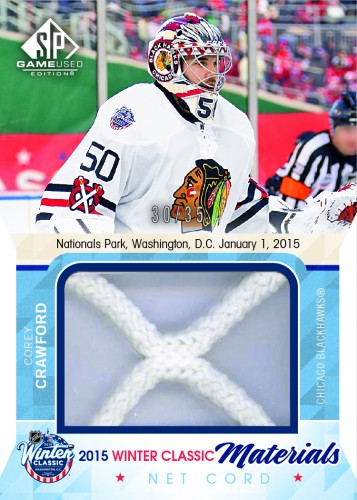 By Stephen Laroche | Beckett Hockey Editor
Last season, Upper Deck transformed one of its tried-and-true brands from what had become a somewhat tired formula to a hits-focused entity with some success and 2015-16 Upper Deck SP Game Used Hockey looks to keep moving in the same direction.
With five premium autograph or memorabilia cards in each pack where the twist has the base as a chase element, there is little doubt that this edition is going to have its fair share of fans and Upper Deck has also made an effort to once again connect the collector with pieces of memorabilia from some of the NHL's major events. 2015-16 Upper Deck SP Game Used Hockey not only includes swatches from outdoor games, but also the 2015 All-Star Skills competition.
Get a fully sortable 2015-16 SP Game Used Hockey checklist and price guide access.

Base Set
The basic 2015-16 Upper Deck SP Game Used Hockey set is made up of 100 cards like last year. It retains the concept of each base card being limited to the player's jersey number. This means that a player like Sidney Crosby would be numbered to 87 while Roberto Luongo would be a one-of-one. At this time, the number of rookie cards in this product has not been determined, but it will include early debuts along with several call-ups from over the first few weeks of the season. These cards will be limited to the player's uniform number as well. All of these cards will have an Auto Variation which is limited to just one copy that is also the final card in the base run. As an example, Connor McDavid's hotly-anticipated rookie card would have 96 regular copies while the 97th features his signature. A base card will replace either an autograph or memorabilia card inside of packs, but they should not be too easy to pull.
Most cards are going to also have jersey parallels. The regular set players are found once in every 1.75 packs and the rookies are going to be numbered to 399. A patch edition for all of these cards will be limited to 99 copies each.

Memorabilia Cards
Each 10-box inner shipper of 2015-16 Upper Deck SP Game Used Hockey should yield at least one card that Upper Deck has determined to be a super premium hit and at least one Net Cord card.
For collectors unfamiliar with Net Cord cards, Upper Deck has managed to acquire some historical nets from the NHL that were used in major events. This season, there is an opportunity to pull pieces from the 2014 (New York Islanders vs. New Jersey and Chicago vs. Pittsburgh) and 2015 Stadium Series and Winter Classic games in addition to the recent Stanley Cup Final between the Chicago Blackhawks and Tampa Bay Lightning. The basic versions are limited to 25 copies each but the greater chase will be for the Red Light (/5) and Shield Logo (/1) parallels. Upper Deck has also made a tough-to-pull collection of Game Used Pucks (1:710) that have hunks of rubber from last year's Winter Classic, Stadium Series, and Stanley Cup Final.
The Stadium Series once again has a set of memorabilia cards featuring jerseys worn in the respective games and those cards will be limited to 125 copies with a parallel out of 49 and a tougher Patch (/25). Upper Deck also added 2015 Rookie Phenoms and Career Legacy Relics which are printed in similar quantities and have the same types of subsets.
The excitement of the 2015 NHL All-Star Game also has a big presence in 2015-16 Upper Deck SP Game Used Hockey with a wide variety of memorabilia cards that utilize pieces from the 2015 All-Star Skills event. There are single (1:15 packs), dual (1:3), Triple (1:5), Quad (1:8) and Sixes (1:10) of 2015 All-Star Skills Fabrics with patch versions that range in quantities from 10 to 35 copies. Collectors can also look for All-Star Skills Relics Jersey cards (/125 and /49 for the parallel) and All-Star Skills Relics Patches (/25).
One of the most interesting concepts to debut in 2015-16 Upper Deck SP Game Used Hockey are the Media Guide Booklets. Pairing up two teammates, the basic jersey edition is numbered to an attainable 65 copies while there are patch (/15) and tag versions (/3) which will house attractive swatches. For fans of jaw-dropping materials, some big favorites return with Supreme Patches, Supreme Sticks, Supreme Skates, and Supreme Gloves (each /15).
Finally, Game Gear closes out the memorabilia program and these multi-swatch cards are numbered to 3 and cover themes such as All-Star Skills, Stadium Series and NHL Legends.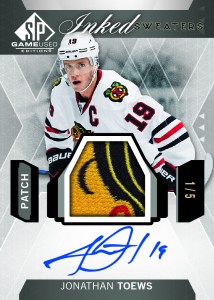 Autographs
Autographs are considered a key element of 2015-16 SP Game Used Hockey and in addition to the parallels of the base set mentioned above, there are Inked Sweaters that are numbered up to 99 (with a patch parallel /10) and Inked Rookie Sweaters (/99). Collector favorite Draft Day Marks returns with both a rookie (/35 per letter) and veteran (/10 per letter) edition.
2015-16 Upper Deck SP Game Used Hockey at a glance:
Packs per box: 1
Cards per pack: 5
Boxes per case: 10 per inner shipper
Set size: 100 cards plus rookies
Release date: February 3, 2016
Stephen Laroche is the editor of Beckett Hockey, Beckett Basketball, and Beckett Sports Card Monthly magazines. Have a comment, question or idea? Send an e-mail to him at slaroche@beckett.com or follow him on Twitter @Stephen_Laroche.