2015-16 Panini Spectra Basketball Details
Optichrome technology is back once again and collectors breaking boxes of 2015-16 Panini Spectra Basketball are going to need to shield their eyes from the brilliant flash and array of colors each card has. Now in its third season, every autograph will be accompanied by a piece of memorabilia and that should once again help ensure this brand is going to be around for years to come.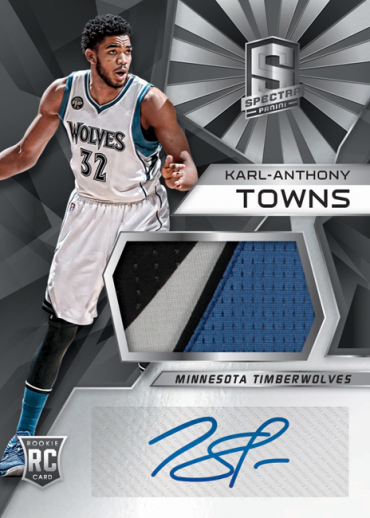 Each pack of 2015-16 Panini Spectra Basketball is going to yield 10 cards and a whopping seven of them will be regarded as strong autograph or memorabilia hits. It will release card stores in early June and has the added advantage of delivering on-card autographs from rookies, stars, and legends.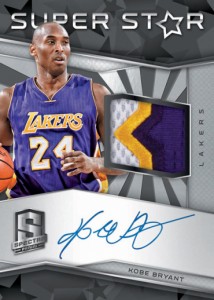 Collectors will find an attractive base set with a strong Rookie Jersey Autographs subset. Spectra is known for its array of parallels, too, and they range in quantity from 149 copies to one-of-one treasures. At present, the announced autographed memorabilia collections that are going to be available include Superstar Materials Autographs and Spectacular Swatch Signatures.
2015-16 Panini Spectra Basketball also has a promising selection of memorabilia sets with large swatches which are set to include Materials Prizms (/40) and Rookie Jumbo Jerseys (/49).
Finally, Panini has added a case hit in the form of City Limits inserts that should gather some attention as they surface on the secondary market.
2015-16 Panini Spectra Basketball at a glance:
Packs per box: 1
Cards per pack: 10
Boxes per case: 5
Set size: 100 cards.
Release date: June 1, 2016
What to expect in a hobby box:
– at least seven autograph or memorabilia hits