2015-16 Panini Gold Standard Basketball Variations Details
Once again, if a player has called several cities home in their career, there's a good chance they're among the 2015-16 Panini Gold Standard Basketball variations. But it's not only different teams that mean multiple cards this year. Standard photo variations have also been included.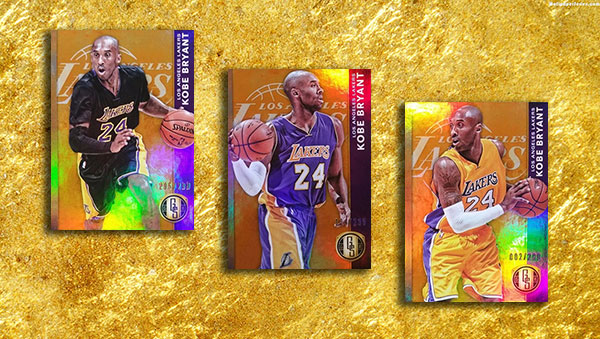 The Team Variations have been a staple with Gold Standard for a few years. In the past with the team cards, players still had 299 total cards between all versions. Print runs were based on how long the player spent with a specific team. So if they spent a short time, not many cards were made. Teams they were on for a long time meant a higher print run. This same format hasn't been confirmed for the 2015-16 Panini Gold Standard Basketball variations, but it appears to be following a similar route.
College and national teams are also in the variation mix for a few players.
Photo Variations are just that. Most are easy to spot based on different colored jerseys. That said, each player with a Photo Variation actually has two of them. Panini has not indicated how rare these variations are.
2015-16 Panini Gold Standard Basketball Variations Gallery
Photo Variations
Some base images are parallels. However, player photos are the same.
1 Stephen Curry, Golden State Warriors
6 Kyrie Irving, Cleveland Cavaliers
16 LeBron James, Cleveland Cavaliers
35 Anthony Davis, New Orleans Pelicans
38 Andrew Wiggins, Minnesota Timberwolves
71 Chris Paul, Los Angeles Clippers
78 Carmelo Anthony, New York Knicks
104 John Wall, Washington Wizards
105 Damian Lillard, Portland Trail Blazers
109 Derrick Rose, Chicago Bulls
110 Russell Westbrook, Oklahoma City Thunder
111 Dwyane Wade, Miami Heat
113 Kobe Bryant, Los Angeles Lakers
130 Kevin Durant, Oklahoma City Thunder
137 Dirk Nowitzki, Dallas Mavericks
Team Variations
Years are noted for time spent with college teams and previous NBA clubs.
SSP notes rarest cards as confirmed by Panini.
48 Kevin Garnett, Minnesota Timberwolves (white jersey)
Variations:
Boston Celtics – 2007-2013
Brooklyn Nets – 2013-2015 SSP
Minnesota Timberwolves (black jersey) – 1995-2007
USA Basketball SSP
54 Rajon Rondo, Sacramento Kings
Variations:
Boston Celtics – 2006-2014
Dallas Mavericks – 2014-2015
Kentucky Wildcats – 2004-2006 SSP
61 Paul Pierce, Los Angeles Clippers
Variations:
Boston Celtics – 1998-2013
Brooklyn Nets – 2013-2014 SSP
Kansas Jayhawks – 1995-1998 SSP
Washington Wizards – 2014-2015
63 James Harden, Houston Rockets
Variations:
Arizona State Sun Devils – 2007-2009 SSP
Oklahoma City Thunder – 2009-2012
USA Basketball SSP
101 Goran Dragic, Miami Heat
Variations:
Houston Rockets – 2011-2012
Phoenix Suns – 2008-2011, 2012-2015
151 Damon Stoudamire, Toronto Raptors
Variations:
Arizona Wildcats – 1991-1995 SSP
Memphis Grizzlies – 2005-2008
Portland Trail Blazers – 1998-2005
San Antonio Spurs – 2008 SSP
176 Pete Maravich, Atlanta Hawks
Variations:
Boston Celtics – 1980 SSP
LSU Tigers – 1967-1970 SSP
New Orleans Jazz – 1974-1979
190 Wilt Chamberlain, Los Angeles Lakers
Variations:
Kansas Jayhawks – 1956-1958 SSP
Philadelphia 76ers – 1965-1968
Philadelphia Warriors – 1959-1962
San Francisco Warriors – 1962-1965
195 Jerry Stackhouse, Philadelphia 76ers
Variations:
Atlanta Hawks – 2011-2012 SSP
Brooklyn Nets – 2012-2013 SSP
Dallas Mavericks – 2004-2009
Detroit Pistons – 1998-2002
Miami Heat – 2010 SSP
Milwaukee Bucks – 2010 SSP
Washington Wizards – 2002-2004