2015-16 Panini Court Kings Basketball brings the art — and the rookies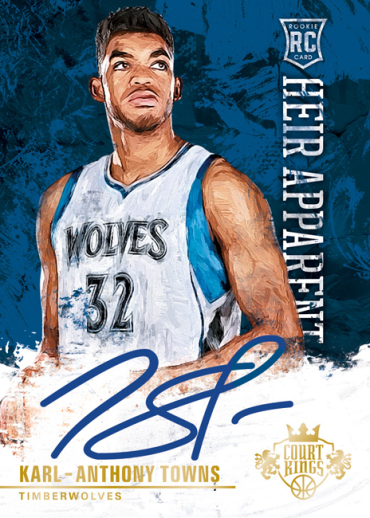 By Stephen Laroche | Beckett Basketball Editor
Back again for a third straight season, 2015-16 Panini Court Kings Basketball is an eye-catching tribute to the best in the NBA today and also gives collectors something out of the ordinary compared to other basketball card products with an artistic take on the game.
There is plenty of rookie content in packs that focus on the freshmen making an impact during the first months of the season. Inside of each 10-card hobby box are two rookie cards and four base cards along with an autograph, memorabilia card, two inserts and an oversized box topper. Some lucky collectors may also pull hot boxes from a case that will feature additional content.
What else is in store for collectors opening boxes of 2015-16 Panini Court Kings Basketball? Find out after the jump.
Get a sortable 2015-16 Panini Court Kings Basketball checklist and price guide access.
Base Set
The base set has 100 veterans. But when you add in the rookies, the checklist gets much bigger.
Rookies come in six different levels, each with their own design. With each level comes added layers of scarcity:
Rookies I
Rookies II
Rookies III – /299
Rookies IV – /175
Rookies V – /75
Rookies VI – /10
Autographs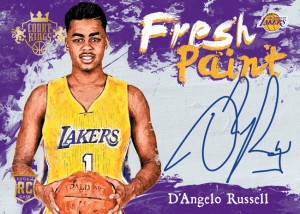 Among the autograph card concepts are the rookie-focused Fresh Paint and Heir Apparent collections. Conversely, both veteran and retired players make up the bulk of the Brush Strokes, Impressionist Ink, and Studio Signatures sets.
Memorabilia
2015-16 Panini Court Kings Basketball memorabilia cards come in many forms, most of which will be familiar to those who have collected the brand in the past couple of years. Art Nouveau, 2 x 2 Quad Memorabilia and Expressionist Memorabilia are some of the options. Like most sets, there are Prime parallels available in addition to basic swatches.
Inserts and Box Toppers
Portraits cards are found once per pack of 2015-16 Panini Court Kings Basket. Among the other insert collections is the new Aurora set, which is a brand name that was previously utilized for products from Pacific Trading Cards over a decade ago. It is a case hit.
Box Toppers are also back this season, including rare autographed parallels. Panini also added a new concept to the oversized portion of the product with Career Progression cards.
2015-16 Panini Court Kings Basketball at a glance:
Packs per box: 1
Cards per pack: 10
Boxes per case: 15
Set size: 100 cards
Release date: December 30, 2015
What to expect in a hobby box:
Stephen Laroche is the editor of Beckett Basketball, Beckett Hockey and Beckett Sports Card Monthly. Have a comment, question or idea? Send an e-mail to him at slaroche@beckett.com. Follow him on Twitter @Stephen_Laroche.