2015-16 Panini Black Gold Basketball details
Two successful seasons in the football market have led to the creation of 2015-16 Panini Black Gold Basketball and high-end hoops enthusiasts are certain to appreciate this premium product upon its release.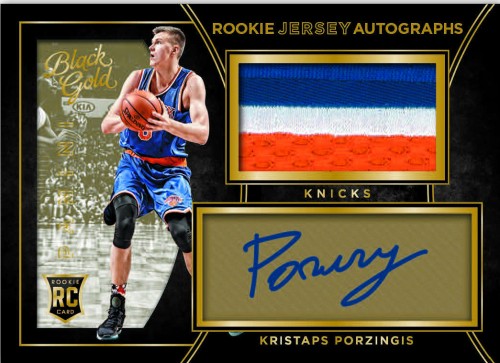 With each pack of 2015-16 Panini Black Gold Basketball, collectors can expect half of the cards to have an autograph, piece of memorabilia, or both. There are two packs per box and all of the hits are numbered to 199 or less.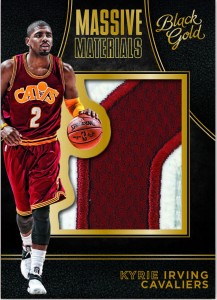 Like the football version of Black Gold, base cards are done in a shadow box style. The base set consists of 100 cards. Each has five parallels.
Panini America has put a strong emphasis on the freshman content in 2015-16 Panini Black Gold Basketball. There are a lot in sets like Rookie Jersey Autographs (plus Prime parallel /25), but those who prefer just an autograph should appreciate Grand Debut Signatures. Also available Rookie Sizable Signatures with their giant piece of memorabilia and these cards are going to have a Prime version numbered to 25 or less.
Black Gold Signatures will be the principal autograph collection and focus on both the greatest players from the past along with stars from the present. A Holo Gold parallel version numbered to 10 will add additional value for those breaking boxes.
The company does not hold back when it comes to the memorabilia hits in 2015-16 Panini Black Gold Basketball, either. Massive Memorabilia lives up to its name, of course, but Panini's creative staff have come up with concepts like the dual-swatch Pick and Roll and dunk specialists tribute Golden Jams as well. Like the autographs that were previewed, look for Prime parallels to be issued in similar quantities.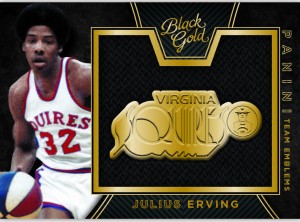 As an additional rare hit, Team Emblems are a shadowbox-style creation which will be loaded up with a strong assortment of rookies, legends, and stars. The golden logos will stand out, but Panini also decided to pay tribute to 10 ABA talents and faithfully reproduced iconic team artwork that simply do not appear on cards as much as they should. Along with Gold Discs, these will be a case hit
2015-16 Panini Black Gold Basketball at a glance:
Packs per box: 2
Cards per pack: 4
Boxes per case: 8
Set size: 100 cards
Release date: July 6, 2016
What to expect in a hobby box:
– Four autographs or memorabilia cards per box.
Stephen Laroche can be found on Twitter @Stephen_Laroche.