2015-16 O-Pee-Chee Hockey Woodies aim to excite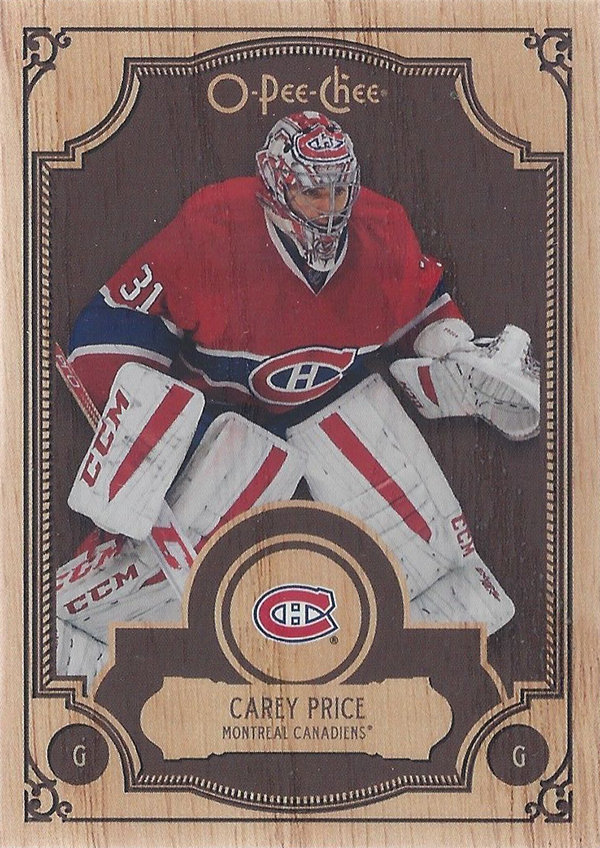 By Ryan Cracknell | Hobby Editor
Where a lot of us come from, the term "woodie" carries with it a couple of meanings, the more innocent of which involves a cartoon bird. Now there's a third meaning as some surprise hockey cards. 2015-16 O-Pee-Chee Hockey Woodies are popping up unannounced.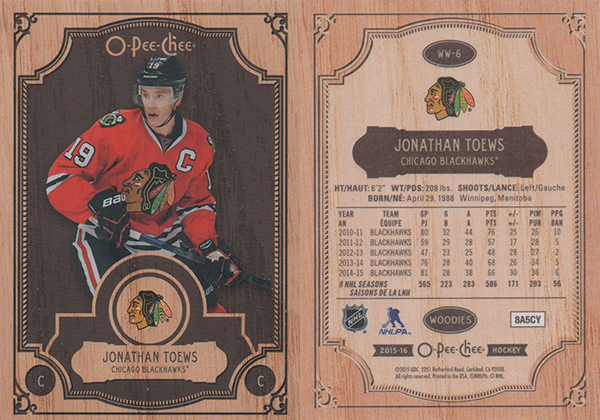 The cards get their name from the wood-like stock that are used on the cards. It's also the name given by Upper Deck.
Odds on the inserts haven't been released. One eBay seller is suggesting that they are approximately every other 2015-16 O-Pee-Chee Hockey case, however this isn't confirmed.
Nor is the set size. The highest confirmed number we have seen so far is WW-30. With what looks to be a relatively small checklist, it should be no surprise that it's populated by top stars and key players from 2014-15. Sidney Crosby, Jonathan Toews, Carey Price and Aaron Ekblad are among those in the set. Such retired legends as Wayne Gretzky, Bobby Orr and Patrick Roy are also on the checklist.
Initial prices on the short-printed cards are definitely on the high side with most asking for $200 or more out of the gate. It's still early to see where things will settle, though.
Here's a partial checklist of cards that have been confirmed. We'll add to it as more 2015-16 O-Pee-Chee Hockey Woodies surface.
2015-16 O-Pee-Chee Hockey Woodies Checklist
We'll add more names as they're confirmed. If you pull any of the missing numbers, please feel free to alert us in the comments below.
WW-1 Alex Ovechkin, Washington Capitals
WW-2 P.K. Subban, Montreal Canadiens
WW-3 Tyler Seguin, Dallas Stars
WW-4 Ryan Miller, Vancouver Canucks
WW-5 Wayne Gretzky, Edmonton Oilers
WW-6 Jonathan Toews, Chicago Blackhawks
WW-7 Johnny Gaudreau, Calgary, Flames
WW-8 Patrick Roy, Montreal Canadiens
WW-9 Eric Staal, Carolina Hurricanes
WW-10 Nicklas Backstrom, Washington Capitals
WW-11 Patrice Bergeron, Boston Bruins
WW-12 Marty McSorley, Edmonton Oilers
WW-13 Aaron Ekblad, Florida Panthers
WW-14 Sergei Bobrovsky, Columbus Blue Jackets
WW-15 T.J. Oshie, St. Louis Blues
WW-16 Erik Karlsson, Ottawa Senators
WW-17 Sidney Crosby, Pittsburgh Penguins
WW-18 Mario Lemieux, Pittsburgh Penguins
WW-19 Patrick Kane, Chicago Blackhawks
WW-20 Ben Bishop, Tampa Bay Lightning
WW-21 Mike Gartner, Washington Capitals
WW-22 Frederick Andersen, Anaheim Ducks
WW-24 Jaromir Jagr, Florida Panthers
WW-25 Henrik Zetterberg, Detroit Red Wings
WW-26 Tuukka Rask, Boston Bruins
WW-27 Martin St. Louis, New York Rangers
WW-28 Carey Price, Montreal Canadiens
WW-29 Claude Giroux, Philadelphia Flyers
WW-30 Bobby Orr, Boston Bruins
2015-16 O-Pee-Chee Hockey Woodies Gallery