2015-16 Leaf Ultimate Hockey marks rebirth of premium brand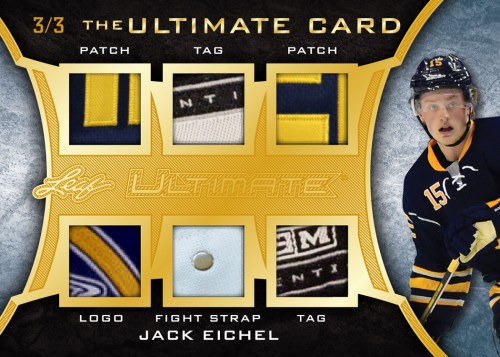 By Stephen Laroche | Beckett Hockey Editor
After originally being developed by In The Game, hockey's original high-end brand is undertaking a major transformation and 2015-16 Leaf Ultimate Hockey should turn some heads with an extremely limited print run and plenty of autographs and vintage memorabilia.
Leaf has taken the original concept and blown it up and made it more of its own creation, effectively bringing a close to the original Ultimate Memorabilia era. One of the biggest changes collectors can expect to see within 2015-16 Leaf Ultimate Hockey is the elimination of both the base set and a switch from slabs to one-touch magnetic holders. Every box has a pair of three-card packs that deliver a total of three autograph cards and a trio of memorabilia cards. The print run is limited to a total of 250 cases that have six boxes each.

Autographs
An exclusive autograph deal with hot Buffalo Sabres rookie Jack Eichel ensures that 2015-16 Leaf Ultimate Hockey captures the attention of the his fans and the autograph program for this release begins with Time Capsule Signatures. In addition to Eichel, 2016 NHL Entry Draft prospect Jesse Puljujarvi is part of the lineup along with legends like Patrick Roy and Gordie Howe.
There is a regular Ultimate Signatures set that has cards from Martin Brodeur and it is joined with multi-signed collections like Ultimate Triple Signatures, Ultimate Quad Signatures, and Ultimate Six Signatures. Ultimate Auto Memorabilia takes things to another level with both jersey and patch versions.
Many of the game's greatest talents are part of the Honored Members set and interestingly, some of these cards must have been signed a while ago as the late Elmer Lach appears in the list of players selected for it.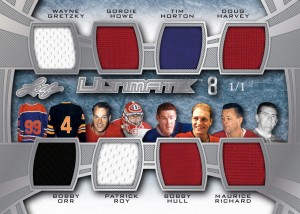 Memorabilia
Since Leaf ended up acquiring In The Game's inventory of game-used memorabilia, their products contain a selection of vintage hockey swatches that are unparalleled in the hobby. The action begins with multi-player collections like Ultimate Dual Memorabilia, Ultimate Triple Memorabilia, and Ultimate Quad Memorabilia.
Despite some of the major changes to the brand that are coming in 2015-16 Leaf Ultimate Hockey, there are subtle nods to the older releases with Ultimate Journey and Ultimate Enforcers. Collectors can also expect some premium hits like The First Six Franchise, Ultimate Logos, and Ultimate 8. Another new concept that may prove popular is Ultimate Tag Team that contain two tag pieces — some of which will have come from historical jerseys.
The excitement comes to a crescendo with The Ultimate Card. Each of these low-numbered cards feature six premium memorabilia pieces that could include jerseys, patches, gloves, sticks, and pads. Ultimate Equipment is a similar effort, but has just four swatches instead.
2015-16 Leaf Ultimate Hockey at a glance:
Packs per box: 2
Cards per pack: 3
Boxes per case: 6
Set size: n/a
Release date: February 19, 2016
What to expect in a hobby box:
Memorabilia Cards – 3
Autographs – 3
Stephen Laroche is the editor of Beckett Hockey, Beckett Basketball, and Beckett Sports Card Monthly magazines. Have a comment, question or idea? Send an e-mail to him at slaroche@beckett.com or follow him on Twitter @Stephen_Laroche.