2015-16 Leaf Metal Hockey Pre-Production Proofs Details
The process of creating cards includes a proofing stage where a manufacturer has to take a look at what it is about to unleash upon the hobby. In the case of Leaf Trading Cards, it has decided to take its proofs from its most recent hockey release and give collectors a shot at owning them with a very limited product called 2015-16 Leaf Metal Hockey Pre-Production Proofs.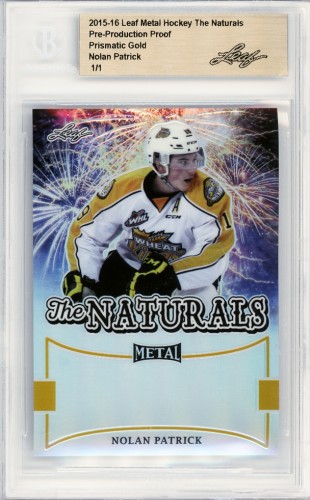 Each blank-backed pre-production proof card from 2015-16 Leaf Metal Hockey has been slabbed inside of a holder from Beckett Grading Services and every pack is going to contain three one-of-one cards. While they are not signed like the cards appearing in the regular set, they do provide an interesting alternative for both player collectors and prospectors alike due to the presence of many junior stars from the Canadian Hockey League like Matthew Tkachuk, Nolan Patrick, and Joseph Veleno, along with Leaf mainstays Jack Eichel and Jesse Puljujarvi.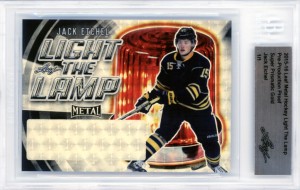 "We are always looking for unique ways to provide collectors with unusual collecting opportunities," said Leaf Trading Cards owner Brian Gray. "I believe this sort of product achieves exactly that."
Expected to be released in early June, there will only be 56 cases of 2015-16 Leaf Metal Hockey Pre-Production Proofs produced and it should sell out from the factory quite quickly. As a special bonus, each sealed 20-box case includes a special box topper in the form of a signed 8″x10″ photo of Connor McDavid.
Stephen Laroche can be found on Twitter @Stephen_Laroche.