2015-16 Leaf In The Game Used Hockey Details
One of last year's surprise hits will be back in time for the 37th National Sports Collectors Convention in Atlantic City and fans of the fastest game on ice are about to get their hands on some seriously limited vintage memorabilia with the release of 2015-16 Leaf In The Game Used Hockey.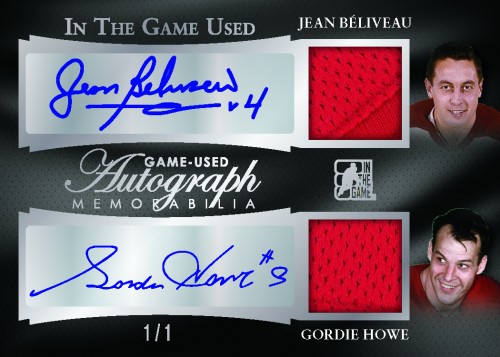 With five memorabilia cards per pack and the potential to find pieces of history that date back to the early days of the sport, collectors can expect to find up to eight swatches of material on each card.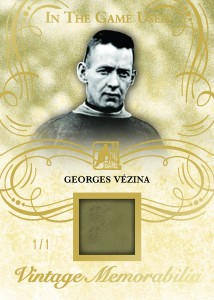 The primary focus of 2015-16 Leaf In The Game Used Hockey is the Vintage Memorabilia set and it is split into six different tiers ranging from a single swatch all the way up to eight pieces. The player selection is expected to include a wide array of Hall of Fame members.
The main collection of cards in 2015-16 Leaf In The Game Used Hockey is simply entitled Game-Used Memorabilia and it can have between one and four players. Super Swatch is expected to be quite limited and will have very large pieces of memorabilia.
Rare Materials is expected to be a desirable collection as well, but only features a single player along with eight swatches of material that go beyond just game-used jerseys. Locker Room Memorabilia will have four pieces from many of the greats while Masked Men Memorabilia are five-swatch cards that pay tribute to some of the most amazing goalies from the past.
The global game is examined in a pair of eight-swatch collections. International Showdown places four players from two opposing nations together on a card and Countrymen combines stars who hail from the same nation. The final set with eight pieces is the returning Fantasy Team 8's, which depict stars that may not have played together, but they are found on the same limited card here. Legendary Starting 6 is a compelling series which puts together three forwards, a pair of defensemen, and a goaltender.
A strong new addition to the product brings pieces of two legendary arenas into the hands of collectors. Legends of Olympia Stadium (which was simply dubbed The Olympia) and Legends of Chicago Stadium place a legend from the Detroit Red Wings or Chicago Blackhawks with a big arena relic.
Autographed memorabilia cards will also be found in boxes of 2015-16 Leaf In The Game Used Hockey with the sharp-looking In The Game Used Auto and it can come with either a jersey piece or rarer patch. Even more intriguing are the In The Game Used Dual Auto cards which combine signatures and swatches from some big names, including a desirable pairing of Gordie Howe and Jean Beliveau.
2015-16 Leaf In The Game Used Hockey at a glance:
Packs per box: 1
Cards per pack: 5
Release date: August 3, 2016
What to expect in a hobby box:
– Five memorabilia or autographed memorabilia cards
Stephen Laroche can be found on Twitter @Stephen_Laroche.