2015-16 Leaf In The Game Enshrined Hockey celebrates the game's greatest legends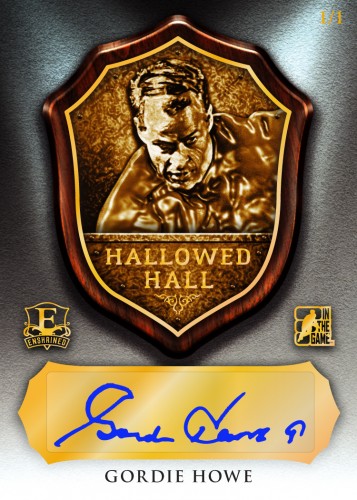 By Stephen Laroche | Beckett Hockey Editor
A few years ago, In The Game created one of the most ambitious hockey card products of all-time that turned the spotlight on almost every living member of the Hockey Hall of Fame. Now, Leaf Trading Cards is looking to build upon what that original effort achieved with 2015-16 Leaf In The Game Enshrined Hockey.
Loaded up with autographs and memorabilia from some of the greatest names in hockey history, this limited release hit just in time for the Spring 2016 Sportcard & Memorabilia Expo in Toronto.
Get a fully sortable 2015-16 Leaf In the Game Enshrined Hockey checklist and price guide access.

Autographs
Hallowed Hall Signatures have one of the most intriguing autograph card designs that the company has produced as each participating player is shown as if they were immortalized on a plaque. There are also a pair of autographed memorabilia card collections which may be just as appealing in Signature Showcase and Signature Blade, the latter of which includes a piece from a notable legend's stick along with their ink.

Memorabilia
One of the biggest strengths that Leaf boasts is the impressive array of game-used memorabilia that comes from hockey's immortals. There is plenty of in 2015-16 Leaf In The Game Enshrined Hockey. It starts with Silverware Seasons, which is an examination of six players that have won trophies along with a half-dozen hunks of game-used material and there is a single-swatch set with a similar theme entitled Silverware. Those that entered the Hall of Fame together are part of the dual-swatch Class Of while those who have had their jerseys raised to the rafters by their teams are recognized in Retired Numbers.
Enshrined Exhibit spotlights individual legends and each card contains four swatches of memorabilia. Leaf also dives deep into their memorabilia archives with Induction Showcase and promises pieces from some of hockey's early pioneers such as Cyclone Taylor and Georges Vezina.
Hall Patch is all about colorful memorabilia pieces from Hall of Fame members and there is a new concept called Mount Rushmore which puts together four of the greatest of all-time with a sharp design. Perhaps some of the most significant hits of all will come from Enshrined 8, which combines eight stars and their memorabilia, and Enshrined 8 All-Star that puts together players that appeared in the same NHL All-Star Game.
2015-16 Leaf In The Game Enshrined Hockey at a glance:
Packs per box: 1
Cards per pack: 4
Boxes per case: 10
Release date: April 6, 2016
What to expect in a hobby box:
Autograph and Memorabilia Cards – 4 Total
Stephen Laroche is the editor of Beckett Hockey, Beckett Basketball, and Beckett Sports Card Monthly magazines. Have a comment, question or idea? Send an e-mail to him at slaroche@beckett.com or follow him on Twitter @Stephen_Laroche.