2015-16 Leaf Genesis Hockey Details
The roots of the sport of hockey run deep and collectors have a strong appreciation for the legends and tales of the
game's pioneers that have been passed down for generations. By the same token, those that collect also focus their attention to hockey's future and Leaf Trading Cards is attempting to bring both of these worlds together in its debuting 2015-16 Leaf Genesis Hockey.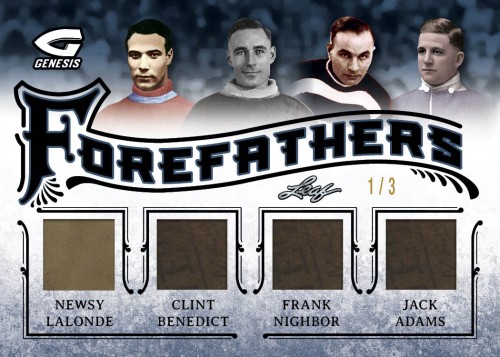 A summer release that is coming to card stores in July, each box will contain eight hits which come in the form of either autographs, memorabilia, or signed memorabilia cards. Expected to have a small run and plenty of rare pieces of game-used equipment, Genesis has the potential to live up to its name with its debut.

Autographs
Some of the brightest prospects in the game today lead off the autograph program in 2015-16 Leaf Genesis Hockey with a set dubbed New Dawn. Made up more than just young stars from the Canadian Hockey League like Nolan Patrick and Joe Veleno, collectors can also potentially pull signatures from Leaf-exclusive Jack Eichel. The focus turns to legends of the sport with Signs of Nobility and there will also be Classic Duos with a pair of autographs from players that have some connection with each other.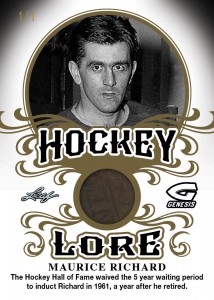 Memorabilia
Leaf's inventory of vintage game-used hockey memorabilia is unparalleled in the hobby and is a key selling point for 2015-16 Leaf Genesis Hockey. The company has developed some compelling themes for the cards that will be popping out of boxes and the competition will be stiff for single-swatch sets such as Origins of Hockey and Hockey Lore. Multiple pieces of hockey history are embedded into collections like Record Breakers and Classic Rivals (two pieces respectively), Tradition (three pieces), Franchise Legacy (eight pieces), and the four-swatch Forefathers. It is likely that all of these sets will be very limited as well.
Auto Jersey and Auto Patch brings us into the modern era with giant pieces of memorabilia and autographs from players that could have a serious impact in the coming years. Epic Materials and its patch parallel should be almost as enjoyed due to the presence of those big swatches.
2015-16 Leaf Genesis Hockey at a glance:
Packs per box: 1
Cards per pack: 8
Boxes per case: 10
Release date: July, 2016
What to expect in a hobby box:
– Eight autograph, memorabilia, or autographed memorabilia cards
Stephen Laroche can be found on Twitter @Stephen_Laroche.