2015-16 In The Game Final Vault Hockey ends a chapter of hockey card history
By Stephen Laroche | Beckett Hockey Editor
All things inevitably come to an end, and in the case of the old incarnation of In The Game, an era of hockey card history is about to close with the release of 2015-16 In The Game Final Vault Hockey.
A product born out of some controversy regarding the liquidation of the company's cardboard assets where questions arose about production numbers once some additional cards were hitting the secondary market, Dr. Brian Price decided to go out and buy back as many of those cards as possible in an attempt to smooth things over with collectors. As a result of this effort, they have been placed into a last release, which includes 10 stamped and limited cards inside each box.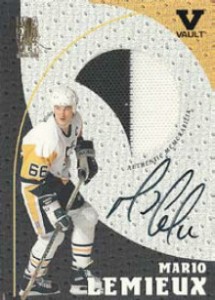 2015-16 In the Game Final Vault boxes are loaded up with five memorabilia cards, four autographs, and a The Mask card. All bear a Final Vault foil stamp. Cards produced between 1998-99 and 2013-14 make up the product's contents. Autographs are stamped as Final Vault without one-of-ones while the The Mask cards have three versions (regular, /5, one-of-one)
Some previously unreleased cards are also included in the product.
Cases of 2015-16 In The Game Final Vault Hockey contain 10 boxes and Price noted through his personal blog that a portion of the proceeds will be donated to the Make-A-Wish Foundation.
2015-16 In The Game Final Vault Hockey at a glance:
Packs per box: 1
Cards per pack: 10
Boxes per case: 10
Release date: April 6, 2016
What to expect in a hobby box:
– Five stamped memorabilia cards
– Four stamped autograph cards
– One stamped The Mask card
Stephen Laroche is the editor of Beckett Hockey, Beckett Basketball, and Beckett Sports Card Monthly magazines. Have a comment, question or idea? Send an e-mail to him at slaroche@beckett.com or follow him on Twitter @Stephen_Laroche.