2015-16 Artifacts Honoured Members kick off a three-year set of hockey's immortals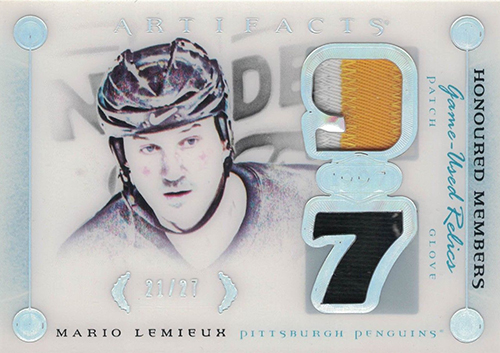 By Ryan Cracknell | Hobby Editor
Every once in a while a set comes along that captures your attention. As far as early hockey sets go, 2015-16 Artifacts Honoured Members fits that bill. It's attractive, tough to find, has a strong checklist and features all autographs and memorabilia.
And it's going to continue for a couple more years.
"It's intended as a three-year program with around 30 new cards per year," said Upper Deck's Grant Sandground. "The design will remain consistent, but no player will be repeated within the respective facets of the program — relics, signatures and cut signatures. For example, Wayne Gretzky was featured as an Oiler on a relics card this year. You won't see another Gretzky relics card issued, but you might see a Gretzky Kings signature card."
Every player in the Honoured Members insert set is a hockey Hall of Famer. The first batchof Honoured Members Relics, which can be found in 2015-16 Upper Deck Artifacts Hockey, features 27 players. These have a pair of memorabilia pieces, often with multiple colors or premium pieces.
Honored Members Signatures all have on-card signatures. There's a bit of overlap in the five-card checklist with players in the memorabilia portion, but there are also some different names like Patrick Roy and Bobby Orr.
Cut signatures from six deceased legends round out the initial offering. Just one of these were made for each player.
And while the content is strong, there are lots of inserts out there that achieve this. What makes the 2015-16 Artifacts Honoured Members stand out even further is the look.
Honoured Members cards printed with an acetate surface with foil accents. Player portraits have been filtered to make things pop a little more.
"Response has been extremely positive. Collectors are loving the high-end design elements," said Sandground. "The cards were inspired by the plaques featured in the Great Hall of the Hockey Hall of Fame and the result has been a nice, clean look that really accentuates the player image and the memorabilia pieces."
While it would be easy to make this a multi-brand release, Honoured Members is going to stay exclusive to Artifacts. Additions to the checklist will come in 2016-17 and 2017-18.
Want to know what 2015-16 Artifacts Honoured Members cards are worth? You can check out the set in the Beckett Hockey Card Price Guide.
2015-16 Artifacts Honoured Members Checklist
Honoured Members Relics – /27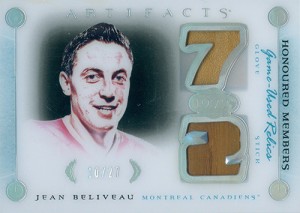 HMR-AO Adam Oates, Boston Bruins
HMR-BC Bobby Clarke, Philadelphia Flyers
HMR-BH Brett Hull, St. Louis Blues
HMR-BL Brian Leetch, New York Rangers
HMR-BO Ray Bourque, Boston Bruins
HMR-BP Brad Park, Boston Bruins
HMR-CC Chris Chelios, Detroit Red Wings
HMR-CN Cam Neely, Boston Bruins
HMR-DG Doug Gilmour, Toronto Maple Leafs
HMR-DP Denis Potvin, New York Islanders
HMR-EB Ed Belfour, Toronto Maple Leafs
HMR-GA Glenn Anderson, Edmonton Oilers
HMR-GF Grant Fuhr, Edmonton Oilers
HMR-HU Bobby Hull, Chicago Blackhawks
HMR-JB Jean Beliveau, Montreal Canadiens
HMR-JS Joe Sakic, Colorado Avalanche
HMR-MD Marcel Dionne, Los Angeles Kings
HMR-ME Mark Messier, New York Rangers
HMR-ML Mario Lemieux, Pittsburgh Penguins
HMR-MM Mike Modano, Dallas Stars
HMR-MS Mats Sundin, Toronto Maple Leafs
HMR-PC Paul Coffey, Edmonton Oilers
HMR-PE Phil Esposito, Boston Bruins
HMR-RB Rob Blake, Los Angeles Kings
HMR-SI Darryl Sittler, Toronto Maple Leafs
HMR-SY Steve Yzerman, Detroit Red Wings
HMR-TS Terry Sawchuk, Detroit Red Wings
Honoured Members Signatures – /27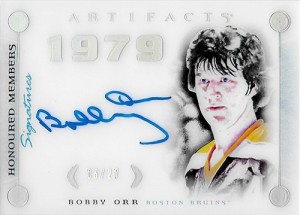 HMS-BH Brett Hull, St. Louis Blues
HMS-BO Bobby Orr, Boston Bruins
HMS-GF Grant Fuhr, Edmonton Oilers
HMS-MB Mike Bossy, New York Islanders
HMS-PR Patrick Roy, Montreal Canadiens
Honoured Members Cut Signatures – 1/1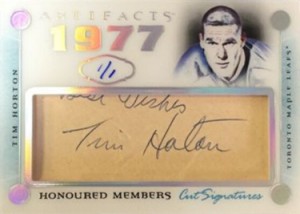 HMCS-BS Babe Siebert, Montreal Canadiens
HMCS-JP Jacques Plante, Montreal Canadiens
HMCS-MB Max Bentley, Chicago Blackhawks
HMCS-MR Maurice Richard, Montreal Canadiens
HMCS-SA Sid Abel, Detroit Red Wings
HMCS-TH Tim Horton, Toronto Maple Leafs