2014 Panini Prizm World Cup Soccer is one of the most important products of its era. And that's not just soccer cards — all sports cards. It brought soccer to the hobby's mainstream. It proceeded to become one of the top-selling sets of the year, out-pacing many of the biggest releases from baseball, basketball, football and hockey.
Its impact continues today, offering key cards of some of the world's biggest players.
And 2014 Panini Prizm World Cup Soccer did it was a configuration that bucked the trend of hits in every hobby box.
2014 Panini Prizm World Cup Soccer Base Set Basics
The base set has 201 cards and covers all 32 qualifying teams.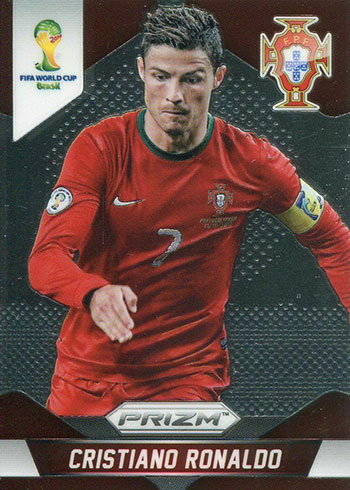 And like virtually every set under the Prizm banner, parallels come in several colors and combinations. These start with basic Prizms, which today are often referred to as Silver Prizms. Similar to Refractors in that they give off a rainbow pop when shone under light. Blue and Red Wave, and Yellow and Red Prizms are the only other parallels in packs that don't have serial numbers.
Other Prizms colors include: Blue (/199), Red (/149), Purple (/99), Green Crystals (/25), Gold (/10), Gold Power (/5) and Black (1/1).
Prizms combine to land eight per hobby box.
After 2014 Panini Prizm World Cup released, a couple more colors were added to the rainbow. One-of-one Yellow and Green El Samba Prizms were sold individually through special eBay auctions. Blue Wave Prizms were in National Convention promo packs. The background pattern on these are more commonly referred to as Mojo now.
Panini's Father's Day promo had specially stamped Prizm World Cup cards numbered to seven.
Although 2014 Panini Prizm World Cup has been popular on the secondary market since its release, many of the key base cards have really taken off. Cristiano Ronaldo and Lionel Messi, in particular, lead the way. Like a lot of Prizm releases across basketball and football, there has been a trickledown to other stars as well as the brand further establishes itself as one of the hobby's juggernauts.
Autographs
Autographs are actually somewhat difficult to pull in 2014 Panini Prizm World Cup. They're definitely not one per hobby box.
But what it may lack in quantity as far as the number of signatures go, the checklist make a push for quality.
The majority of ink is found in Signatures, a 50-card set that mixes 2014 World Cup participants with some stars from the past. Cristiano Ronaldo and Pele headline the checklist that also includes Roberto Baggio, Neymar, Frnaz Beckenbauer and Marco Van Basten. These have Prizms (/25) and Black Prizms (1/1) parallels. Like the base set, one-of-one Yellow and Green El Samba versions were auctioned off separately.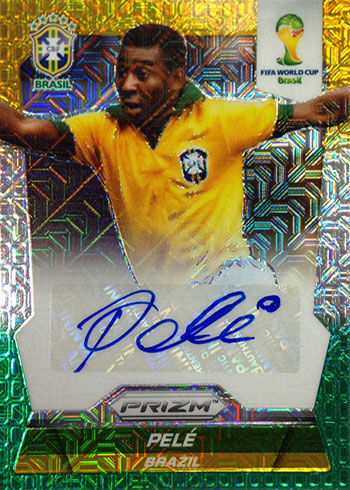 Combo Signatures (/10) pair up two players. Prizms parallels are also available for each of the ten cards as well as Yellow and Green El Samba Prizms (1/1).
Kobe Bryant and Andrew Luck also appear on 2014 Panini Prizm World Cup autographs under the Fans of the Game banner.
Inserts
2014 Panini Prizm World Cup has a deep insert lineup. Individually, themes look at different parts of the game, tournament stars and history. They're a celebration of all things World Cup as well as its legacy.
With 49 cards, World Cup Stars is the largest chase set. It's more or less a who's who of tournament participants, showcasing 2014 stars as well as some legends.
Guardians (25 cards) spotlights goalkeepers while Net Finders (25 cards) showcases top goal scoring threats.
World Cup Matchups (28 cards) pairs up 2014 participants from opposing countries. This includes one with set stars Messi and Ronaldo.
Fuleco, the 2014 World Cup mascot, has a three-card set while venue ten posters from the tournament are also on the checklist.
Other inserts include Aerial Assault (five cards), Cup Captains (30 cards) and Team Photos (32 cards).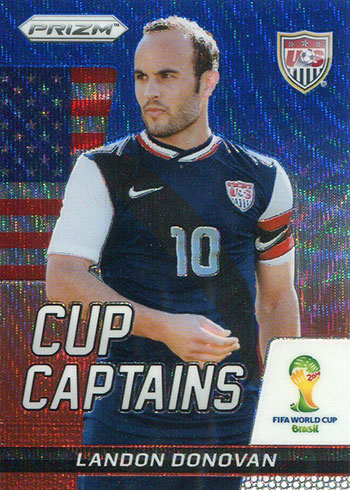 All of these inserts have an extensive parallel lineup that's similar to the base set: Prizms, Blue and Red Wave Prizms, Red, White and Blue Prizms, Yellow and Red Pulsar Prizms, Blue Prizms (/199), Red Prizms (/149), Purple Prizms (/99), Green Crystals Prizms (/25), Gold Prizms (/10), Gold Power Prizms (/5) and Black Prizms (1/1).
Rounding out the checklist is a special Eusebio Tribute card. The legendary Portuguese star passed away early in 2014.
2014 Panini Prizm World Cup Soccer cards at a glance:
Cards per pack: Hobby – 6, Hanger – 6
Packs per box: Hobby – 24, Hanger – 4
Boxes per case: Hobby – 12
Set size: 201 cards
Release date: May 7, 2014
Shop for 2014 Panini Prizm World Cup Soccer boxes on eBay:
What to expect in a hobby box:
Prizms Parallels – 8
Inserts – 5
2014 Panini Prizm World Cup Soccer Checklist
You can also download a spreadsheet version of the checklist:
Base
Autographs
Inserts
Team Sets