2014 National Treasure Hunt: Thursday Edition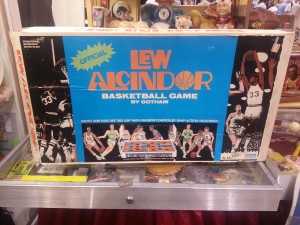 By Stephen Laroche | Beckett Basketball Editor
No matter what sport you collect, there is a very good chance that you will be able to find something that appeals to your particular tastes at the 2014 National Sports Collectors Convention in Cleveland, Ohio.
Over the next few days, Beckett Media will be going on a treasure hunt on the show floor to track down some items that will run the gamut from obscure to drool-inducing.
Let's take a look at five of these great collectibles after the jump.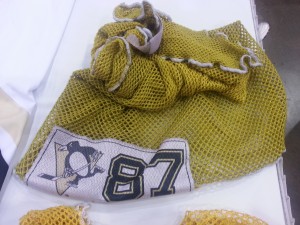 1) Sidney Crosby Laundry Bag
Found at the J&J Distributing Booth, this item is not game-used, but it has contained items worn by one of the NHL's marquee superstars at one point. As odd as it seems to many of us, it is certainly something a hardcore Crosby fan may want to add to their collection.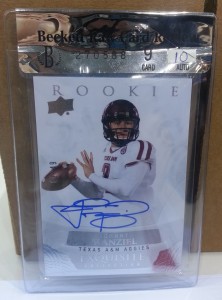 2) 2013 Exquisite Collection Draft Picks Auto Johnny Manziel
With the National being in Cleveland, it is impossible to avoid seeing Johnny Manziel memorabilia on the floor. One of the more intriguing items came by the Beckett Booth this morning as Texas-based collector Aaron Maynes came to pick up his hot card after it received a Raw Card Review.
Originally picked up as a redemption card by Manes and Michael Elizalde of Park Collectibles, it came back to them recently and they made the decision to have it graded. With a serial number of 02/49, there should be a lot of collector appeal since it matches his jersey number.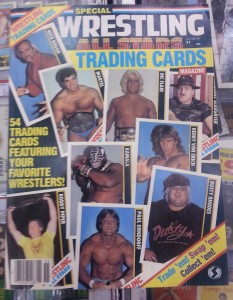 3) 1985 Wrestling All-Stars Magazine
The cover says it all here. Professional wrestling was experiencing incredible growth in 1985 with the advent of WrestleMania and the rock-and-wrestling connection. All 54 cards inside were printed on nine-card sheets that needed to be hand-cut. It's hard to say how many copies have survived over the years, but this is a must-have for wrestling card collectors and can be found at the Aces booth (1759-1761).
4) Lew Alcindor Basketball Game
Still in its original box, this item was produced by Gotham Toys in 1972 as Alcindor's star was rising to amazing heights. Kids in that era could face off against each other and see who could score the most points in a certain time frame. With its funky graphics, it also doubles as an awesome conversation piece and it is for sale at William Kozlowski's booth (1608).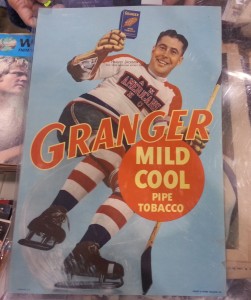 5) Busher Jackson Advertisement
It seems crazy now, but athletes used to endorse tobacco products decades ago. In this case, Hockey Hall of Famer Busher Jackson lent his name and image to the Granger Tobacco Company. Dated from either the 1939-40 or 1940-41 seasons, this large cardboard piece is certainly a regrettable relic from yesteryear. However, there is something to be said about the rich color and striking nature of this piece.
Stay tuned for more great items over the next few days.
Stephen Laroche is the editor of Beckett Hockey and Beckett Basketball magazines. Have a comment, question or idea? Send an e-mail to him at SLaroche@beckett.com. Follow him on Twitter @Stephen_Laroche.