2014 National Treasure Hunt: Sunday Edition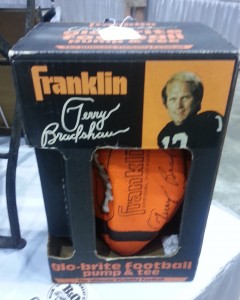 By Stephen Laroche | Beckett Basketball Editor
With another National Sports Collectors Convention coming to an end, most attendees are hopefully returning home with items that they have desired for years.
The quest for the perfect collectible is a challenge most hobbyists embrace and there is a good chance that many walked away with positive feelings about their experiences over the past few days in Cleveland. The Beckett Media team certainly enjoyed meeting with collectors from all over the world and hearing about their experiences.
The 2014 National Treasure Hunt closes with five more unique items and you can read more about them after the jump.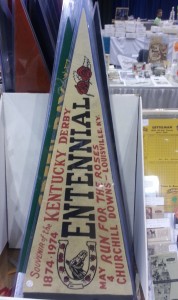 1) 1974 Kentucky Derby Pennant
Pennants are not as prominent as they were in decades past, but there is a certain charm to them as a collectible. Those with a sports theme tend to command interest if they are older, of course, but adding in a specific date or event may add a premium.
This particular pennant is for the 1974 Kentucky Derby and the event was celebrating its centennial. The race itself was won by Cannonade, who took it by 2 1/4 lengths.
2) Franklin Glo-Brite Football Endorsed by Terry Bradshaw
Bradshaw was a hero to countless kids in the 1970s and they undoubtedly begged their parents to get this particular football, which was packaged with a tee and pump.
The glo-brite colors of the ball itself draws the eyes of modern collectors and those trying to recapture their youth. The fact that it remains in its original packaging makes it incredibly appealing as well.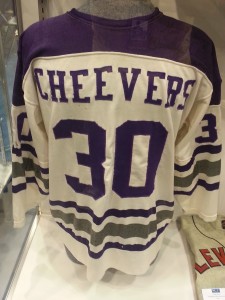 3) 1972-73 Gerry Cheevers Cleveland Crusaders Jersey
The 1972-73 season saw the arrival of the World Hockey Association, a rival league that challenged the NHL and gave players a chance to earn higher salaries.
One of the original 12 WHA teams was the Cleveland Crusaders and their marquee talent was Cheevers, who was coming off a Stanley Cup victory with the Boston Bruins. This amazing game-used jersey found at the SCP Auctions booth comes from his first season with the team and he won the Ben Hatskin Trophy as the league's best goaltender.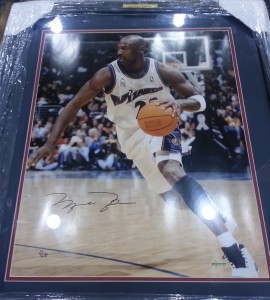 4) Upper Deck Authenticated Michael Jordan Washington Wizards Photo
While most Upper Deck Authenticated items featuring Jordan seem to feature him with the Chicago Bulls, it is nice to see items of him wearing a Washington Wizards jersey – even if his stint there was brief.
Found at Kenny Depalma's booth along with other signed collectibles, it could be argued that a Jordan completist has to consider an item like this due to its unique nature.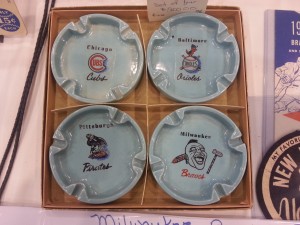 5) Vintage MLB Ashtrays
Tobacco-related items with a sports theme could be found on the show floor with a bit of searching and they are a reminder of a simpler time before society began to become aware of the health risks related to smoking.
Decades ago, many teams and leagues would allow licensees to create ashtray featuring the team logo. More often than not, they were inexpensive items that were often sold through souvenir brochures and at arenas or ballparks. These items found at the National were likely made before 1966 since the Milwaukee Braves relocated to Atlanta that year.
Stephen Laroche is the editor of Beckett Hockey and Beckett Basketball magazines. Have a comment, question or idea? Send an e-mail to him at SLaroche@beckett.com. Follow him on Twitter @Stephen_Laroche.