2014-15 NHL Rookie Card Deadline Announced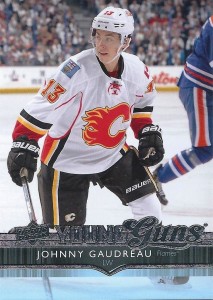 By Stephen Laroche | Beckett Hockey Editor
Upper Deck confirmed today that the cut-off date for rookie eligibility for 2014-15 trading card products has passed and any player making their debut after January 15, 2015 will have to wait until next season's releases to appear on a card for the first time.
There are 152 players eligible for rookie cards in NHL and NHLPA-licensed products for 2014-15. This group in broken down into 90 players that have debuted this season and 62 that carried over from the 2013-14 campaign that hit the ice after last year's deadline.
Which players are eligible to appear in this year's hockey card sets? Find out after the jump.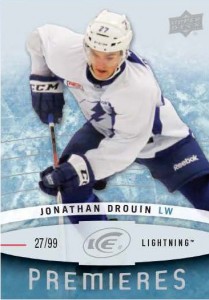 An NHL player is eligible for a rookie card once they skate in an official game. However, there is an exception for goaltenders that sit on the bench. They are able to appear in sets even if they do not step into the crease during game action.
Over the past few months, over 100 players have received rookie cards in Upper Deck's sets and only two of the carry-over players have yet to make their cardboard debut. The company has confirmed that Kenny Agostino of the Calgary Flames will be part of 2014-15 Fleer Showcase. However, the status of Julien Brouillette receiving a card has yet to be confirmed. The 28-year-old Winnipeg blueliner spent 10 games with the Washington Capitals last year, but signed a one-way deal with the Jets over the summer and has only played one game with the club to date.
Of the 90 players (including four backup goalies) that have hit the ice or sat on the bench for the first time in 2014-15, just 44 have appeared on an Upper Deck card to date. This group includes such major prospects as Aaron Ekblad, Sam Reinhart, Anthony Duclair, Andre Burakovsky and Leon Draisaitl. As the season progresses, expect most – if not all – members of this group to make an appearance on a card.
While the cut-off date for freshmen has been in place for over a decade, it was only in recent years that it was moved up to around the All-Star break. The purpose of this is to ensure that the early products for the following season have a stronger selection of rookie cards within them and are more appealing to collectors. Occasionally, this allows for a budding star player coming up late from Europe, the AHL or collegiate ranks to get cards ahead of the annual Upper Deck Series One release such as Johnny Gaudreau or Evgeny Kuznetsov.
Only one player making their NHL debut thus far this season has appeared in an earlier release and that was Calvin Pickard of the Colorado Avalanche. He sat on the bench in 2012-13 and his rookie cards appeared in several products last year.
2014-15 Eligible Rookies
Chris Wagner, Anaheim Ducks
Jesse Blacker, Anaheim Ducks
Josh Manson, Anaheim Ducks
Max Friberg, Anaheim Ducks
William Karlsson, Anaheim Ducks
Brendan Shinnimin, Arizona Coyotes
Jordan Martinook, Arizona Coyotes
Justin Hodgman, Arizona Coyotes
Tobias Rieder, Arizona Coyotes
Tyler Gaudet, Arizona Coyotes
Bobby Robins, Boston Bruins
David Pastrnak, Boston Bruins
Joseph Morrow, Boston Bruins
Seth Griffith, Boston Bruins
Joel Armia, Buffalo Sabres
Sam Reinhart, Buffalo Sabres
Tim Schaller, Buffalo Sabres
Josh Jooris, Calgary Flames
Michael Ferland, Calgary Flames
Brendan Woods, Carolina Hurricanes
Brody Sutter, Carolina Hurricanes
Justin Shugg, Carolina Hurricanes
Patrick Brown, Carolina Hurricanes
Victor Rask, Carolina Hurricanes
Adam Clendening, Chicago Blackhawks
Klas Dahlbeck, Chicago Blackhawks
Phillip Danault, Chicago Blackhawks
Scott Darling, Chicago Blackhawks
Trevor Van Riemsdyk, Chicago Blackhawks
Andrew Agozzino, Colorado Avalanche
Borna Rendulic, Colorado Avalanche
Colin Smith, Colorado Avalanche
Dennis Everberg, Colorado Avalanche
Alexander Wennberg, Columbus Blue Jackets
Anton Forsberg, Columbus Blue Jackets
Kerby Rychel, Columbus Blue Jackets
Marko Dano, Columbus Blue Jackets
Brett Ritchie, Dallas Stars
Curtis McKenzie, Dallas Stars
John Klingberg, Dallas Stars
Jyrki Jokipakka, Dallas Stars
Andrej Nestrasil, Detroit/Carolina
Bogdan Yakimov, Edmonton Oilers
Brandon Davidson, Edmonton Oilers
Darnell Nurse, Edmonton Oilers
Iiro Pakarinen, Edmonton Oilers
Leon Draisaitl, Edmonton Oilers
Aaron Ekblad, Florida Panthers
Rocco Grimaldi, Florida Panthers
Andy Andreoff, Los Angeles Kings
Tyler Graovac, Minnesota Wild
Jiri Sekac, Montreal Canadiens
Sven Andrighetto, Montreal Canadiens
Miikka Salomaki, Nashville Predators
Damon Severson, New Jersey Devils
Seth Helgeson, New Jersey Devils
Griffin Reinhart, New York Islanders
Anthony Duclair, New York Rangers
Kevin Hayes, New York Rangers
Curtis Lazar, Ottawa Senators
Pierre-Edouard Bellemare, Philadelphia Flyers
Rob Zepp, Philadelphia Flyers
Shayne Gostisbehere, Philadelphia Flyers
Bobby Farnham, Pittsburgh Penguins
Bryan Rust, Pittsburgh Penguins
Derrick Pouliot, Pittsburgh Penguins
Dominik Uher, Pittsburgh Penguins
Scott Harrington, Pittsburgh Penguins
Scott Wilson, Pittsburgh Penguins
Barclay Goodrow, San Jose Sharks
Chris Tierney, San Jose Sharks
Melker Karlsson, San Jose Sharks
Mirco Mueller, San Jose Sharks
Troy Grosenick, San Jose Sharks
Jordan Binnington, St. Louis Blues*
Jori Lehtera, St. Louis Blues
Petteri Lindbohm, St. Louis Blues
Andrei Vasilevskiy, Tampa Bay Lightning
Jonathan Drouin, Tampa Bay Lightning
Nikita Nesterov, Tampa Bay Lightning
Brandon Kozun, Toronto Maple Leafs
Chris Gibson, Toronto Maple Leafs*
Sam Carrick, Toronto Maple Leafs
Stuart Percy, Toronto Maple Leafs
Bo Horvat, Vancouver Canucks
Brandon DeFazio, Vancouver Canucks
Andre Burakovsky, Washington Capitals
Liam O'Brien, Washington Capitals
Pheonix Copley, Washington Capitals*
Adam Lowry, Winnipeg Jets
2013-14 Carryover Rookies
Brandon Gormley, Arizona Coyotes
Mark Visentin, Arizona Coyotes
Matt Lindblad, Arizona Coyotes
Alexander Khokhlachev, Boston Bruins
Andrey Makarov, Buffalo Sabres*
Connor Knapp, Buffalo Sabres
Jake McCabe, Buffalo Sabres
Nathan Lieuwen, Buffalo Sabres
Nicolas Deslauriers, Buffalo Sabres
Philip Varone, Buffalo Sabres
Bill Arnold, Calgary Flames
Bryce Van Brabant, Calgary Flames
Corban Knight, Calgary Flames
Johnny Gaudreau, Calgary Flames
Joni Ortio, Calgary Flames
Kenny Agostino, Calgary Flames
Markus Granlund, Calgary Flames
Tyler Wotherspoon, Calgary Flames
Matt Carey, Chicago Blackhawks
Teuvo Teravainen, Chicago Blackhawks
Joey Hishon, Colorado Avalanche
Paul Carey, Colorado Avalanche
Patrick Nemeth, Dallas Stars
Landon Ferraro, Detroit Red Wings
Mitch Callahan, Detroit Red Wings
Ryan Sproul, Detroit Red Wings
Teemu Pulkkinen, Detroit Red Wings
Laurent Brossoit, Edmonton Oilers*
Oscar Klefbom, Edmonton Oilers
Garrett Wilson, Florida Panthers
Jonathan Racine, Florida Panthers
Vincent Trocheck, Florida Panthers
Andrew Campbell, Los Angeles Kings
Christian Folin, Minnesota Wild
Joonas Nattinen, Montreal Canadiens
Calle Jarnkrok, Nashville Predators
Colton Sissons, Nashville Predators
Mark Van Guilder, Nashville Predators
Simon Moser, Nashville Predators
Joe Whitney, New Jersey Devils
Brett Gallant, New York Islanders
Johan Sundstrom, New York Islanders
John Persson, New York Islanders
Justin Johnson, New York Islanders
Kevin Czuczman, New York Islanders
Mike Halmo, New York Islanders
Scott Mayfield, New York Islanders
Andrew Hammond, Ottawa Senators
Adam Payerl, Pittsburgh Penguins
Ty Rattie, St. Louis Blues
Cedric Paquette, Tampa Bay Lightning
Cody Kunyk, Tampa Bay Lightning
Kristers Gudlevskis, Tampa Bay Lightning
Vladislav Namestnikov, Tampa Bay Lightning
Greg McKegg, Toronto Maple Leafs
Petter Granberg, Toronto Maple Leafs
Kellan Lain, Vancouver Canucks
Michael Zalewski, Vancouver Canucks
Evgeny Kuznetsov, Washington Capitals
Julien Brouillette, Washington Capitals
Nicolas Deschamps, Washington Capitals
Peter LeBlanc, Washington Capitals
Current Carryovers to 2015-16
Michael Lee, Arizona Coyotes*
Josh Anderson, Columbus Blue Jackets
Nick Shore, Los Angeles Kings
Jean-Francois Berube, Los Angeles Kings*
Anthony Bitetto, Nashville Predators
Luke Witkowski, Tampa Bay Lightning
* – backup goaltender who has not played an official NHL game.
Stephen Laroche is the editor of Beckett Hockey and Beckett Basketball magazines. Have a comment, question or idea? Send an e-mail to him at SLaroche@beckett.com. Follow him on Twitter @Stephen_Laroche.