2013 NFL Draft: Day 2 live blog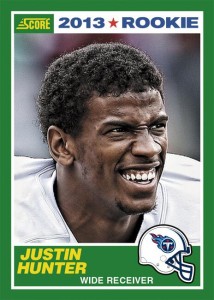 By Susan Lulgjuraj | Beckett Football Editor
The first round of the NFL Draft was filled with talent teams need to win – not necessarily the guys that collectors want.
That's what the second day of the 2013 NFL Draft was for.
Justin Hunter was the first skilled position player off the board in the second round – yes, before the likes of the Geno Smith, Matt Barkley and Eddie Lacy.
The picture above is Panini's real-time Rookie Card reveal. You can check out its full gallery here.
Update, 6:55 p.m. (ET): Still waiting on the big names. In the end, I don't think it matters to collectors where guys end up getting drafted. It has a short-term effect, but in the long-term it, the only that matters is what happens on the field.
This effects investors more than collectors.
Update, 7:00 p.m.: The first running back off the board is Giovani Bernard from North Carolina. Interestingly, Bernard was a name I heard from both Sa-Ge and Press Pass officials when I asked them who did they this season. Both companies were excited about Bernard.
"He can do everything. No one really know about him." Sa-Ge President Tom Geideman said in March. "He's going to be one of the top running backs.
Update, 7:03 p.m.: And Manti Te'o is off the board.
This is one of Te'o top pre-draft cards.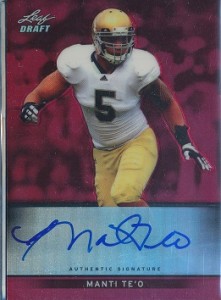 Update, 7:08: The Jets picked quarterback Geno Smith. From a collectors standpoint, this isn't a bad situation. He should – SHOULD – learn how to play on this level and may even get time in his first year because of issues with Mark Sanchez. Good luck, Tim Tebow.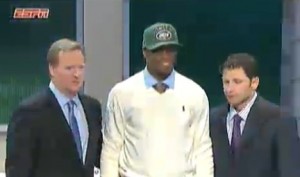 Update, 7:13: Upper Deck just tweeted this card photo of Smith. Sharp looking card – let the run on Smith cards commence.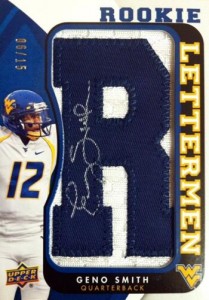 Update, 7:42: Eddie Lacy would have been a fun pick for collectors with the Dallas Cowboys. But it didn't happen and Dallas drafted a tight end.
Update, 8:08: Former quarterback Kurt Warner gives his assessment of the Geno Smith pick and tells the NFL Network he think Smith will be the Jets quarterback in the first game of the season. For investors, this means get as many Smith cards as you can and sell right as the season starts.
Many experts are thinking Smith gets a chance to throw the ball this year.
Update, 8:20: Denver Broncos select Montee Ball out of Wisconsin. This is an intriguing pick. He has a nose for the end zone and could add a lot of diversity to Denver's offense.
But still, no Eddie Lacy.
While running backs don't get as much love with collectors as quarterbacks, it could even be tougher for Ball to get attention with Peyton Manning.
Update, 8:31: Roger Goodell and Deion Sanders have a little fun reciting the lines from their Leon Sandcastle commercial, which now begs the question.
Loading ...
Update, 8:34: Eddie Lacy goes off the board to the Green Bay Packers with the 61st overall pick. He' a good running back, but his health has been a question. Additionally, he's not going to get a ton of carries. A fun pick, but probably not one for investors.
Update, 8:38: Of course, while you're looking up players in the Beckett database, you can get a special NFL Draft discount using the codes below.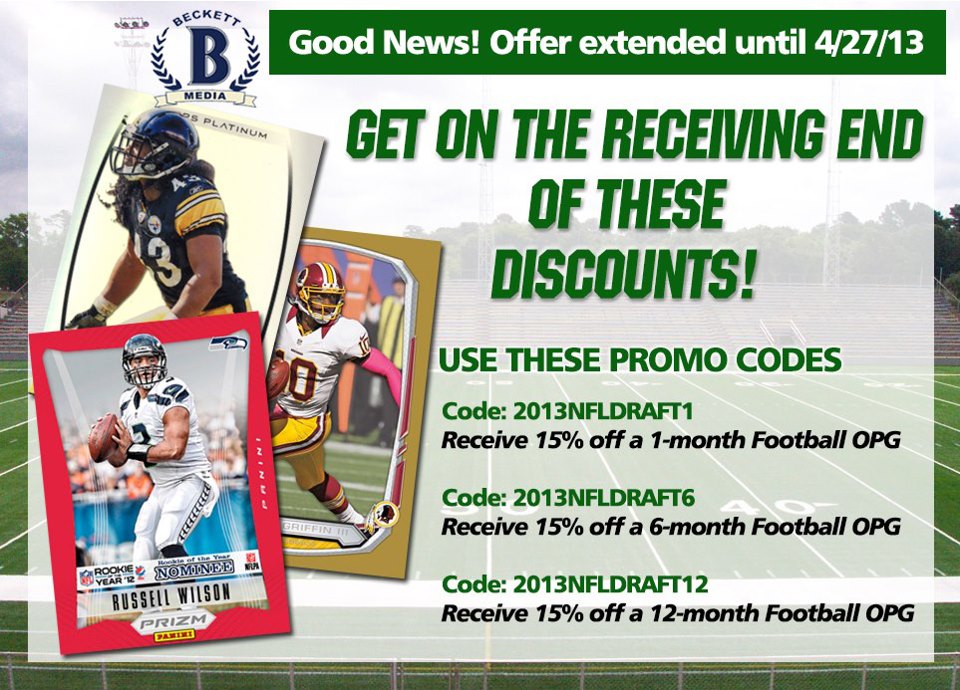 Update, 9:00: Honey Badger to the Cardinals. … Can he and Te'o become defensive players that collectors will want to pick up?
Update, 9:13: Quarterback Mike Glennon gets picked by the Tampa Bay Bucs. Josh Freeman collectors could start to worry here. It seems Tampa Bay could be lighting a fire under Freeman, but it also means Freeman could wind up some place else.
Susan Lulgjuraj is an editor of Beckett Football. You can email her here with questions, comments or ideas. Follow her on Twitter here. Follow Beckett Media on Facebook and Twitter.