2012 UFC Knockout going beyond the cardboard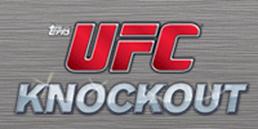 By SUSAN LULGJURAJ | Contributing Editor
When you open 2012 UFC Knockout, don't cringe at the redemption card.
Read the fine print.
Because there are redemptions in 2012 UFC Knockout for whole memorabilia pieces – not cards.
Topps is offering autographed gloves from some of the top fighters in UFC. There will be 40 fighters signing and each will have two gloves available.
Topps moved away from cutting up these products and putting them in relic cards to offer their collectors something different.
"It allows us to offer something beyond the 2.5" x 3.5" platform and it enhances the product's experience for the collector," said Topps spokesperson Clay Luraschi. "We are looking to do more of it. You'll see with Five Star football (releases in February), we have inserted redemption cards for autographed rookie jerseys."
Topps isn't shying away from relic and autograph cards either. There are two autographed relics, two autographs and four relics in every 2012 UFC Knockout box.
This set is scheduled to be released at the end of January.
Susan Lulgjuraj is a contributing editor for Beckett Media. You can email Susan here. Follow her on Twitter here.