2012 Limited Phenom rookies grabbing attention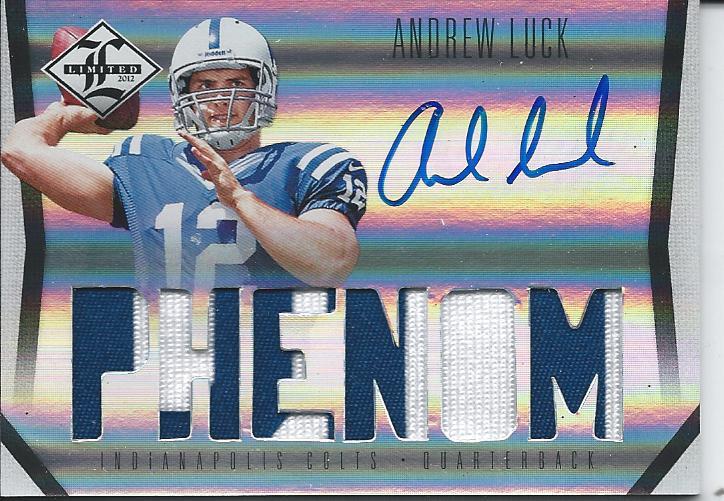 By Susan Lulgjuraj | Beckett Football Editor
The end of the regular season in football doesn't mean an end to collecting. There are still plenty of football products on the collecting calendar.
Panini Limited arrived this week, featuring a memorabilia insert collectors anticipated. Gameday memorabilia cards features the date on the card that the equipment was apparently used.
A few of these cards have emerged and as you can at the bottom of the cards, there is a date with a specific game. These cards are the type of things collectors want to see more often in product with jersey and memorabilia cards. Besides being able to pinpoint a game, collectors want to feel confident in the item's authenticity.
– 2012 Limited Gameday memorabilia cards
But, of course, these aren't the only grabbing the attention of collectors. They want the rookies.
Limited is known for its Phenom subset. These cards feature on-card autograph with patches and a sheen that is familiar with Absolute collectors.
Here are some Limited Phenom cards.
– Andrew Luck

– Robert Griffin III

– Trent Richardson

– Ryan Tannehill

– Russell Wilson

– Ryan Broyles

– Isaiah Pead

– Doug Martin
However, not all rookies have the Phenom patch card. Some of the RCs have the phenom designation, but these are autograph cards, minus the die-cut window.
– Kirk Cousins

– Luke Kuechly

– Chandler Harnish
For more information on 2012 Limited, you can see the preview here
Susan Lulgjuraj is an editor of Beckett Football. You can email her here with questions, comments or ideas. Follow her on Twitter here. Follow Beckett Media on Facebook.
2012 Limited Football common checklist ( all cards numbered to 399)
Card No.|  Player | Team
1 Aaron Rodgers Green Bay Packers
2 Jordy Nelson Green Bay Packers
3 Greg Jennings Green Bay Packers
4 Kevin Kolb Arizona Cardinals
5 Beanie Wells Arizona Cardinals
6 Larry Fitzgerald Arizona Cardinals
7 Matt Ryan Atlanta Falcons
8 Michael Turner Atlanta Falcons
9 Roddy White Atlanta Falcons
10 Joe Flacco Baltimore Ravens
11 Ray Lewis Baltimore Ravens
12 Ray Rice Baltimore Ravens
13 Torrey Smith Baltimore Ravens
14 Ryan Fitzpatrick Buffalo Bills
15 Steve Johnson Buffalo Bills
16 Fred Jackson Buffalo Bills
17 Cam Newton Carolina Panthers
18 DeAngelo Williams Carolina Panthers
19 Steve Smith Carolina Panthers
20 Jay Cutler Chicago Bears
21 Matt Forte Chicago Bears
22 Brandon Marshall Chicago Bears
23 Andy Dalton Cincinnati Bengals
24 BenJarvus Green-Ellis Cincinnati Bengals
25 A.J. Green Cincinnati Bengals
26 Greg Little Cleveland Browns
27 Josh Cribbs Cleveland Browns
28 Tony Romo Dallas Cowboys
29 Miles Austin Dallas Cowboys
30 Dez Bryant Dallas Cowboys
31 DeMarco Murray Dallas Cowboys
32 Peyton Manning Denver Broncos
33 Willis McGahee Denver Broncos
34 Demaryius Thomas Denver Broncos
35 Matthew Stafford Detroit Lions
36 Calvin Johnson Jr. Detroit Lions
37 Ndamukong Suh Detroit Lions
38 Matt Schaub Houston Texans
39 Andre Johnson Houston Texans
40 Arian Foster Houston Texans
41 Reggie Wayne Indianapolis Colts
42 Donnie Avery Indianapolis Colts
43 Donald Brown Indianapolis Colts
44 Blaine Gabbert Jacksonville Jaguars
45 Maurice Jones-Drew Jacksonville Jaguars
46 Laurent Robinson Jacksonville Jaguars
47 Matt Cassel Kansas City Chiefs
48 Jamaal Charles Kansas City Chiefs
49 Dwayne Bowe Kansas City Chiefs
50 Reggie Bush Miami Dolphins
51 Anthony Fasano Miami Dolphins
52 Karlos Dansby Miami Dolphins
53 Christian Ponder Minnesota Vikings
54 Percy Harvin Minnesota Vikings
55 Adrian Peterson Minnesota Vikings
56 Tom Brady New England Patriots
57 Aaron Hernandez New England Patriots
58 Wes Welker New England Patriots
59 Rob Gronkowski New England Patriots
60 Drew Brees New Orleans Saints
61 Marques Colston New Orleans Saints
62 Jimmy Graham New Orleans Saints
63 Eli Manning New York Giants
64 Ahmad Bradshaw New York Giants
65 Victor Cruz New York Giants
66 Hakeem Nicks New York Giants
67 Mark Sanchez New York Jets
68 Shonn Greene New York Jets
69 Santonio Holmes New York Jets
70 Tim Tebow New York Jets
71 Carson Palmer Oakland Raiders
72 Darren McFadden Oakland Raiders
73 Darrius Heyward-Bey Oakland Raiders
74 Michael Vick Philadelphia Eagles
75 LeSean McCoy Philadelphia Eagles
76 DeSean Jackson Philadelphia Eagles
77 Ben Roethlisberger Pittsburgh Steelers
78 Isaac Redman Pittsburgh Steelers
79 Mike Wallace Pittsburgh Steelers
80 Philip Rivers San Diego Chargers
81 Ryan Mathews San Diego Chargers
82 Antonio Gates San Diego Chargers
83 Alex Smith San Francisco 49ers
84 Frank Gore San Francisco 49ers
85 San Francisco 49ers San Francisco 49ers
86 Randy Moss San Francisco 49ers
87 Matt Flynn Seattle Seahawks
88 Marshawn Lynch Seattle Seahawks
89 Sidney Rice Seattle Seahawks
90 Sam Bradford St. Louis Rams
91 St. Louis Rams St. Louis Rams
92 James Laurinaitis St. Louis Rams
93 Josh Freeman Tampa Bay Buccaneers
94 Dallas Clark Tampa Bay Buccaneers
95 Vincent Jackson Tampa Bay Buccaneers
96 Jake Locker Tennessee Titans
97 Chris Johnson Tennessee Titans
98 Kenny Britt Tennessee Titans
99 Pierre Garcon Washington Redskins
100 Roy Helu Jr. Washington Redskins
Gameday Materials Checklist
No. | Name | Team | #'d
1 Darren McFadden Oakland Raiders /25
2 Ray Rice Baltimore Ravens /27
3 Jon Beason Carolina Panthers /7
4 Devin Hester Chicago Bears /2
5 A.J. Green Cincinnati Bengals /1
6 Dez Bryant Dallas Cowboys /49
7 Tony Romo Dallas Cowboys /49
8 Von Miller Denver Broncos /10
9 Chris Johnson Tennessee Titans /6
10 Tamba Hali Kansas City Chiefs /4
11 Jamaal Charles Kansas City Chiefs /49
12 Devery Henderson New Orleans Saints /33
13 Hakeem Nicks New York Giants /49
14 Santana Moss Washington Redskins /35
15 Ryan Mathews San Diego Chargers /46
16 Malcom Floyd San Diego Chargers /7
17 Antonio Gates San Diego Chargers /4
18 London Fletcher Washington Redskins /49
19 Marques Colston New Orleans Saints /24
20 Eli Manning New York Giants /20
21 Miles Austin Dallas Cowboys /49
22 Steve Johnson Buffalo Bills /1
23 Dwayne Bowe Kansas City Chiefs /49