2012-13 Upper Deck SP Game Used hockey is live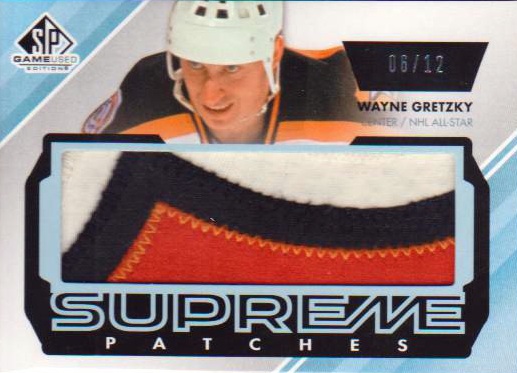 By Susan Lulgjuraj | Beckett Hockey Editor
The release of hockey cards may be slow this year, but that doesn't mean they aren't there. Collectors should begin readying for a  season and can do that with Upper Deck's 2012-13 SP Game Used, which released today.
The product features five packs with a hit in each pack. There is at least one autograph in every box.
For a reminder, here is Beckett's preview for SP Game Used.
In the meantime, let's check out what has been coming out 2012-13 SP Game Used.
Supreme Colors: These extra big memorabilia cards feature some filthy patches with multiple colors. It's not just jerseys, but other types of hockey memorabilia such as goalie pads.
The highlight of the pulls so far has been this Wayne Gretzky Supreme Patches three-color jersey
. Look for more of these types of cards coming out soon.
Stanley Cup Materials: Collectors can get pieces of the nets used in the last Stanley Cup in 2012-13 SP Game Used.
– Justin Williams

– Dustin Brown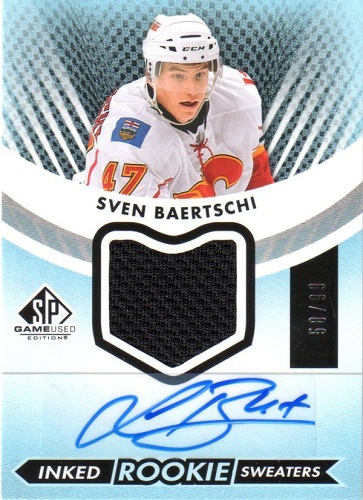 Rookies: While there isn't a load of high-profile rookies in these products yet, there are still some players garnering interest from collectors. New York Rangers rookie Chris Kreider
has been on the most collectible rookie this offseason, collectors haven't forgotten about Sven Baertschi, a Swiss hockey player with the Calgary Flames.
– Authentic Rookies Autograph

– Inked Rookie Sweaters /99

– Authentic Fabrics
Other Memorabilia: One of the unique things about collecting hockey cards is the vast amount of materials card manufacturers can use: jerseys, skate laces, pads, fight straps, gloves, and sticks. SP Game Used utilizes a number of those items in the product.
– Fight Straps
There's an early look at 2012-13 SP Game Used. The post will be updated throughout the day as different items pop up.
Susan Lulgjuraj is an editor of Beckett Hockey. You can email her here with questions, comments or ideas. Follow her on Twitter here. Follow Beckett Media on Facebook.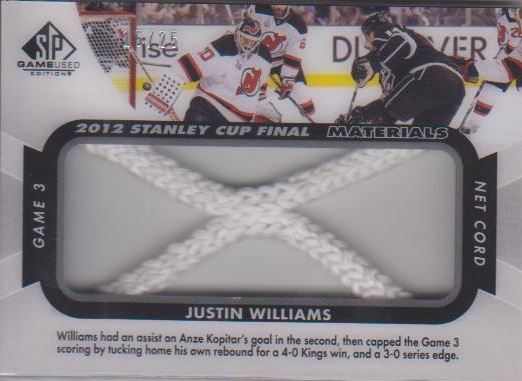 2012-13 SP Game Used Checklist
1 Dale Hawerchuk
2 Evander Kane
3 Alexander Ovechkin
4 Braden Holtby
5 Pavel Bure
6 Ryan Kesler
7 Alexandre Burrows
8 Richard Brodeur
9 Curtis Joseph
10 Dion Phaneuf
11 Phil Kessel
12 Steven Stamkos
13 Vincent Lecavalier
14 Alex Pietrangelo
15 Brett Hull
16 David Backes
17 Jaroslav Halak
18 Patrick Marleau
19 Joe Pavelski
20 Antti Niemi
21 Logan Couture
22 James Neal
23 Evgeni Malkin
24 Marc-Andre Fleury
25 Mario Lemieux
26 Sidney Crosby
27 Claude Giroux
28 Eric Lindros
29 Bernie Parent
30 Brayden Schenn
31 Dave Schultz
32 Ron Hextall
33 Erik Karlsson
34 Rick Nash
35 Brad Richards
36 Marian Gaborik
37 Mark Messier
38 Henrik Lundqvist
39 Mike Bossy
40 John Tavares
41 Bryan Trottier
42 Ilya Kovalchuk
43 Martin Brodeur
44 Adam Henrique
45 Pekka Rinne
46 Guy Lafleur
47 Jean Beliveau
48 Larry Robinson
49 P.K. Subban
50 Carey Price
51 Dany Heatley
52 Jari Kurri
53 Wayne Gretzky
54 Anze Kopitar
55 Drew Doughty
56 Simon Gagne
57 Luc Robitaille
58 Jonathan Quick
59 Ron Francis
60 Kris Versteeg
61 Stephen Weiss
62 Grant Fuhr
63 Bill Ranford
64 Jordan Eberle
65 Paul Coffey
66 Ryan Nugent-Hopkins
67 Taylor Hall
68 Johan Franzen
69 Nicklas Lidstrom
70 Pavel Datsyuk
71 Jamie Benn
72 Jaromir Jagr
73 Joe Sakic
74 Matt Duchene
75 Gabriel Landeskog
76 Denis Savard
77 Doug Wilson
78 Ed Belfour
79 Jonathan Toews
80 Patrick Kane
81 Jeff Skinner
82 Eric Staal
83 Jordan Staal
84 Doug Gilmour
85 Jarome Iginla
86 Thomas Vanek
87 Derek Roy
88 Ryan Miller
89 Dominik Hasek
90 Cody Hodgson
91 Bobby Orr
92 Cam Neely
93 Brad Marchand
94 Tuukka Rask
95 Patrice Bergeron
96 Ray Bourque
97 Terry O'Reilly
98 Tyler Seguin
99 Bobby Ryan
100 Jonas Hiller
Authentic Rookies
101 Mat Clark
102 Carter Camper
103 Maxime Sauve
104 Lane MacDermid
105 Torey Krug
106 Michael Hutchinson
107 Travis Turnbull
108 Sven Baertschi
109 Akim Aliu
110 Jeremy Welsh
111 Brandon Bollig
112 Tyson Barrie
113 Mike Connolly
114 Dalton Prout
115 Cody Goloubef
116 Shawn Hunwick
117 Andrew Joudrey
118 Ryan Garbutt
119 Reilly Smith
120 Brenden Dillon
121 Scott Glennie
122 Riley Sheahan
123 Philippe Cornet
124 Colby Robak
125 Jordan Nolan
126 Kristopher Foucault
127 Jason Zucker
128 Tyler Cuma
129 Chay Genoway
130 Gabriel Dumont
131 Robert Mayer
132 Chet Pickard
133 Aaron Ness
134 Casey Cizikas
135 Matt Donovan
136 Chris Kreider
137 Jakob Silfverberg
138 Mark Stone
139 Brandon Manning
140 Michael Stone
141 Matt Watkins
142 Tyson Sexsmith
143 Jake Allen
144 Jaden Schwartz
145 J.T. Brown
146 Carter Ashton
147 Ryan Hamilton
148 Jussi Rynnas