2011 Topps Allen & Ginter code is cracked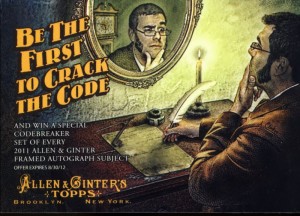 By Susan Lulgjuraj | Contributing Editor
The Ginter Code was a tough one this year. Unlike year's past when it took days or even just a few short weeks to figure out the puzzle, the 2011 code took seven months to finally get cracked.
Topps is closer to the release of 2012 Allen & Ginter than it is of the release that had this crazy puzzle.
Finally, a group of three men broke through.
The grand prize is a full set of framed autographs from the 2011 Allen & Ginter set. Also, in the past the codebreaker got a card in next year's product.
Ryan McCabe, Guillaume Robert and Frank Lattuca spent late nights and early mornings working on the code. And when it seemed as though they were ready to give up after months of an exhausting search, the Codemaster got on Twitter and pulled them back.
"Once the Codemaster started tweeting again, this time giving us slightly more "obvious" hints, then the race was back on," Robert said. "Even during Thanksgiving and Christmas. No one got too concerned whenever I would "phase out" though because my wife would explain people that [he is] working on a baseball puzzle."
Twitter played a big role in cracking the code. In fact, Twitter was the only way to solve the puzzle.
They used the social media site to get clues, but that's also how they found each other. They tweeted about the code and eventually realized they were all pretty close, but not close enough to solve it. They banded together to get it done.
The first thing needed were the promo cards because the clocks reflected in the mirror were important.  The promo cards had 10 different times on them.
Soon, they discovered how the times corresponded to a number of the Mysterious Figures cards. But eventually, it wasn't just the Mysterious Figures, but they needed the master set to find words that corresponded to websites.
Only the words had to be written backwards in the browser. The first page they found was gnidnal.topps.com (that's 'landing' backwards). Landing was the last word on the Nostradamus card.
The group found 30 webpages Topps created – but only 10 were needed. They also received a map, which was later determined to be a star map. Through angles, a computer script and the number 13, the final clue was revealed.
That led them on a chase for several cards in the set, which included Andrew Bailey's Hometown Heroes card, a New Jersey/Pennsylvania relic card, the Battle of Gettysburg and Abraham Lincoln.
The President's card then led them to the Twitter account @TheLincolnFFF1. They signed into the account using the 11-character clue from the Nostradamus landing page and tweeted the Codemaster.
After a return message, which gave instructions on where to call to solve the puzzle, the Ginter code had been cracked.
Finally.
To read more about the entire process from the three men, check out the blog they created First Point of Aries and note the address, which is a play on Topps' use of reverse images.
The three used email, Skype and Twitter's direct message feature to stay in contact with each other. When one made a breakthrough, they all found out within minutes.
It took some time for the three men to get together, though. When they talked about they knew – or rather avoided talking about it – they danced around what they had. Finally, after some time, they decided to get together and the collective mind finally solved the puzzle.
"I probably averaged about four to five hours a week working on the code from start to finish," McCabe said. "There were some weeks I did nothing with it and other weeks I was spending 35 to40 hours on it. … I cannot say enough for how much my wife (Jessica) supported this effort. Frank, G, and I have been pretty public with how much our wives were part of making this happen for us with all the "putting up with" they did.
"Having said all that, it was easy to put in those hours because I knew my teammates were working just as hard, if not harder, than me to solve it for us."
Even after all this time was spent on searching for clues, reading words backwards and following a Twitter account, will they do it again?
"Oh yeah," Lattuca said. "Clearly, we must defend the crown."
Just don't tell their wives yet.
Susan Lulgjuraj is a contributing editor for Beckett Media. You can email Susan here. Follow her on Twitter here.