2011 Panini Playbook Football: The Secret Set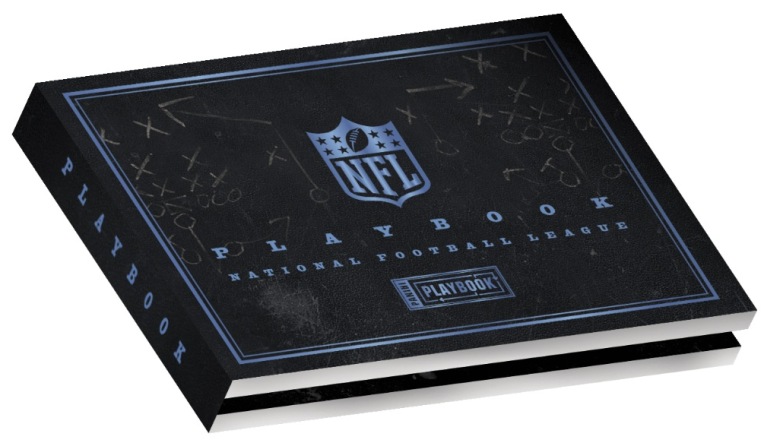 By Andrew Tolentino | Football Editor
You know that one track that's never mentioned, or just subtly hinted at in the liner notes? You think the music is over and you're about to loop back to the first song, and then — BOOM! — another song!
Keep listening, collectors. Panini America's 2011 football product album has a bonus track — 2011 Panini Playbook.
Just as we thought we had seen a preview for the company's National Treasures grand finale, a "high-end, booklet-based" encore is apparently upon us. Mysteriously teased in an early-January Panini photo gallery, the brand new brand has now been confirmed and slated for an April 4 release date.
In the interest of demystifying the mystery, Panini presented the subset specifics and a few more facts today.
Headlined by hinged cardboard, Panini Playbook offers at least two non-base booklet components including Chronicle Signature Booklets (featuring as many as eight autographs, numbered to 10 or less) and Playbook Materials Booklets (with as many as eight pieces of game-worn memorabilia, numbered to 49 or less). Accolades Signatures and Limited Edition Materials cards come numbered to 49 or less and respectively highlight football's past and present with autographs and memorabilia.
2011 Panini Playbook by the numbers
Four cards per  pack

One hard-signed, prime-memorabilia-piece Rookie Premiere Booklet
One rookie autograph
One memorabilia card
One additional autograph, prime-piece memorabilia  card or booklet card

10 packs per case

One (at least) Playbook Material card
Three top-tier RPS Rookie Booklets

150 base cards

50 Common Signatures (numbered to 99 or less)
50 Rookies Signature Silver (numbered to 299 or less)

36 Rookies Booklet Silver (numbered to 399 or less)