Is This 2011 Topps Finest Mike Trout Superfractor Autograph a Deal?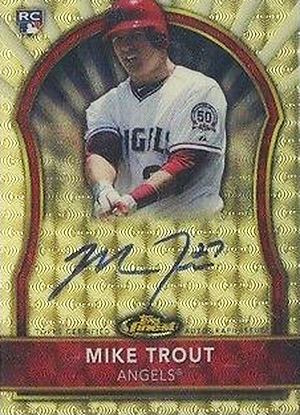 By Ryan Cracknell | Hobby Editor
The $35,200 sale of a 2011 Topps Update Authentic Diamond Mike Trout one-of-one over the weekend didn't only bring a huge price tag. It brought a lot of attention, which is understandable given the fact that it might be a while before it shows up again — if ever.
But what does this mean for other top-line early Mike Trout cards as they surface? And could this 2011 Topps Finest Mike Trout Superfractor Autograph be a bargain?
Okay, it's hard to say that any baseball card that's less than ten-years old with an asking price of $28,999.99 a bargain. But let's break it down.
First, like the 2011 Topps Update Authentic Diamond Mike Trout, this is another one-of-a-kind card. And this time around, it's a Superfractor, the king when it comes to baseball one-of-ones. It's not a Bowman Chrome Superfractor, but those gold spirals are unmistakable.
The 2011 Topps Finest Mike Trout Superfractor Autograph doesn't have a diamond embedded in it. But it is signed, something that most might find to be even better.
Perhaps working against the card is the set it comes from. The 2011 Topps Update Mike Trout has emerged as his most iconic Rookie Card. There's nothing wrong with his 2011 Finest cards, they just don't have the same broad appeal or connection with the flagship line.
It's also possible that this card might do better with an open auction format. It's a risk that could backfire and finish much lower. If the seller isn't eager to sell, that's probably not a risk worth taking for them. But an auction would generate buzz. Buyers can't be passive as there's a finite amount of time available to bid.
The Buy It Now format removes that immediacy. There's a sense one can wait and come back to it later.
There's something else with the 2011 Topps Finest Mike Trout Superfractor Autograph. A couple of years ago, some "test" Superfractors from several sets surfaced on the secondary market. These were not authorized by Topps in any way. But, that doesn't stop them from existing.
Someone picked up a "test" version of the Finest Superfractor, complete with the "Topps Certified Autograph Issue" text. They subsequently proceeded to get it autographed by Trout at a signing, slabbed by PSA/DNA and listed it on eBay for a lofty amount.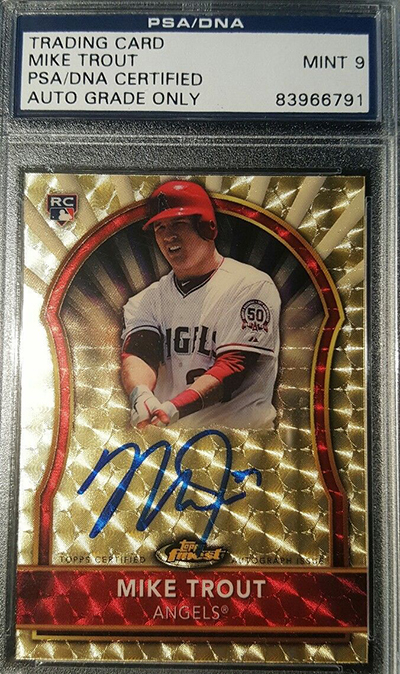 This separate test Superfractor can be quickly discerned by the lack of a serial number on the back. The seller is also very clear about its origins and the slab only authenticates the autograph, not the card.
Even though this second card isn't a legit Superfractor, seeing both listings at the same time creates confusion. The test issue ultimately undermines the real one.
Still, there's enough to the 2011 Finest Mike Trout Superfractor Autograph and its $29,000 price tag that makes you wonder if it's not so out of line as it might have seemed before the Authentic Diamond sale.
What do you think? Would you rather have the 2011 Topps Update Authentic Diamond Mike Trout for $35,200 or the 2011 Finest Superfractor Autograph for about $5,000 less? Let us know in the comments or keep the conversation going on Twitter by tagging @beckettmedia.
Comments? Questions? Contact Ryan Cracknell on Twitter @tradercracks.