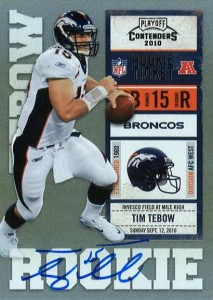 By Susan Lulgjuraj | Contributing Editor
The final list of short-prints for 2010 Playoff Contenders Football was released today, revealing the SPs for the Rookie Ticket Autographs Rookie Cards.
Playoff Contenders was full of SPs throughout different subsets, but the Rookie Ticket Autographs gained the most attention especially when we learned there was also variations in the product. Collectors wanted to know the print run of the card they pulled and what they needed to chase.
A full checklist and their print run could be found below.
Every card is numbered to 500 or less. Some of the more rare cards include Indianapolis Colts' Blair White (numbered to 75), each of Tampa Bay's Eric Berry's cards, which includes the variation, are numbered to 97 and Gerald McCoy's two cards are each numbered to 82.
Tim Tebow's two cards are numbered to 400 and each of Sam Bradford's cards are numbered to 377.

The rest of the SP checklist includes
– Legendary Contenders Black Autographs (link)
– Super Bowl Tickets Black Autographs (link)
# Player Name Team Name QTY
103 Anthony Dixon San Francisco 49ers 360
106 Blair White Indianapolis Colts 75
107 Brandon Banks Washington Redskins 500
108 Brandon Graham Philadelphia Eagles 306
109 Brandon Spikes New England Patriots 500
113 Carlton Mitchell Cleveland Browns 496
115 Chris Ivory New Orleans Saints 500
116 Chris McGaha Jacksonville Jaguars 441
119 Dan LeFevour Cincinnati Bengals 455
121 Danario Alexander St. Louis Rams 300
123 David Nelson Buffalo Bills 500
126 Dennis Pitta Baltimore Ravens 500
129 Dezmon Briscoe Tampa Bay Buccaneers 495
130 Dominique Curry St. Louis Rams 190
137 Ed Wang Buffalo Bills 500
147 Jeremy Horne Kansas City Chiefs 500
148 Jeremy Williams Philadelphia Eagles 194
151 Jimmy Graham New Orleans Saints 358
156 Joique Bell Philadelphia Eagles 161
157 Kareem Jackson Houston Texans 500
158 Keiland Williams Washington Redskins 500
161 Koa Misi Miami Dolphins 190
162 Kyle Williams San Francisco 49ers 436
164 Lamarr Houston Oakland Raiders 500
165 LeGarrette Blount Tampa Bay Buccaneers 287
166 Lonyae Miller Dallas Cowboys 412
168 Marlon Moore Miami Dolphins 500
169 Max Hall Arizona Cardinals 401
170 Max Komar Arizona Cardinals 500
179 Preston Parker Tampa Bay Buccaneers 190
183 Russell Okung Seattle Seahawks 174
184 Rusty Smith Tennessee Titans 190
188 Chris Gronkowski Dallas Cowboys 500
189 Seyi Ajirotutu San Diego Chargers 384
192 T.J. Ward Cleveland Browns 500
194 Thaddeus Lewis St. Louis Rams 190
197 Trent Williams Washington Redskins 500
198 Tyson Alualu Jacksonville Jaguars 190
200 Zac Robinson Detroit Lions 340
201 Andre Roberts Arizona Cardinals 498
201 Andre Roberts Arizona Cardinals 498
203 Arrelious Benn Tampa Bay Buccaneers 285
203 Arrelious Benn Tampa Bay Buccaneers 285
205 Brandon LaFell Carolina Panthers 312
205 Brandon LaFell Carolina Panthers 312
206 C.J. Spiller Buffalo Bills 372
206 C.J. Spiller Buffalo Bills 372
207 Colt McCoy Cleveland Browns 394
207 Colt McCoy Cleveland Browns 394
208 Damian Williams Tennessee Titans 412
208 Damian Williams Tennessee Titans 412
211 Dez Bryant Dallas Cowboys 360
211 Dez Bryant Dallas Cowboys 360
213 Eric Berry Kansas City Chiefs 97
213 Eric Berry Kansas City Chiefs 97
214 Eric Decker Denver Broncos 492
214 Eric Decker Denver Broncos 492
215 Gerald McCoy Tampa Bay Buccaneers 82
215 Gerald McCoy Tampa Bay Buccaneers 82
218 Jermaine Gresham Cincinnati Bengals 500
218 Jermaine Gresham Cincinnati Bengals 500
219 Jimmy Clausen Carolina Panthers 403
219 Jimmy Clausen Carolina Panthers 403
220 Joe McKnight New York Jets 392
220 Joe McKnight New York Jets 392
221 Jonathan Dwyer Pittsburgh Steelers 439
221 Jonathan Dwyer Pittsburgh Steelers 439
222 Jordan Shipley Cincinnati Bengals 499
222 Jordan Shipley Cincinnati Bengals 499
226 Mike Williams Tampa Bay Buccaneers 391
226 Mike Williams Tampa Bay Buccaneers 391
228 Ndamukong Suh Detroit Lions 326
228 Ndamukong Suh Detroit Lions 326
229 Rob Gronkowski New England Patriots 499
229 Rob Gronkowski New England Patriots 499
230 Rolando McClain Oakland Raiders 378
230 Rolando McClain Oakland Raiders 378
231 Ryan Mathews San Diego Chargers 300
231 Ryan Mathews San Diego Chargers 300
232 Sam Bradford St. Louis Rams 377
232 Sam Bradford St. Louis Rams 377
234 Tim Tebow Denver Broncos 400
234 Tim Tebow Denver Broncos 400
235 Toby Gerhart Minnesota Vikings 495
235 Toby Gerhart Minnesota Vikings 495