2001 Topps XFL Football Cards Are a Reminder of the Short-Lived League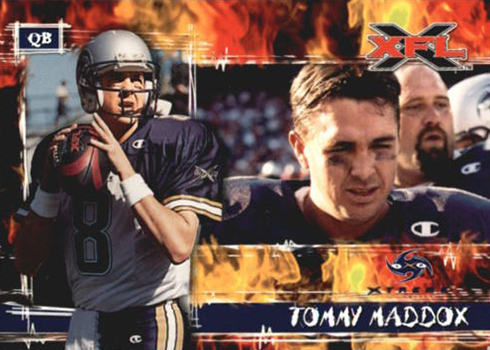 By Ryan Cracknell | Hobby Editor
Topps' football history has covered many pro leagues. Their run with the NFL was a long one. Their early days also included the AFL. The Canadian Football League got a few sets from the American manufacturer in the late 1950s and early '60s. 1984 Topps USFL remains one of the sport's most popular and valuable sets of the decade. And then there's 2001 Topps XFL, a one-and-done product showcasing the short-lived league.
From a configuration standpoint, there's nothing that screams extreme in 2001 Topps XFL Football. The checklist is a little more varied in what it covers compared to most other football products, but it's possible that's simply because the league only had eight teams.
The product has inserts, too. Both autographs and memorabilia cards are included.
The 2001 Topps XFL base set has 100 cards. Extreme, right? The design actually is. It has flaming backgrounds on some cards, shattered glass on others, and a close-up of a league football on others. Added to that are scribbled lines, jagged fonts and two player photos. Stare at them long enough and a headaches are a solid possibility.
It's the XFL. Would you expect something simple like 1988 Topps Baseball?
While most of the base set is player cards, there are a couple of subsets. Four Locked in Battle cards showcase team versus team match-ups. Cheerleaders were intended to be a big draw in the league. Girls on Fire showcases some of them.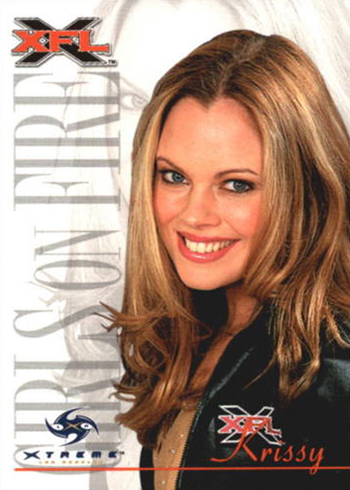 While many players on the checklist played in the NFL, the 2001 Topps XFL checklist isn't anywhere near the caliber of 1984 Topps USFL. Tommy Maddox and 1994 Heisman Trophy winner Rashaan Salaam are a couple of the most notable. Of course, there's Rod Smart, better known as He Hate Me.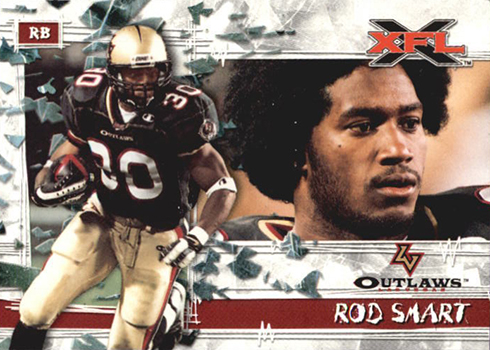 Endzone Autographs are the biggest of the inserts. Landing 1:28 packs, Maddox and Mike Furrey are the most valuable cards. Several of the cards have signatures on the back rather than the front. Perhaps things were a little too extreme for the signers to figure out where to apply the pen.
Gridiron Gear cards are the product's answer to memorabilia. Eight players are featured, although each has a jersey and a football version. Football pieces are tougher to find, although they were never confirmed as short prints. The memorabilia isn't game-used. Rather, the swatches come from gear used in mini camps. Gridiron Gear cards aren't easy pulls, falling 1:190 packs.
2001 Topps XFL at a glance:
Packs per box: 24 (hobby), 8 (blaster)
Cards per pack: 8
Release date: April, 2001
Set size: 100 cards
Buy 2001 Topps XFL cards on:
2001 Topps XFL Checklist
Jump directly to:
• Base Set
• Autographs
• Memorabilia Cards
• Inserts
• Promo Cards
Base Set
100 cards.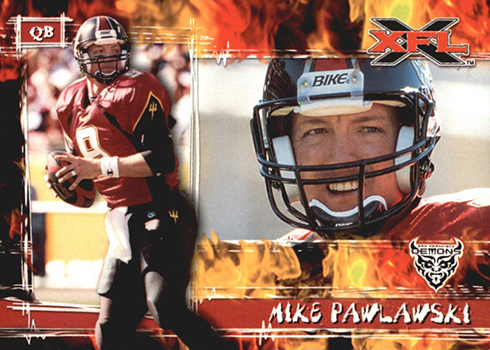 1 Mike Pawlawski
2 Todd Doxzon
3 James Bostic
4 Jim Druckenmiller
5 Mario Bailey
6 Mike Cawley
7 Dino Philyaw
8 Aaron Bailey
9 Juan Johnson
10 Kaipo McGuire
11 Toya Jones
12 Todd Floyd
13 Jamie Baisley
14 Brian Shay
15 Eric England
16 Curtis Alexander
17 Tim Lester
18 Dialleo Burks
19 Charles Puleri
20 Zechariah Lord
21 Chrys Chukwuma
22 Rickey Brady
23 Rashaan Salaam
24 Jeremaine Copeland
25 Butler By'not'e
26 Tommy Maddox
27 Mike Furrey
28 Ed Smith
29 Pat Barnes
30 James Hundon
31 John Avery
32 James Willis
33 Larry Ryans
34 Vaughn Dunbar
35 John Williams
36 Casey Weldon
37 Roell Preston
38 Jeff Brohm
39 Rashaan Shehee
40 Kevin Swayne
41 Ben Snell
42 James Williams
43 Corte McGuffey
44 Charles Jordan
45 Frank Leatherwood
46 Dwayne Sabb
47 Shannon Culver
48 Brent Moss
49 Zola Davis
50 Ryan Clement
51 Tyji Armstrong
52 Paul Failla
53 Michael Blair
54 Corey Ivy
55 Daryl Hobbs
56 Paul Lacoste
57 Damon Gourdine
58 Wendell Davis
59 Joe Cummings
60 Stephen Fisher
61 Stepfret Williams
62 Brandon Sanders
63 Michael Black
64 Scott Milanovich
65 Brian Roche
66 Darnell McDonald
67 Marcus Hinton
68 Quincy Jackson
69 Roosevelt Potts
70 Rod Smart
71 Keith Elias
72 Latario Rachal
73 Mike Sutton
74 Kirby Dar Dar
75 Derrick Clark
76 Antonio Edwards
77 Marcus Crandell
78 Jerry Crafts
79 Brian Roberson
80 Las Vegas vs New York – Locked in Battle
81 Orlando vs Chicago – Locked in Battle
82 San Francisco vs Los Angeles – Locked in Battle
83 Memphis vs Birmingham – Locked in Battle
84 Kat – Girls on Fire
85 Rose- Girls on Fire
86 Dana- Girls on Fire
87 Lisa Michelle- Girls on Fire
88 Kiushin- Girls on Fire
89 Youn- Girls on Fire
90 Sunni- Girls on Fire
91 Cicely- Girls on Fire
92 Tanisha- Girls on Fire
93 Krissy- Girls on Fire
94 TK- Girls on Fire
95 Jensi- Girls on Fire
96 Jenny- Girls on Fire
97 Karla- Girls on Fire
98 Jenny- Girls on Fire
99 Susanne- Girls on Fire
100 Checklist
Autographs
Endzone Autographs
18 cards.
1:28 packs.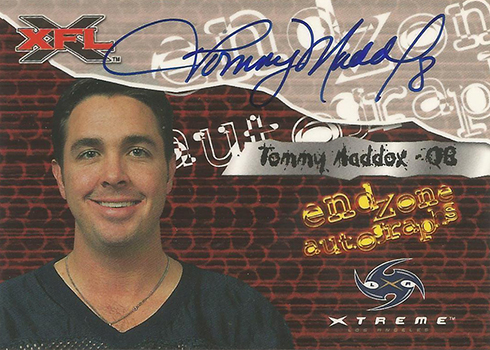 1 Tommy Maddox
2 Tim Lester
3 Rickey Brady
4 Wally Richardson
5 Michael Black
6 Jeremaine Copeland
7 LeShon Johnson
8 Chrys Chukwuma
9 Mike Archie
10 Rashaan Shehee
11 Roell Preston
12 Mike Furrey
13 Keith Elias
14 Ken Oxendine
15 Paul Failla
16 Dino Philyaw
17 Todd Doxzon
18 Chris Brantley
Memorabilia Cards
Gridiron Gear
16 cards.
1:190 packs.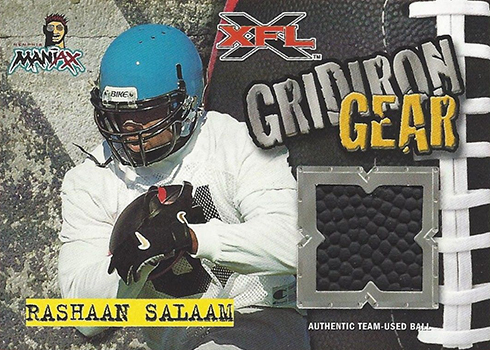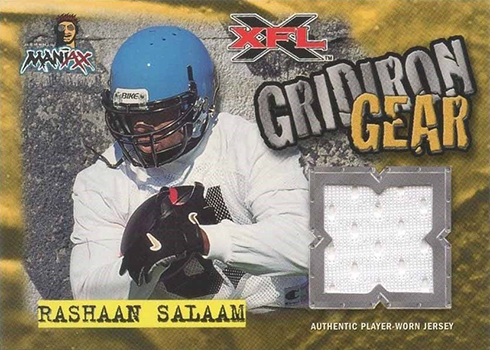 John Avery – Football
John Avery – Jersey
Pat Barnes – Football
Pat Barnes – Jersey
James Bostic – Football
James Bostic – Jersey
Jeff Brohm – Football
Jeff Brohm – Jersey
Chuck Clements – Football
Chuck Clements – Jersey
Scott Milanovich – Football
Scott Milanovich – Jersey
Charles Puleri – Football
Charles Puleri – Jersey
Rashaan Salaam – Football
Rashaan Salaam – Jersey
Checklist Top
Inserts
Loaded Cannon
8 cards.
1:8 packs.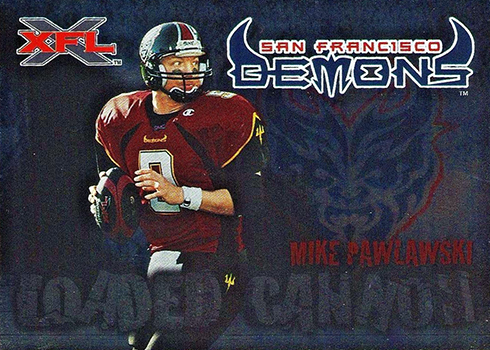 1 Tommy Maddox
2 Casey Weldon
3 Marcus Crandell
4 Jeff Brohm
5 Ryan Clement
6 Mike Pawlawski
7 Charles Puleri
8 Tim Lester
Logo Stickers
10 cards.
1:2 packs.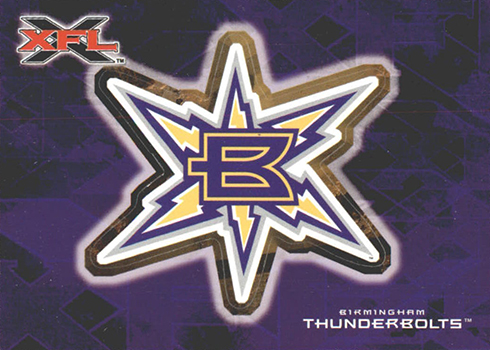 1 Los Angeles Xtreme
2 Birmingham Thunderbo
3 Memphis Maniax
4 Orlando Rage
5 Las Vegas Outlaws
6 San Francisco Demons
7 New York-New Jersey
8 Chicago Enforcers
9 XFL Logo
10 XFL Football
Promo Cards
8 cards. Given to dealers and handed out at wrestling events.
P1 Scott Milanovich
P2 James Bostic
P3 Rashaan Salaam
P4 Jeff Brohm
P5 Chuck Clements
P6 Pat Barnes
P7 Charles Puleri
P8 John Avery