2001 Fleer WWF WrestleMania is the first set of pro wrestling cards from the card maker. Taking over from Comic Images, the relationship would continue for several years and result in some cardboard debuts from some big names and innovation as far as card types go. Some of that is on display here, particularly in the insets.
2001 Fleer WWF WrestleMania Base Set Basics
The main set has 100 cards. For the most part, cards offer up profiles of wrestlers and personalities in flagship fashion. Besides regular cards, there are Divas and Tag Team subsets that work to keep the checklist organized. Divas cards also come with a different design.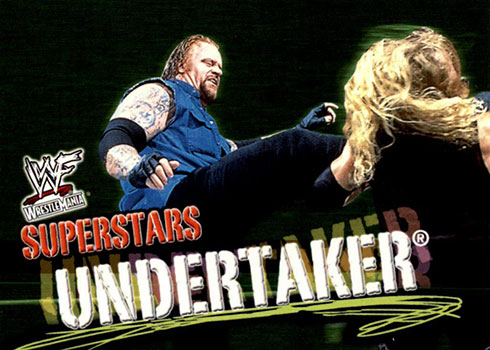 It's the final 20 cards where the set lives up to its name. The WrestleMania Rewind subset features highlights and major moments from past events. For baseball fans, there's even a cameo by Pete Rose.
The base set has a Championship Gold parallel set. Landing 1:4 packs, these cards simply have the set name in gold foil added to them.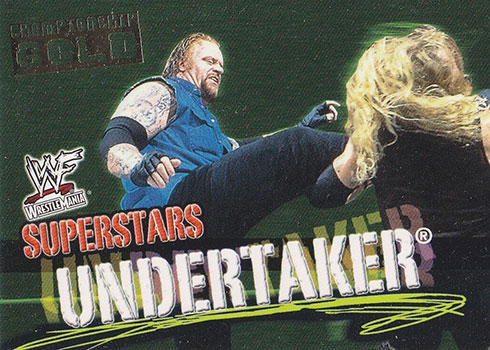 Autographs, Memorabilia Cards and Other Inserts
2001 Fleer WWF WrestleMania isn't the first set to include wrestling autographs, but it's still notable in this regard. Signature Moves Autographs are limited to 500 copies each and feature four first-time signers. Bubba Ray and Devon Dudley, Kurt Angle and one Stone Cold Steve Austin.
It would be almost 20 years for Austin to sign for another set — 2019 Topps WWE Transcendent Collection. Still one of the top wrestling cards of all-time, the six-time WWF champion included the inscription, "3:16" on the Signature Moves cards.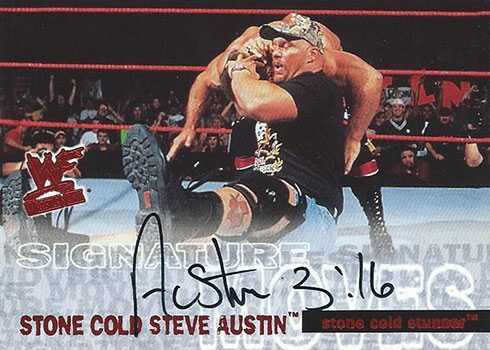 Foreign Objects add memorabilia to the checklist. While most cards have swatches of shirts and other clothing, there's also one that's much more unique. The Dudley Boyz card, an extremely tough short print, includes a piece of a shattered table.
As far as innovations go, 2001 Fleer WWF WrestleMania introduced the wrestling card realm to the kiss card concept. Rather than signing traditional autographs, Lip Service cards have lip prints from one of eight different female superstars. Numbered to 50 copies each, these are extremely scarce on the secondary market today.
Three additional insert sets fill out the checklist.
The Rock is profiled over 15 cards in The People's Champion (1:2 packs). Steve Austin offers his thoughts on 15 stars in Stone Cold Said So (1:2 packs). Finally, there's an unsigned Signature Moves set spotlighting famous finishers. These are 1:24 hobby packs.
2001 Fleer WWF WrestleMania at a glance:
Cards per pack: 7
Packs per box: 28
Set size: 100 cards
Release date: April 18, 2001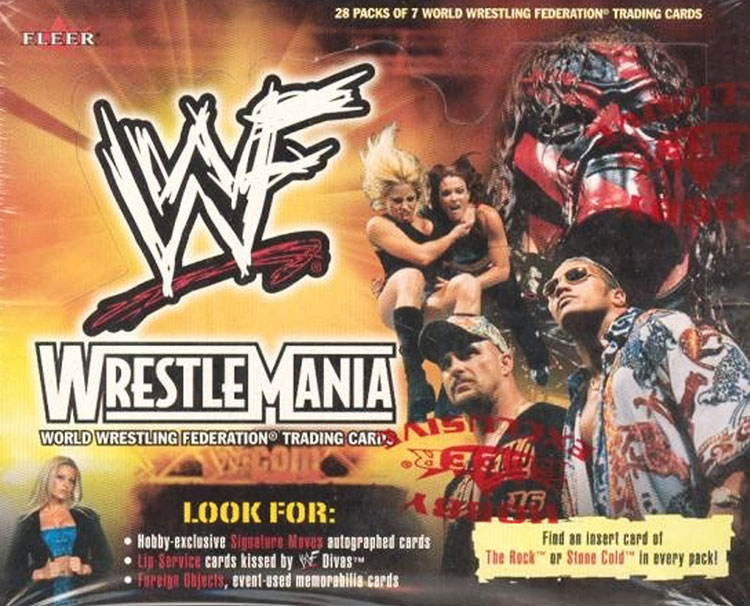 2001 Fleer WWF WrestleMania Checklist
Base
Autographs
Memorabilia
Inserts