The $200 Topps Living Set Nick Markakis – Beckett Pricing Insider
Topps Living Set is a new product for 2018. And it might just be the biggest debut of the year when it comes to baseball cards.
While it takes from some of the company's other online products like Topps Now and Throwback Thursday, the Living Set has some major differences. It's a multi-year product with no current end date set. There are three cards released each week and, unless a player changes teams, they will only get one card for the duration of the product.
Customers were somewhat hesitant at first. Print runs were solid, but not huge. Around Week 6, the popularity of the Living skyrocketed.
Because of the structure, secondary market pricing for the Living Set is different than what you see in most sets. With higher print runs, popular players like Shohei Ohtani and Ronald Acuña and lower print runs for players like Nick Markakis and Nick Castellanos, you will see these common player cards' have a higher resale value than stars.
Likely a big part of this is because more collectors are getting on board and building the set. That means short prints are commanding premiums.
Included in the Week 2, Nick Markakis is proving to be the cream of the crop. Because it was in one of the first sets, it has the lowest print run with with just 2,678 copies.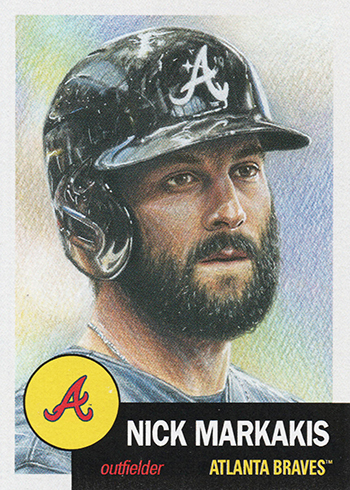 I don't think that will change — at least not anytime soon. If you bought in early with these you hit big, as it was available on Topps from March 21-28 for $7.99 individually, with bulk discounts.
Until April 6, it was going for less than $20 on eBay. It then jumped to $40. By April 23, the Topps Living Set Nick Markakis had steadily climbed to $100. It jumped to $200 by the end of April and hasn't showed much signs of slowing dow. At the start of July, five sales ranged between $195 and $215.
Secondary market aside, I can't fail to mention the beautiful artwork by Mayumi Seto throughout the Living Set. The detail on everything from Markakis' beard hairs to the wrinkles below his eyes is amazing. That level of technical and creative skill is common on all of the cards so far.