20 of the Best and Most Memorable 1995 Baseball Cards
Looking back at 1995 baseball cards, there were a lot of great sets and designs. Unfortunately, at the time, there weren't a ton of collectors around to enjoy them. Baseball was coming off the strike that cancelled the 1994 World Series and saw the '95 season start late. Coming off the peaks of just a few years earlier, the sports card industry as a whole were already shrinking.
But when things get bad, sometimes companies get innovative to try and hold their audience or find new ones. For 1995 baseball cards, that meant more inserts, more autographs and, in the case of Pinnacle, lots of Dufex.
Here's a look at some of the greatest cards the year had to offer and why they remain significant today.
20 of the Best and Most Memorable 1995 Baseball Cards
1995 Upper Deck Michael Jordan #200
How can you not smile when you see this card of two all-time Chicago legends? From a purely fun perspective, it might be one of the greatest cards ever. It might not be worth a lot, but that's okay. Harry Caray interviewing Michael Jordan is a card for the masses.
Buy on: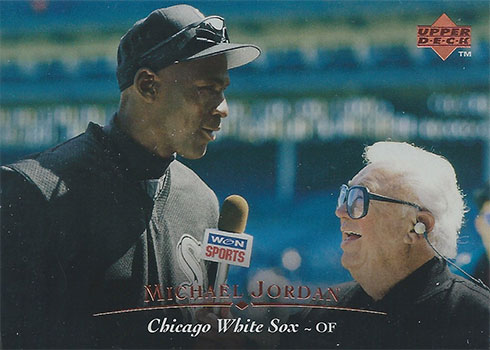 ---
1995 Score Signed Greatness Ryan Klesko Autograph #SG1 /6100
In 1995, autograph cards were still a novelty. Signature Rookies was making them available in bulk, but that was for minor leaguers. MLB sets had them with greater regularity, but it was still a big deal to get one. The 1995 Score Signed Greatness Ryan Klesko definitely falls under that banner, but with 6,100 copies, supply is there. The card worked out to be a case hit for the widely available product.
Today, a Ryan Klesko autograph isn't going to move a lot of packs. In 1995, it wasn't much different. But that didn't mean that getting a signed card in a pack of Score wasn't a nice surprise for those who managed to get one.
Buy on: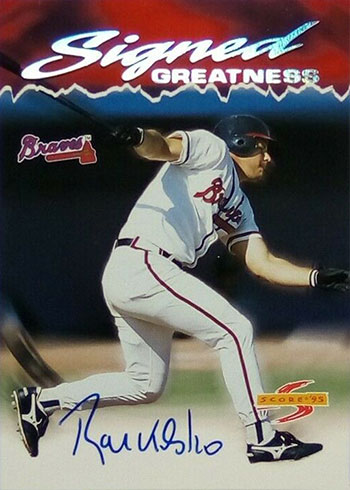 ---
1995 Pinnacle Team Pinnacle Barry Bonds/Ken Griffey Jr. #TP7
Team Pinnacle is one of the cornerstone inserts that Pinnacle put out over the years. And for a company that produced a lot of them in the '90s, that's saying a lot. The double-sided cards brought together the best from both leagues. And while there could often be debate, this one has a pair of legends in Ken Griffey Jr. and Barry Bonds. 1995 Pinnacle Team Pinnacle cards are tough, landing 1:90 Series 1 packs. Not only that, but they bring Dufex. In another twist, cards can be found with Dufex on the back instead of the usual front.
Buy on: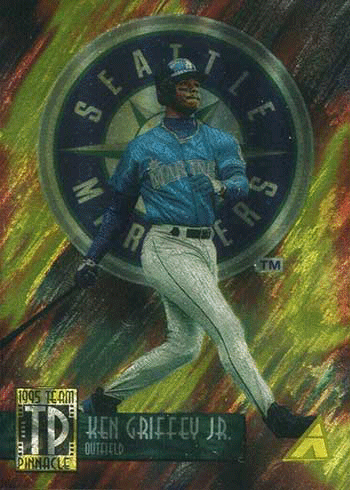 ---
1995 Pinnacle Museum Collection Ken Griffey Jr. #128
There are plenty of 1995 Ken Griffey Jr. cards worth more than this relatively easy to find parallel. But you're going to be hard pressed to find one that's more fun. It's highlighted by an unforgettable photo that embodies joy, baseball and bubble gum from a player simply known as "The Kid." The base version is great but the Museum Collection parallel brings in the Dufex Pinnacle was famous for.
Buy on: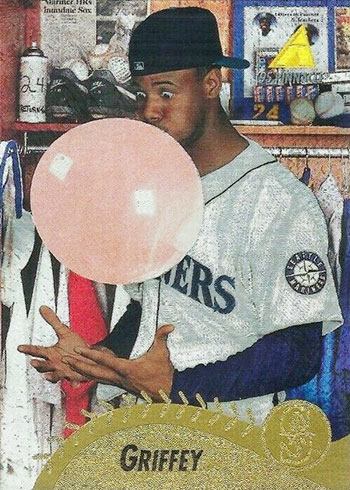 ---
1995 Upper Deck Predictor Award Winners Prizes Derek Jeter #H14
Card collecting can often be about the short term — finding a big card in the here and now. Upper Deck Predictor inserts played a longer game. On the one hand, they were traditional inserts. But they also doubled as contest cards, which made it fun to follow. 1995 Upper Deck Predictor Award Winners, which are 1:30 hobby packs, centered on who might win the year's MVP and Rookie of the Year Awards. Those with the cards of the winners became eligible for a special silver-foil stamped set of prize cards. Derek Jeter didn't win American League Rookie of the Year until 1996, however he is a part of the 1995 base Predictor and ensuing prize cards, which are pretty tough to find today. They're also a reminder of one of the most fun interactive releases ever in the hobby.
Buy on: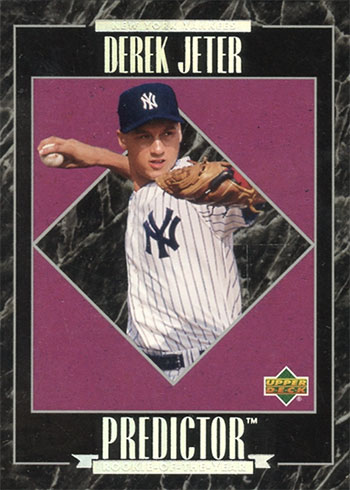 ---
1995 Classic Five Sport Autographs Vladimir Guerrero #115
There's no shortage of Vladimir Guerrero autographs out there. Since 1995, the Hall of Famer's signature hasn't really changed. It starts with a big 'V' and a series of squiggles that loosely resemble "Guerrero." 1995 Classic Five Sport is different in that you get the full 'Vladimir,' setting it apart from over 1,500 other different Vladimir Guerrero autograph cards out there.
Buy on: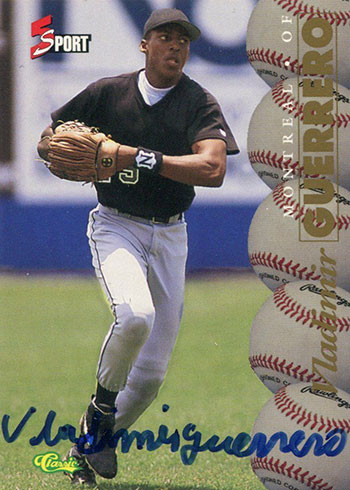 ---
1995 Pinnacle White Hot Ken Griffey Jr. #WH2
Sure, the 1995 Pinnacle White Hot Ken Griffey Jr. (and others in 25-card set) carry some value, but the real draw here is the fact that it just plain looks cool. There's that Dufex again, this time mixing with flame design in the background. And let's be honest, for this particular card that blue backdrop mixing with the teal Mariners jersey is almost as perfect as Junior's swing.
Buy on: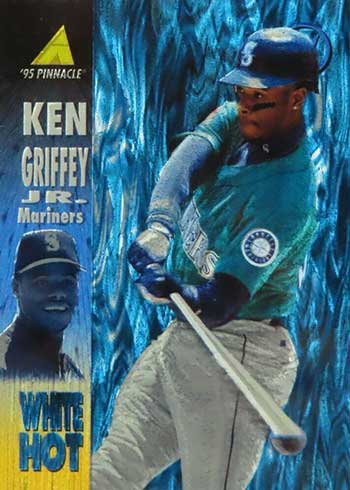 ---
1995 Zenith Z-Team Cal Ripken Jr.
Kind of like Team Pinnacle, 1995 Zenith Z-Team is another "best of" insert set. And, yes, more Dufex. While Pinnacle was rarely subtle, the lines and clashing colors stand out even by their standards. Whether it's in a good way is a personal choice, but it's definitely memorable. As for Ripken, 1995 was a crowning achievement for his Hall of Fame career. His passing Lou Gehrig as the consecutive games leader was one of biggest moments in sports in the '90s.
Z-Team is another tough insert. Not only do the cards have 1:72 odds, at the time Zenith was Pinnacle's peak as far as high-end products went.
Buy on: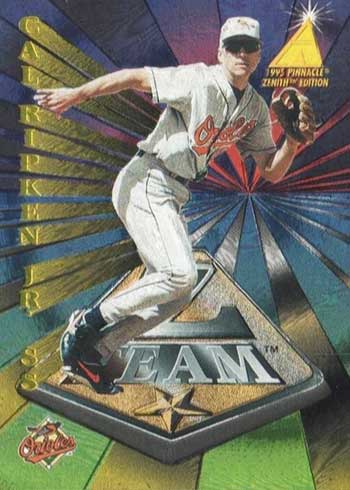 ---
1995 Bowman's Best Scott Rolen RC
Scott Rolen is one of those players that has always been known in the hobby but never quite reached that top tier of popularity. There were times in the late '90s where he was close. But that was during a period where power was at its peak so he never totally broke through. That said, the third baseman makes for a stellar #3 in, arguably, 1995's most coveted set.
Buy on: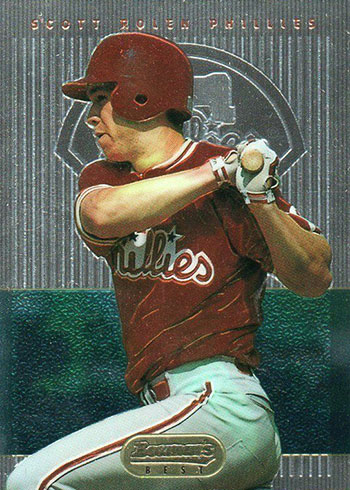 ---
1995 Select Certified Mirror Gold Derek Jeter #122
1995 Select Certified Mirror Gold isn't nearly as tough as what would come a year later. Still, the glossy foil cards are gorgeous nonetheless. Jeter's also in a league where pretty many early parallel carries a lot of swagger today.
Buy on: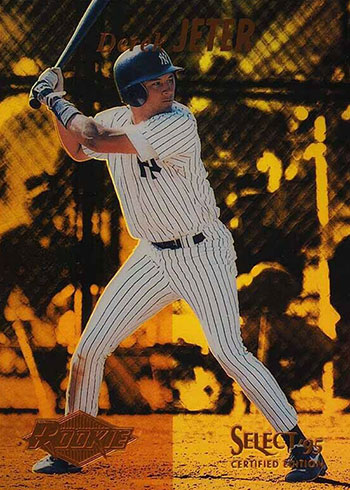 ---
1995 Bowman Vladimir Guerrero #90
Vladdie looks so young! Just 20-years old when 1995 Bowman Baseball came out, it wouldn't be long befor Vladimir Guerrero established himself as a Montreal Expos icon and, eventually, a Hall of Famer. One of just two Rookie Cards that Guerrero has, there's plenty of importance to be found here.
Buy on: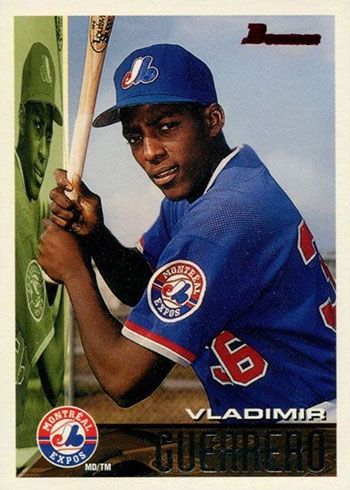 ---
1995 Finest Refractors Hideo Nomo #228
On the field, Nomo-mania eventually fizzled out. At first a sensation, the Japanese pitcher became a journeyman. But for much of 1995, Hideo Nomo was the rookie a lot of collectors were chasing. Today, most of the base versions are readily available and affordable. So for those looking for something tougher to get with wide appeal, there are few choices better than the Refractor version of his Finest RC.
Buy on: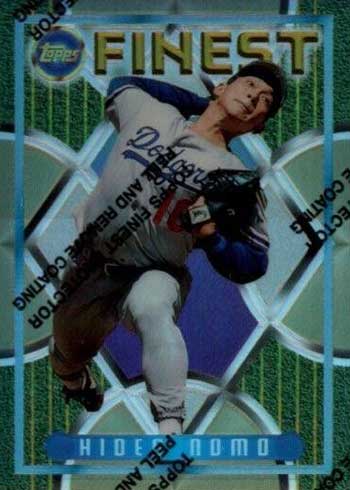 ---
1995 SP Top Prospects Autographs Vladimir Guerrero #11
And the full signature from Classic Five Sport is already gone. In its place is a classic pose, infectious smile and, a '90s Upper Deck specialty, the die-cut top. This Vladimir Guerrero autograph is one of a handful of major signatures found in the minor league 1995 SP Top Prospects release. That said, it's far from the biggest.
Buy on: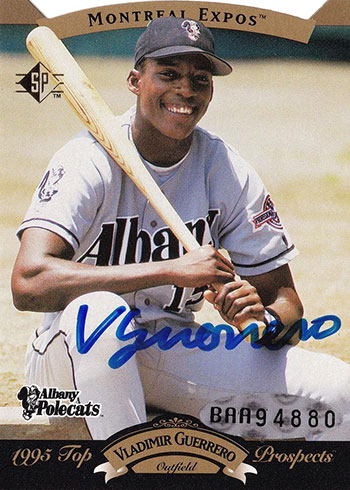 ---
1995 Topps Traded Carlos Beltran RC #18T
Oops, there it is. Is Carlos Beltran's Rookie Card actually a Carlos Beltran card? It's about as philosophical as most collectors will get with a baseball card. Beltran's lone RC is one of those embarrassing errors of mistaken identities. For whatever reason, Beltran and Juan Lebron were mixed up on each other's cards. Beltran's has Lebron and vice versa. The cards were never corrected.
Buy on: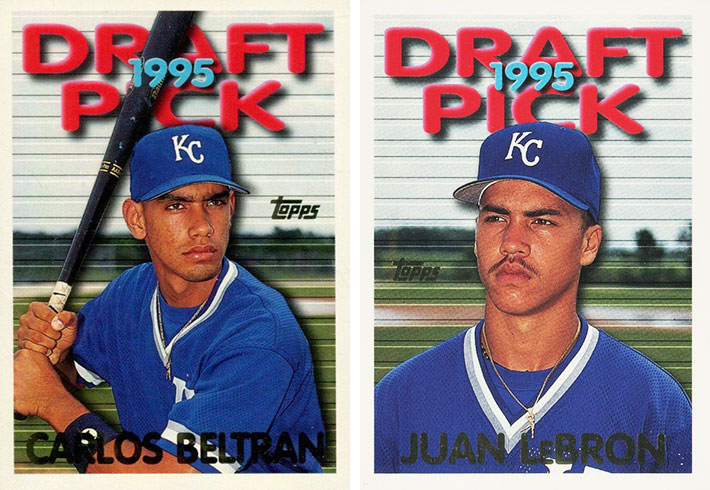 ---
1995 Upper Deck Autographs Willie Mays #AC2
Being one of the more affordable Willie Mays autograph cards is a plus. But just because the value isn't there like some of his other autographs, doesn't mean that it's not attractive or worth a look. Part of a redemption program in 1995 Upper Deck Series 2, Mays headlines a small checklist that also includes Roger Clemens, Reggie Jackson, Frank Robinson and Raul Mondesi. Overall, redemptions were reasonable in their insertion rates, landing 1:72 packs.
Buy on: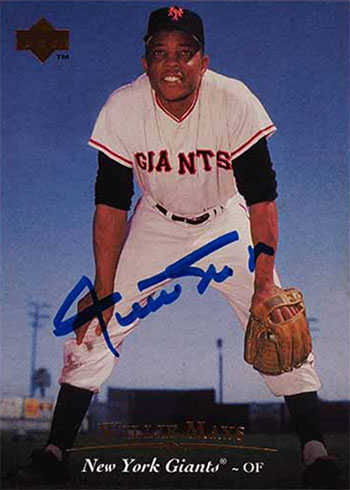 ---
1995 Finest Refractors Ken Griffey Jr. #118
Ken Griffey Jr. is definitely a running theme here. And for good reason. In baseball, he was the trendsetter of the '90s. Decades later, that's transferred over to baseball cards as his inserts continue to resonate (not to mention, in many instances, grow in value). 1995 Finest might not have the same level of iconography of the first set, but that's not all bad. For most collectors, getting a 1993 Finest Refractor Ken Griffey Jr. is a dream thanks to its high prices.
Refractors have cemented their place in the insert realm. They're a go-to. This one comes early in their history and is still somewhat affordable.
Buy on: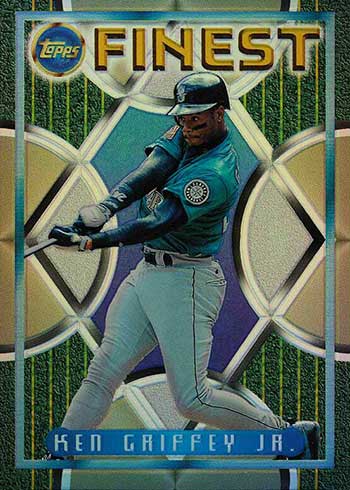 ---
1995 Bowman's Best Andruw Jones RC
For a good chunk of the late '90s, the 1995 Bowman's Best Andruw Jones Rookie Card was the card to have. The outfielder was a young stud with a Hall of Fame future ahead of him. And while there is Cooperstown possibilities, if Jones ends up there it'll be through the increased acceptance in analytics rather than the benchmarks of the day.
This card may not carry the same clout that it once did in the sense of value but it still remains one of the most recognized.
Buy on: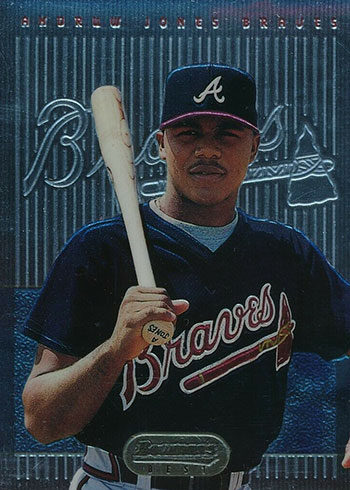 ---
1995 Upper Deck Minors Autographs Derek Jeter
This isn't the first Derek Jeter autograph card. And his first Yankees signatures didn't come out until 1996. But let's face it, his 1992 Front Row and Little Sun autographs aren't the most attractive. 1993 Classic/Best was a big set forward. Upper Deck took it even further with their first autograph from the future five-time World Series winner.
Buy on: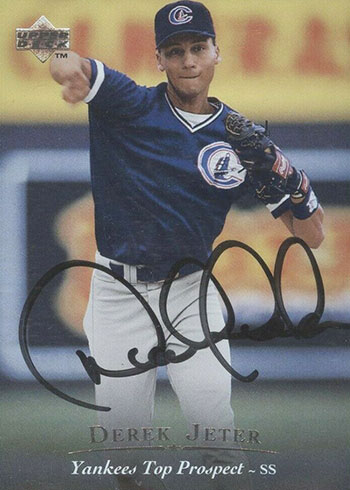 ---
1995 Bowman's Best Vladimir Guerrero RC #B2
1995 Bowman's Best enjoyed a long run as one of the decade's most popular baseball card sets. And while this wasn't the most popular card in the set but a stellar career capped by a Cooperstown induction has a way of changing that. Today, there are several chrome-style sets to choose from. In 1995, there were two and Bowman's Best was, indeed, the best.
And if you want Best's best, this is it (with bonus points for the Refractor parallel).
Buy on: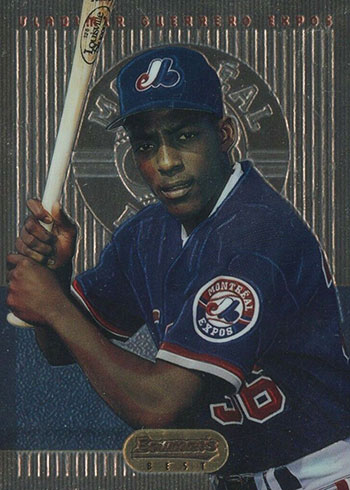 ---
1995 SP Top Prospects Autographs Michael Jordan
The 1990s had lots of hobby superstars, many of whom have left a lasting mark beyond the generation of their playing days. And then there's Michael Jordan. To this day, his cards are in another category. And while any MJ autograph card is going to command a lot of attention, you'd think a baseball autograph would be on a lesser pedestal. Not so with the 1995 SP Top Prospects Autographs Michael Jordan. It's his first pack inserted autograph card ever, making it historically significant in the hobby. Although not serial numbered, it has a reported print run of just 23 copies.
Buy on: