20 Greatest Colorado Avalanche/Quebec Nordiques Hockey Cards of All-Time
The 2022-23 season marks the 50th anniversary of the Quebec Nordiques, a charter member of the World Hockey Association. The franchise survived the demise of that league and was one of six teams admitted to the NHL for the 1979-80 season, but 16 years later it was on the move to the more lucrative market of Colorado. Since then, the Avalanche have captured three Stanley Cups and employed some of the most popular players in the game. Here's a look at the 20 cards that best represent the hobby history of this legendary organization.
1. 1989-90 O-Pee-Chee #113 Joe Sakic RC
Just call him Joe Franchise. No one played more games for the Nords/Avs than Sakic's 1,378. No one scored more goals than his 625, posted more assists than his 1,016, or totaled more points than his 1,641.
Power play goals, short-handed goals, game-winning goals … there's not a major offensive category that has a name atop it other than Sakic's. His impact on the franchise, both as a player and as a general manager, simply cannot be overstated. It's fortunate then that the one card every fan of the team covets is so easily obtainable. Even premium graded copies are relatively abundant, with more than 3,000 in Mint slabs and more than 700 in Gem Mint or better.
Buy on: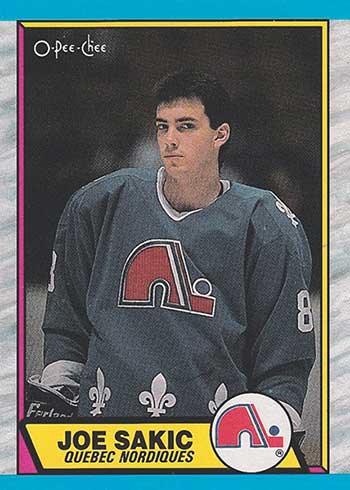 2. 2019-20 The Cup #62 Cale Makar RC
Still early in his career, Makar has only just begun to make his mark on the franchise. And yet, it's possible to make the case that the fleet-footed defender already is the most talented player to wear the burgundy and blue. In that short span, the youngster has already has accumulated a Stanley Cup, a Conn Smythe Trophy, a Norris Trophy, a Calder Trophy, and two First Team All-Star berths. The exuberant nature of his game is impacting not only the fortunes of the Avs, but the way his position will be played for decades to come. Five years from now, this card is likely to be recognized as the most important single in Colorado history.
Buy on: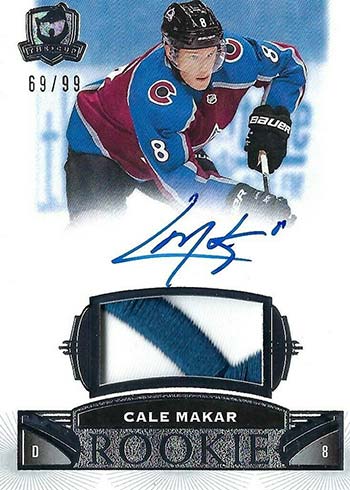 3. 2013-14 The Cup #187 Nathan MacKinnon RC
It's painful to imagine where this franchise would be if it had selected Seth Jones or Jonathan Drouin – late-season favorites of many scouts to go first overall – instead of MacKinnon in 2011. The bullish center might not be the captain, but he's the heart and soul of the Avalanche, driving them forward with his intensity or carrying them on his back with grim determination. He's a near-perfect player, and this is a near-perfect card with a print run of just 99 copies, a hard-signed autograph, and an oversized swatch that's almost always three colors. Add in the condition sensitivity that arises from the silver-foil borders and this ranks as one of the most desirable cards of the past two decades.
Buy on: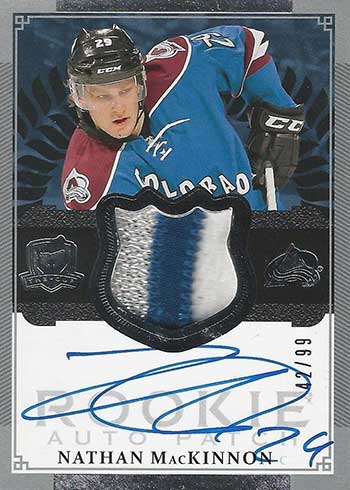 4. 2001-02 Victory Gold #85 Ray Bourque
When the history of hockey in the 21st century is written, it's hard to imagine there'll be a moment more emotional, or more universally celebrated, than when Bourque finally hoisted the Stanley Cup over his head for the first time. The 22-year veteran had captured numerous individual awards and was regarded as the consummate professional, but the ultimate prize eluded him until a trade to Colorado on March 6, 2000, landed him with a true contender. Bourque, who retired after this game, has appeared on 6,700 cards and counting, but the pure elation captured in this image makes this simple 1:2 packs parallel his greatest single.
Buy on: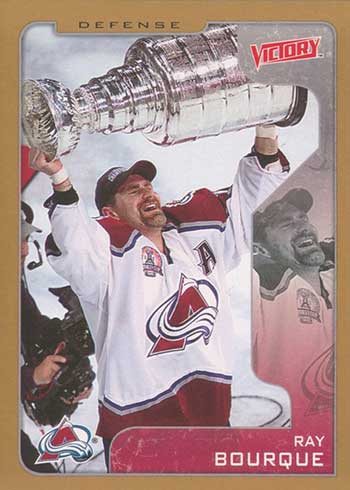 5. 1981-82 O-Pee-Chee #269 Peter Stastny RC
Before the arrival of Sakic, it was Stastny who stood as the greatest of all Nordiques. He was the first player in NHL his- tory to record 100 points in his rookie season (39-70- 109) and set the freshman mark with eight points in a single game. He also scored 14 points in a two-game span that season on his way to winning the Calder Trophy. By the end of the decade only one player, Wayne Gretzky, accrued more points than Stastny. This card then is a tribute to one of the greatest players not just in franchise history, but an all-time legend. As the image shows, centering is a major issue with this card, which explains why just 19 Gem Mint copies are in circulation.
Buy on: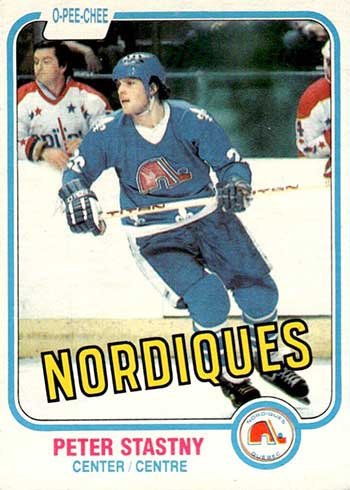 6. 2013-14 Fleer Showcase Precious Metal Gems Green #MU30 Nathan MacKinnon
MacKinnon's impact on the hobby is such that it's impossible to limit him to just one card on this list. There are so many worthy alternatives, but it's hard to keep cards from this set off of any "Best Of" list these days. PMGs might be the single hottest inserts on the hockey market and owning this early MacKinnon will eternally remain the unfulfilled fantasy of countless player collectors. The Green variation pictured is limited to just 10 copies, but you can always simplify your hunt by targeting the Blue (25) or Red (75) versions.
Buy on: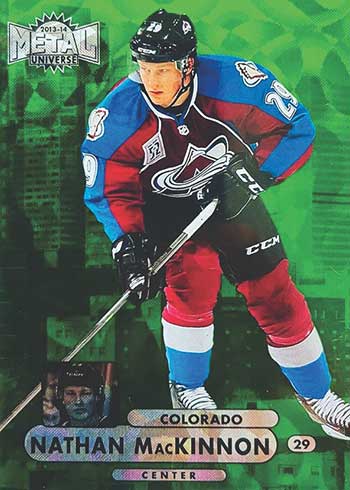 7. 1972-73 O-Pee-Chee Team Logos #29 Quebec Nordiques
In 1972-73, O-Pee-Chee did something that simply couldn't happen in today's intensely licensed hobby: It inserted cards celebrating the arrival of the rival World Hockey Association into packs of NHL cards.
This card was one of 13 short-printed team and league logos that were part of a 30-card punch-out set inserted one per Series 3 pack. At the time, they were largely viewed as a curiosity – few of the kids who bought cards back then were savvy enough to understand what the WHA was. Today, these cards are incredibly scarce in top condition, making this groundbreaking single a foundational piece in any Nords/Avs collection.
Buy on: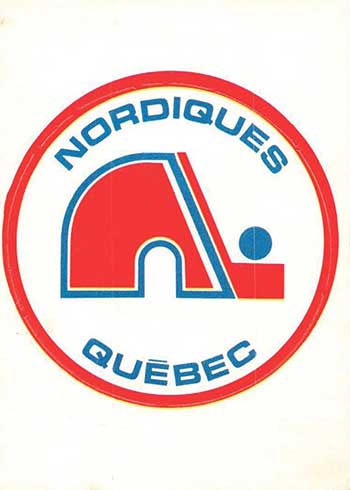 8. 1988-89 Nordiques Postcards #27 Joe Sakic
A year before they could pull his RC from Topps or OPC packs, Sakic's earliest fans had a pair of very challenging issues to track down. This single, along with his card from the General Foods team set, were regional issues that required a bit of legwork. In this case, you had to write to the team asking for them, write to Sakic in care of the team for an autograph and hope he included one, or possibly grab one at a team event. Little wonder they're nearly impossible to track down 30-plus years later. The General Foods version is identical except for the addition of sponsor logos.
Buy on: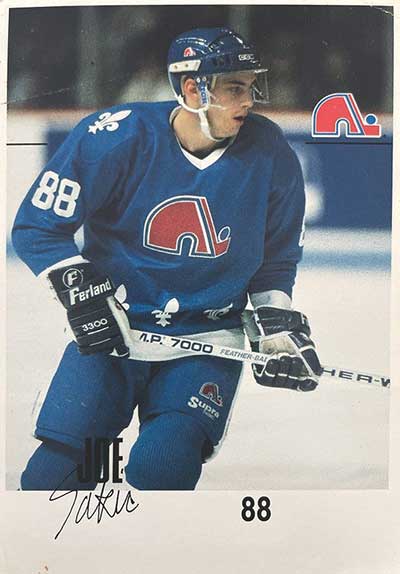 9. 2019-20 Upper Deck #493 Cale Makar RC
Makar's Young Guns RC might be the most heavily traded hockey card of the past three seasons, and it's not hard to see why. Right from the start, his unique approach to the position had him on the hobby's radar, and anticipation for the card – which UD held back until series 2 – ensured it was a massive pull right from the start. Given his potential it's no surprise it's one of the most heavily graded cards as well. More than 2,500 copies have been slabbed between PSA and BGS, with 1,800 coming back in a Gem Mint holder. And if this version isn't tough enough, there are eight variations to chase down as well.
Buy on: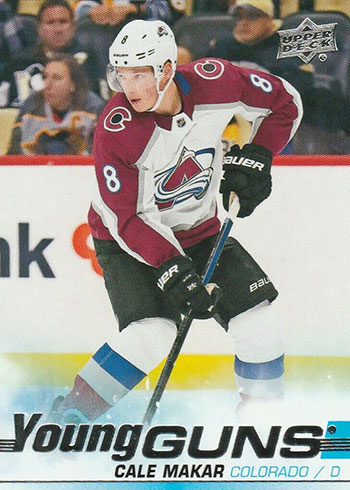 10. 2021-22 Upper Deck Game-Dated Moments Gold #111 Nathan MacKinnon
Those three consecutive second-round exits were painful for the Avs, but they provided a foundation upon which the franchise's third Stanley Cup finally was captured. No one was more driven by those defeats than MacKinnon, so it was fitting that he chipped in with a goal and an assist in the 2-1 series clincher that knocked off the defending champion Lightning. This commemorative card was available only via Upper Deck's online e-Pack platform and was limited to 100 copies. A base version with a print run of 499 provides a more affordable alternative.
Buy on: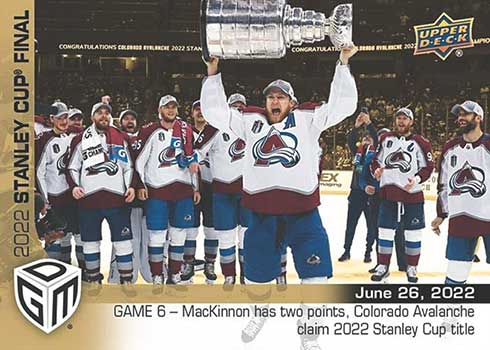 11. 1997-98 Zenith 5 x 7 Gold Impulse #3 Patrick Roy
There's no arguing the fact that St. Patrick's most popular cards picture him as a member of the Montreal Canadiens. Still, he earned hundreds of cards over the final eight seasons of his career with the Avs, and few are more challenging than this one. Just 100 copies were printed of each Gold Impulse card, but there are nowhere near that many still in circulation. These jumbo singles concealed a premium standard-sized card inside as part of Pinnacle's Dare To Tear program, leading to the destruction of an untold percentage of the population. If you track one down, you have one of his most elusive singles.
Buy on: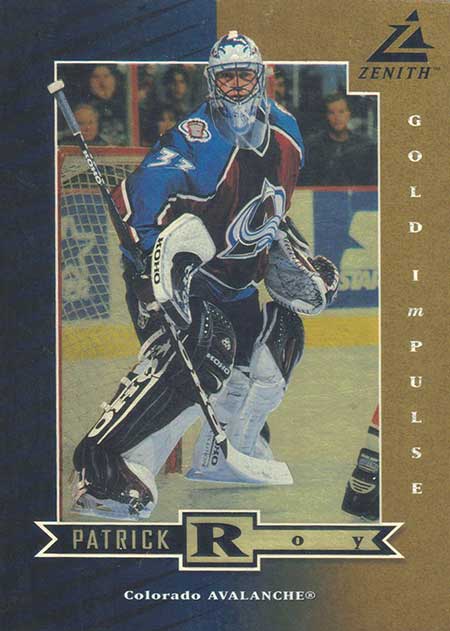 12. 1972-73 O-Pee-Chee #293 J.C. Tremblay
While Bobby Hull's signing with the Winnipeg Jets is regarded as the moment that legitimized the World Hockey Association, the defection of Tremblay was just as important for the foundation of the Nordiques. The stalwart defender was revered throughout the province after 13 seasons patrolling the blueline for the Canadiens, and he quickly was named the first captain in the history of the Nordiques. He scored a career-best 89 points in his first season in Quebec, but might best be remembered for his Herculean efforts on Jan. 18, 1973, when he played 63 of the 70 minutes in an epic overtime contest. Probably not a coincidence that his was the first Nordiques card in Series 4, and thus the first Nords card ever.
Buy on: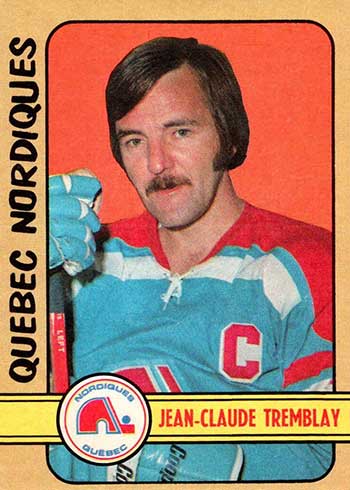 13. 1980-81 O-Pee-Chee #67 Michel Goulet RC
Sakic may be in the books as the greatest goal scorer in franchise history, but no sniper put together a better run than Goulet. The Quebec-born winger was one of the most prolific snipers of the 1980s – only Wayne Gretzky and Jari Kurri lit the lamp more often. He posted four consecutive seasons of 50 or more goals, highlighted by a career-best 57 in 1982–83, and was a First or Second-Team All-Star on five occasions. While his cards have never received the attention merited by his Hall of Fame career, this single is sure to be found in any serious collection. Centering or edges are always an issue, which explains why fewer than eight percent earn Gem Mint slabs from third-party graders.
Buy on: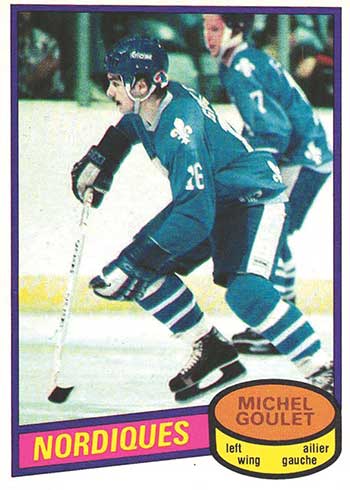 14. 2011-12 The Cup #179 Gabriel Landeskog RC
It's not too hard to imagine Landeskog's #92 being hoisted to the rafters of Ball Arena after he hangs up the skates. The second pick in the 2011 draft quickly established himself as a leader on the rebuilding Avs, and became the youngest captain in NHL history at 19 years, 286 days when he was awarded the C before his second season. Since then, the gritty forward has consistently led by example, playing strong defense as well as a key role on the attack. With the Avs well situated to challenge for multiple titles, his key RC will continue to be an aspirational piece for the team's fans.
Buy on: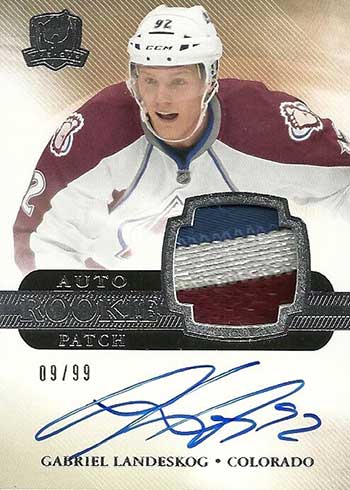 15. 2008-09 OPC Premier Stitchings Autographs #APS-PR Patrick Roy
The Dec. 6, 1995 trade that stole Roy from the Montreal Canadiens stands as the single most important transaction in franchise history. The addition of the Hall of Fame goaltender transformed the Avs, leading directly to eight straight division titles and two Stanley Cups. The netminder also enjoyed great individual success in Colorado, earning a Jennings Trophy and a Conn Smythe Trophy, along with 262 wins, enough to propel him past Terry Sawchuk to a (then) record 551 career victories. This ultra-scarce single with a print run of 15, an autograph, and a manufactured patch, is the most unique of the many to honor that achievement.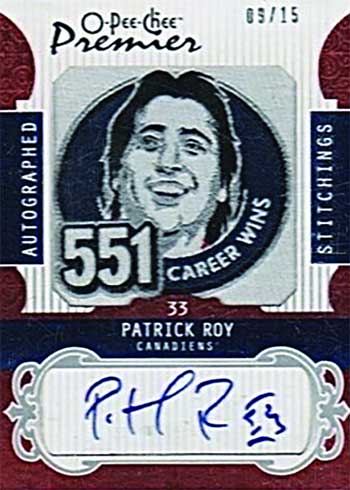 16. 2021-22 Upper Deck Canvas #C255 Peter Forsberg
Here's proof that a card doesn't have to be old, or particularly pricey, to be a stone-cold classic. Like most every single produced under the Canvas banner, this one is all about a cool, rarely (if ever) seen photo – in this case, a locker room shot of three legendary Hall of Famers who joined forces to lead the Avalanche to the second Stanley Cup in franchise history. No telling what's being said, but what wouldn't you give to be a fly on the wall when Roy, Forsberg, and Bourque swapped stories?
Buy on: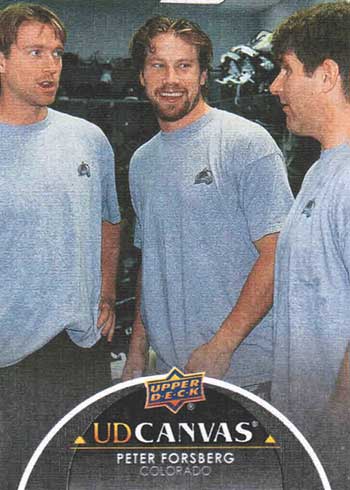 17. 1981-82 O-Pee-Chee #282 Anton Stastny RC
The youngest of the three Stastny brothers played just eight seasons in the NHL, but he made them memorable. In 650 career games, the dashing left winger scored 252 goals and 636 points. He tallied at least 25 goals in eight consecutive seasons and posted four 30-goal campaigns. He tied his brother Peter's record for points by a rookie in a single game (eight), and also matched his mark of 14 points over back-to-back contests. Demand for his RC has never matched his impact, but that doesn't diminish its significance. The card is rarely seen in top condition – fewer than 20 copies have been graded Gem Mint.
Buy on: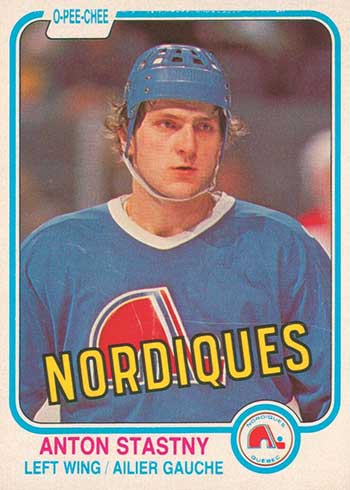 18. 2020-21 Black Diamond Retired Numbers Patches #RNPF Peter Forsberg
What makes a memorable card? Sometimes, it's the photo (see #16). In this case, it's a design that stands out as one of the best in recent memory. Black Diamond debuted the Retired Numbers concept – complete with a manufactured patch to mimic the actual banner hanging from the player's home arena – back in 2015-16 before retiring it for five years. It returned in 2020-21 to include Forsberg, whose number was lifted to the Pepsi Center rafters on Oct. 11, 2011. This is the base version, numbered out of 99. A Gold parallel limited to 21 is available, but sadly there's no signed version as there is for many others in the set.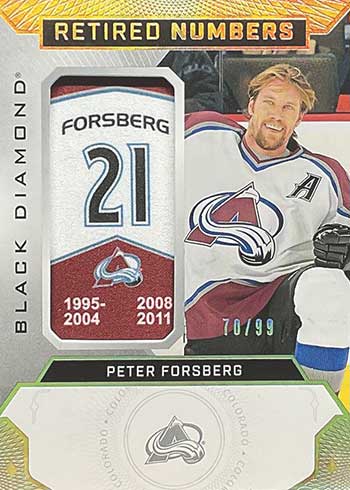 19. 1998-99 SP Authentic #95 Milan Hejduk RC
Overshadowed by his flashier teammates, Hejduk's greatness was never fully appreciated outside of Colorado. There was a quietness to his game that kept him out of the limelight, but also made him one of the most effective wingers of his day. The Duke was a three-time All-Star over his 14 seasons and made his biggest splash in 2002-03 when he captured the Rocket Richard Trophy with a league-high 50 goals to go along with a career-best 98 points. He also was a three-time Olympian who helped the Czech Republic win the gold medal in Nagano in 1998. He had three serial numbered RCs, but this is the only one to picture him alone and is easily his most desirable.
Buy on: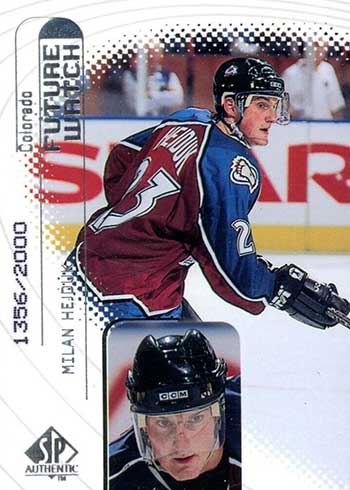 20. 1995-96 Be A Player Signatures #S197 Patrick Roy
There were a lot of … choices made by the BAP staff in the production of this series, which was handcuffed by being licensed solely by the NHL Players' Association. It was understood that creative photo selection was a must to ensure no league logos could be seen, but this card of St. Patrick stands out from the rest for the decision to alter the primary color of his Avalanche jersey to a startling shade of yellow. The curiosity factor has made it a favorite among collectors, who also covet that sweet on-card autograph signed during his first season with the team. A die-cut version is also available to those looking for a heightened challenge.
Buy on: