1998-99 Topps Series 1 Basketball – Canadian Retail Box Break
Sometimes coincidence and memory triggers come at strange and altogether random times. A while back I grabbed a couple of binders of basketball cards off of the Facebook Marketplace. They were cheap and non-descript but what was shown was from the late '90s, so there was some strong MJ possibilities.
It turns out there was nothing huge in the binder, but still fun to go through. Among the things inside was a stack of 1998-99 Topps Series 1 Basketball. It's not a great set, but it did make me reminisce of how much I loved Series 2 with Rookie Cards of Vince Carter, Paul Pierce, Dirk Nowitzki, Mike Bibby and Robert "Tractor" Traylor.
And that memory reminded me of the couple of years that Topps included O-Pee-Chee parallels in special Canadian packs. So much so, that I went online and made a late-night purchase a 1997-98 Topps O-Pee-Chee Tracy McGrady.
Coincidence or Destiny?
The very next day was a toy show that was a couple hours away. It was also an excuse to hang out with my daughter for the day. I was hoping to find a reasonably priced Hordak from Masters of the Universe. Instead, I found a box of 1998-99 Topps Series 1 Basketball. One of those very same ones I was reflecting on the night before with the O-Pee-Chee parallels.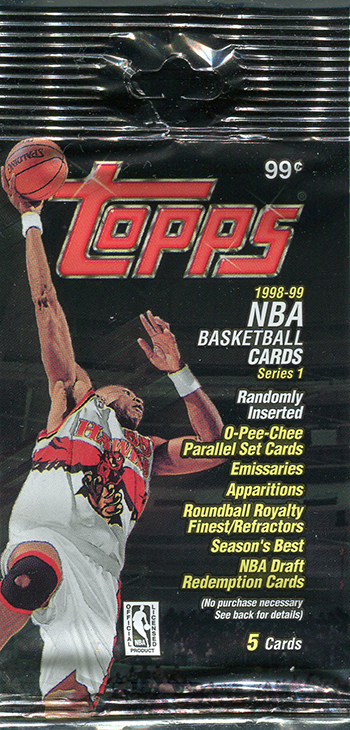 At $10, it was a no-brainer even though it was at the third table of a large show. Whether it's a card show, toy show or anything else, I normally hold off and do a lap before buying anything. I want to get an idea of what's out there and I don't want to spend all my cash within minutes.
The dealer said he had a second box. I held off at first and was going to leave without grabbing it, but I've taught my daughter well. As I was doing my internal monologue aloud with her as to whether to grab it, she said, "You're not going to find another one. So if you don't grab it, you're going to regret it."
Spoken like a veteran collector at the age of 13. She gets me. Thanks, Pokemon!
And she was right. It's unlikely I'd ever find any more of these.
The Allure of O-Pee-Chee Basketball Parallels
And I'll be honest, the only reason I was excited to bust these were the O-Pee-Chee parallels. They're tough. So much so, a lot of collectors don't seem to know of their existence. At the time, basketball was making in-roads in Canada, adding the Toronto Raptors and Vancouver Grizzlies to the league ranks.
With that came lots of promotion. In high school, I worked at McDonald's. We served "Big Country Fries" for a promotion. Not only did you get a small bucket of fries, but said small bucket had Bryant Reeves plastered on it. Like I said, a lot of promotion.
As for basketball cards, it was a little quieter. But the use of the O-Pee-Chee name was an obvious one. The parallels were only used for 1997-98 and 1998-99 Topps. While they may not be as flashy as a lot of other parallels from the era, O-Pee-Chee basketball cards aren't easy to find in any sort of quantity today.
The Possibilities
That said, they're not rare in the Canadian packs. Falling 1:3, that meant 12 per box. With a checklist of just 110 cards, the chances of a Michael Jordan, Kobe Bryant or a handful of other strong names was solid.
Outside of the O-Pee-Chee parallels, the packs also had a few other inserts, none of which are too exciting today. Given the odds, the only one I could expect from the box was a Season's Best card, which are 1:27 in these packs. Other inserts include Emissaries (1:53), Roundball Royalty (1:80) and Roundball Royalty Refractors (1:320).
There's Draft Redemptions as well landing 1:40 packs. They've been expired for almost 20 years, though, so not a lot of excitement there unless you're someone who collects expired redemptions. I do not.
The Results
Not surprisingly, the 1998-99 Topps Series 1 Basketball Canadian Retail box yielded a full base set. While I was almost done one thanks to the Facebook purchase that was sorted the night before, it's never a bad thing to get a full set of 110 cards in a box.
That said, outside of Jordan, the early Kobe and a few other Hall of Famers, this is a weak checklist. Series 2 is great because it got all the rookies. This was typical for basketball sets at the time, not just Topps.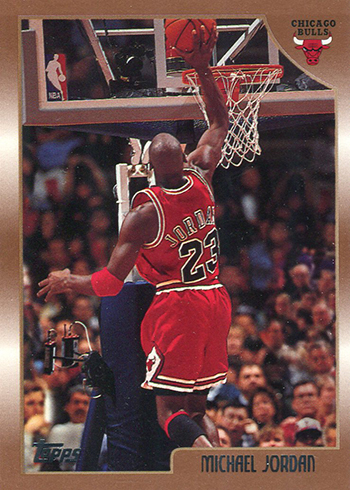 The O-Pee-Chee parallels went as planned. I pulled a dozen, keeping with the odds. And while Michael Jordan wasn't to be found, I still did very well in my book. The big name was Charles Barkley. Not only is he one of the best possible players to find, he's one of my all-time favorites. Seeing Barkley in a Houston Rockets uniform is strange but I'll take it.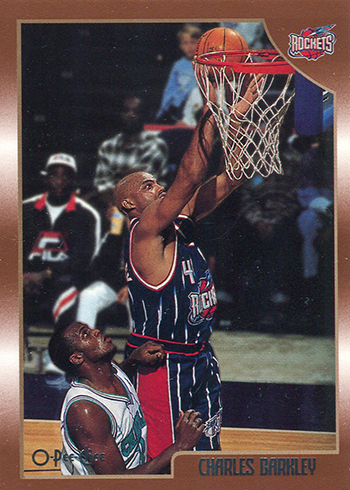 I also got another Hall of Famer in Dikembe Mutombo.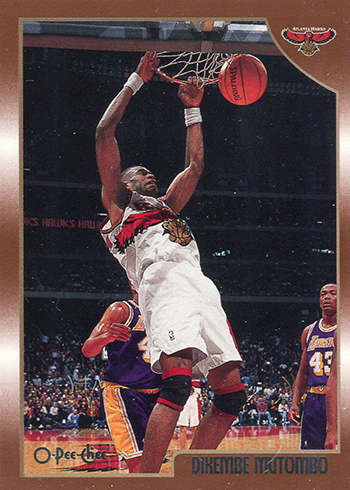 In the mid to late '90s, the Dallas Mavericks were my team. I even had a Jamal Mashburn jersey at one point until someone stole it from my clothesline. So getting both Mashburn and Jim Jackson O-Pee-Chee cards brought a smile as well, even if they failed to live up to their potential.
As expected, I got a Season's Best insert, good ole' Keith Van Horn. I also beat the odds with an Emissaries Toni Kukoc. Anything from the Bulls dynasty is fine by me even if the card itself isn't overly memorable.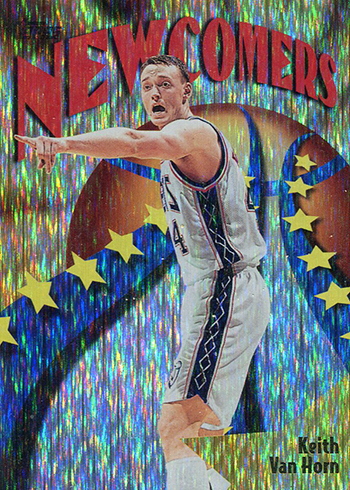 For $10, I was able to build a set, get a bunch of tough parallels and take a trip back to the days of the Vancouver Grizzlies and Big Country fries. And all that was wrapped up in a strange bit of coincidence and timing as well as the realization that my daughter has developed a good collector's mentality. Needless to say, this was a memorable box for a lot of reasons.
1998-99 Topps Series 1 Basketball Canadian Retail Box Breakdown:
Packs per box: 36
Cards per pack: 5
Total cards: 179
Base: 110/110 (100%)
Extras: 55
Parallels:
O-Pee-Chee (1:3 packs): 12
25 Jamal Mashburn, Miami Heat
34 Elden Campbell, Los Angeles Lakers
38 Antonio Davis, Indiana Pacers
45 Loy Vaught, Los Angeles Clippers
55 Dikembe Mutombo, Atlanta Hawks
56 Malik Sealy, Detroit Pistons
63 Jim Jackson, Golden State Warriors
75 Mark Price, Orlando Magic
87 Bobby Phills, Charlotte Hornets
88 Sherman Douglas, New Jersey Nets
92 Eric Williams, Denver Nuggets
94 Charles Barkley, Houston Rockets
Inserts:
Emissaries (1:53 packs): 1
E15 Toni Kukoc, Chicago Bulls
Season's Best (1:27 packs): 1
SB27 Keith Van Horn, New Jersey Nets
Apparitions (1:80 packs): 0
NBA Draft Redemption (1:40 packs): 0
Roundball Royalty (1:80 packs): 0
Roundball Royalty Refractors (1:320 packs): 0