Awesome Inserts: 1997 Topps Gallery Peter Max Serigraphs
The marriage between baseball cards and art goes back to the earliest days of the hobby. Usually, this takes art takes a realism approach where the focus is on nailing a likeness. 1997 Topps Gallery Peter Max Serigraphs are not your normal take on artistic baseball cards.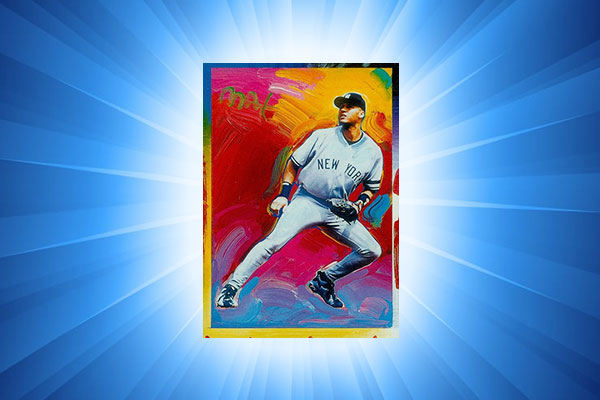 They have a certain sense of realism with the players but it's the frames and backgrounds that make this bright, colorful, different and fantastic (if bright and colorful are your thing).
The ten-card insert set may be small, but it means that it's only big names (from 1997). Checklist highlights include Derek Jeter, Ken Griffey Jr. and Frank Thomas.
Backs have some of Max's trademark Psychedelic artwork as well as his thoughts on the player. There's also a short bio of the artist on each card.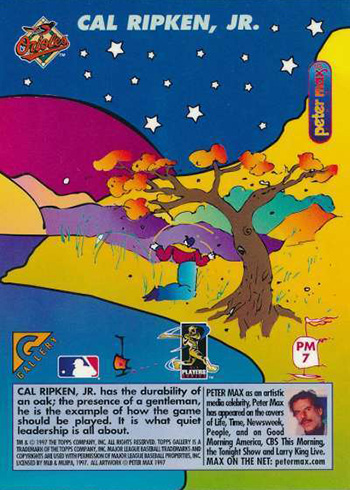 Inserted 1:24 packs, 1997 Topps Gallery Peter Max Serigraphs work out to one per hobby box. Given that this was a premium line at the time, they're not the easiest cards to find. And while not overly expensive, key players aren't exactly cheap, either.
To get to the heart of the set is to get to the art and the artist behind the work. After rising to fame in the 1960s, Max's pop art is some of the most iconic of the Psychedelic era. That has continued in the ensuing decades.
This isn't far from the only time Max's work has crossed over into the sports realm. His portfolio includes posters for the 2000 World Series, 1994 World Cup and a race car driven by Dale Earnhardt in 2000. 1997 Topps Gallery Football also has a similar set of Peter Max inserts.
Besides the regular versions, there's also Signature Series parallels that have actual Peter Max autograph. Falling 1:1,200 packs, these are hand-numbered to 40 on the back.
1997 Topps Gallery Peter Max Serigraphs Checklist
If you're looking for a specific card, click on the link to see what's currently available on eBay.
PM1 Derek Jeter, New York Yankees
PM2 Albert Belle, Chicago White Sox
PM3 Ken Caminiti, San Diego Padres
PM4 Chipper Jones, Atlanta Braves
PM5 Ken Griffey Jr., Seattle Mariners
PM6 Frank Thomas, Chicago White Sox
PM7 Cal Ripken Jr., Baltimore Orioles
PM8 Mark McGwire, St. Louis Cardinals
PM9 Barry Bonds, San Francisco Giants
PM10 Mike Piazza, Los Angeles Dodgers
1997 Topps Gallery Peter Max Serigraphs Gallery