1997 Metal Universe Baseball sends the game's stars back into space for a second time to battle more aliens, break stuff and learn how to play the game with a tornado on one's hand. Yes, this is a weird set and anything but traditional. And for many, that's the point and the appeal.
1997 Metal Universe Baseball Base Set Basics
The base set sticks with 250 cards. This is the same as the brand's 1996 debut (or evolution from Fleer Metal). Mixing sports and sci-fi, cards highlight comic book-inspired situations. Players are depicted using photos but everything else around them is an illustration. But it's not baseball as usual. It's more like the video game Super Baseball 2020 converted into cards and with real people instead of robots.
But there are robots. And monsters. And lots of alien landscapes. All of this is done with etched foil, which gives cards a very different look than the usual glossy or even flat foil. If a baseball card set was to ever inspire an airbrushed painting on the side of an old van, this would be the one.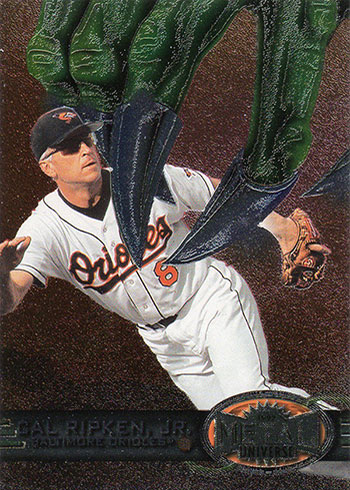 Backs are similar to the previous year. The replicate a futuristic screen with a second photo and not a lot of info. Although close to 1996, the design elements are different.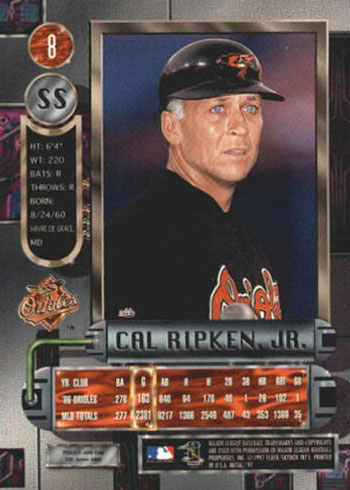 1997 Metal Universe Baseball does not have any parallels. Its basketball counterpart that year would introduce Precious Metal Gems.
Inserts
Chase sets use a variety of technologies and formats. They're definitely a step up in that direction from 1996.
Platinum Portraits (12 cards, 1:36 packs) go from being a plain foil set to one that does players' faces entirely with etched foil. Done as close-ups, the look is similar to faces on dollar bills only on baseball cards and with foil.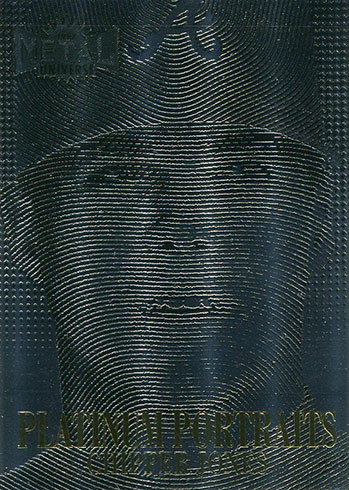 Another returning set is Mother Lode. At 1:288, these intricately die-cut cards are also the toughest cards in the product that don't have autographs.
Defensive stars are the subject of Magnetic Field. These ten cards (1:12 packs) have a dotted background.
Mining for Gold has ten young players using a die-cut design. At 1:9 packs, these are the easiest inserts in 1997 Metal Universe Baseball.
Blast Furnace is a hobby-exclusive set. It has a dozen players, all of whom are known for their power. These inserts are printed on acetate, giving them a clear look. These land 1:48 packs, or every other box.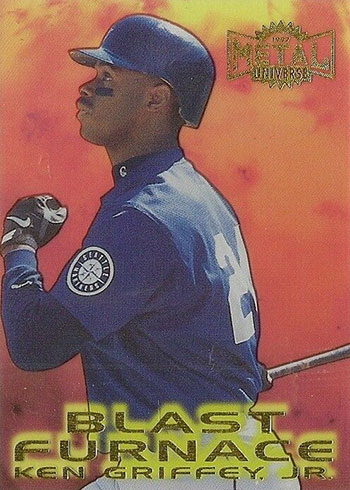 As far as retail-only inserts go, there's Titanium (ten cards, 1:24 packs). These are die-cut and have some embossing.
Autographs do make an appearance in 1997 Metal Universe. All six Emerald Autographs were included in packs in the form of redemptions at a rate of 1:480 packs. At first glance, they're essentially base cards with the added signatures. However, there are a couple of other subtle differences. On the front, the "Emerald" shows up in the nameplate. The color here is green. instead of the usual silver. On the back, numbers are replaced by an autograph note. Cards also have an embossed Fleer/SkyBox stamp.
1997 Metal Universe Baseball cards at a glance:
Cards per pack: Hobby – 8, Retail – 8
Packs per box: Hobby – 24, Retail – 16, 18 and 20
Set size: 250 cards
Release date: May 14, 1997
1997 Metal Universe Baseball Checklist
Base
Autographs
Inserts
Team Sets