Awesome Inserts: 1996 Pinnacle Skylines
1996 Pinnacle Skylines turns stars of the day into de facto kaiju, making them into Godzilla-sized behemoths towering over the local downtown core.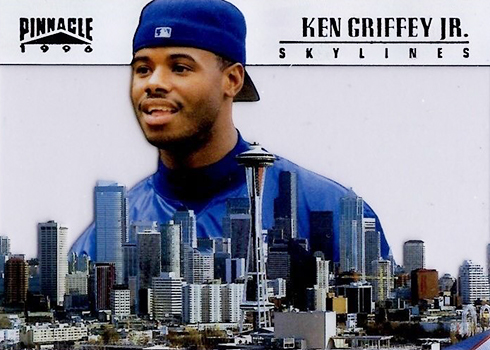 This is an insert set that has maintained its popularity over the years. Not the easiest pulls to begin with, 1996 Pinnacle Skylines remains a favorite with both set and player collectors.
Today, acetate cards appear fairly regularly. While still cool, they've lost some of that intrigue that comes with being new and different. 1996 was a different story. The clear card stock alternative was still fresh.
Players are show with a chest-up portrait. They're cast against the horizon of their home team's buildings, something that should add a level of familiarity for local fans. The design is rounded out by a foil band for the nameplate across the top. The acetate remains clear where the sky would be.
Backs don't have much going on. That's common for acetate cards, though, as the clear stock makes it harder to fit text and stats except overtop of existing images. The player photos are matched, albeit reversed. Bios work the city into the writeup.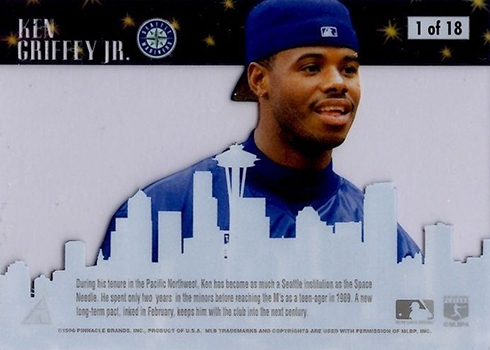 The 1996 Pinnacle Skylines checklist has 18 players. Most are sluggers, but a couple of pitchers are in there as well. Several players with strong collecting bases are in the set including Ken Griffey Jr., Frank Thomas, Cal Ripken and Kirby Puckett. The checklist is also a reminder of the faded star power of Mo Vaughn, Manny Ramirez and Gary Sheffield.
1996 Pinnacle Skylines inserts are exclusive to Series 2. They land 1:29 Series 2 magazine packs. The fact that they're not in the more common hobby and retail makes them tough to find on the secondary market.
Values reflect this as well. Many of the key players regularly sell for $50 or more. Top stars can go $150 and higher.
Looking for 1996 Pinnacle Skylines cards? Here's what's available on the Beckett Marketplace and eBay.
At a Glance:
Total Cards: 18
Found In: 1996 Pinnacle Series 2 Baseball
Insertion Rate: 1:29 magazine packs
Most Valuable Cards: Ken Griffey Jr., Frank Thomas, Kirby Puckett
Check 1996 Pinnacle Skylines values in the Beckett Price Guide.
1996 Pinnacle Skylines Checklist
Click on the links to shop for specific cards on eBay.
1 Ken Griffey Jr., Seattle Mariners
2 Frank Thomas, Chicago White Sox
3 Greg Maddux, Atlanta Braves
4 Cal Ripken, Baltimore Orioles
5 Albert Belle, Cleveland Indians
6 Mo Vaughn, Boston Red Sox
7 Mike Piazza, Los Angeles Dodgers
8 Wade Boggs, New York Yankees
9 Will Clark, Texas Rangers
10 Barry Bonds, San Francisco Giants
11 Gary Sheffield, Florida Marlins
12 Hideo Nomo, Los Angeles Dodgers
13 Tony Gwynn, San Diego Padres
14 Kirby Puckett, Minnesota Twins
15 Chipper Jones, Atlanta Braves
16 Jeff Bagwell, Houston Astros
17 Manny Ramirez, Cleveland Indians
18 Raul Mondesi, Los Angeles Dodgers