Generally speaking, Otis Nixon cards don't garner much attention. But the 1996 Leaf Signature Series Otis Nixon autograph isn't your general, run-of-the-mill card.
It was planned to happen until it didn't. But then, several years later, it did.
Basically, it's one of those "lost" cards that has surfaced on the secondary market, albeit in very small numbers. One of those unicorns has shown up on eBay and it's already got Nixon in the landmark set's upper echelon as far as prices go. And there's still plenty of time to go.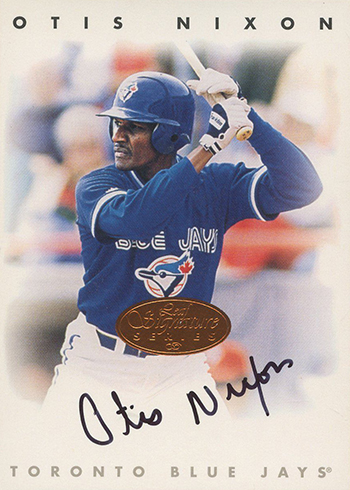 Lost and Found: The 1996 Leaf Signature Series Otis Nixon Autograph
You probably don't remember Otis Nixon as a member of the Toronto Blue Jays, but in 1996 he was. It was in the middle of a six-year stretch when the speedy outfielder spent time with six different teams.
Nixon was planned to be part of 1996 Leaf Signature Series Baseball, a turning-point product for baseball cards in that it was the first MLB set to have an autograph in every pack.
The cards were made and sent to Nixon to sign. But, for whatever reason, they never made it back to the Donruss/Leaf. There are rumors out there as to what happened to the cards, but nobody knows for certain. Without the cards, Nixon was dropped from the checklist.
It wasn't until several years later that they surfaced. In 2005, copies of the card started appearing on the secondary market.
According to this thread on Freedom Cardboard, the cards were discovered inside a forgotten Atlanta storage unit Nixon used. The cards were in the bottom of a suitcase.
So now the 1996 Leaf Signature Series Otis Nixon autograph cards are out there, they're just extremely scarce to find and rarely seen.
Given the lasting popularity of the set and the mystery surrounding the card, it probably shouldn't be too surprising to see that the copy that's currently up on eBay has already passed the $150 mark. And that's two days in to a week-long listing.
By comparison, it's already higher than recent sales of Mariano Rivera, Alex Rodriguez, Jim Thome and Pedro Martinez autographs from the same set.