Back to the Beach: 1995 Sports Time Baywatch Trading Cards
Before the Rock, there was David Hasselhoff, Pamela Anderson, Erika Eleniak and plenty of other beautiful people. Baywatch was must-watch TV around the world for years. And being must-watch television in the 1990s made trading cards inevitable. 1995 Sports Time Baywatch trading cards are filled with all of pretty bodies from the show as well as some of the cheese.
It's also a product that's filled with several hobby trends from the era, some of which were short-lived.
Base Set
Things start with a 100-card base set. While it does focus partially on episodes, there's more to it than that. The checklist starts out with 25 bios. The show had a fairly large cast, but not that many. Lead characters — regularly posing in glamor shots — are highlighted on multiple cards.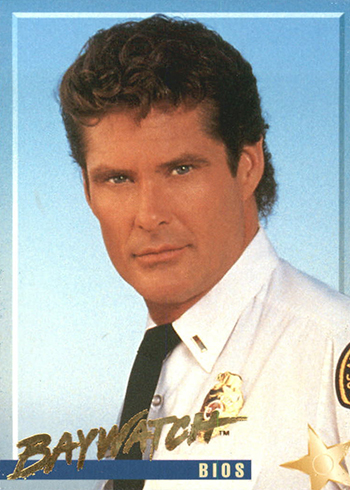 Following that are a handful of Confidential subset cards that highlight trivia and strange facts. Lifeguard Rescue cards showcase actors in action, swimming and saving lives.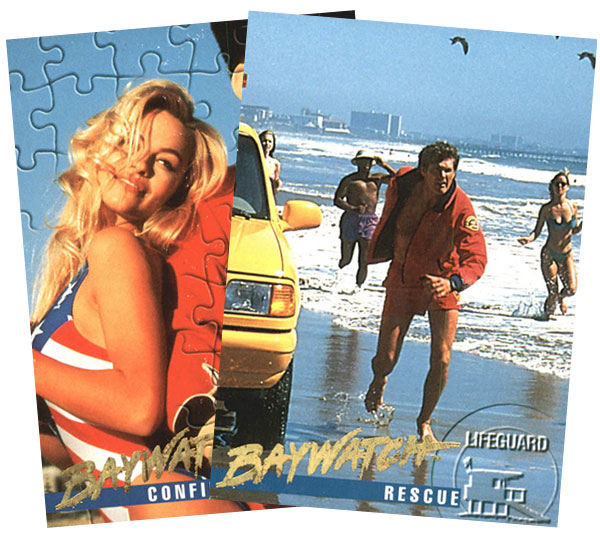 The back half of the 1995 Sports Time Baywatch checklist kicks off with ten Behind the Scenes cards. These offer a candid and casual look from the other side of the camera.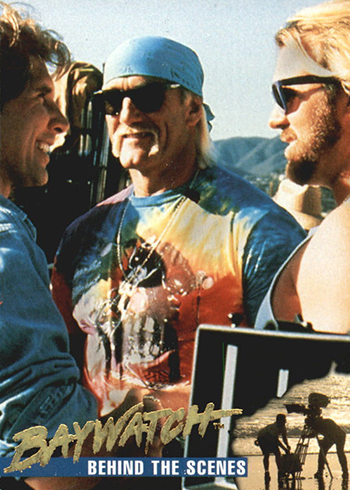 Finally, it's on to Episodes for 36 of the remaining 40 cards. These are a reminder that Baywatch did have lots of story lines and was more than the iconic red  bathing suit. Because we all watched for the stories, right?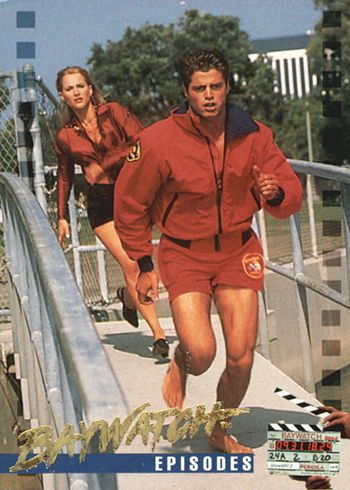 The final four cards are checklists. Rather than listing the text, they're visual lists, showing small thumbnails of each card.
Released in the mid-1990s, trading cards were slowly getting more and more premium in their nature. Now what was fancy then is commonplace today. So the glossy card stock and gold foil Baywatch logo probably don't mean quite the same now.
Inserts
The two main inserts are essentially partial parallels of the main set. Rainbow (1:6 packs) and Platinum (1:9) both come with 26 cards. For the most part, all are renumbered base cards plus a checklist.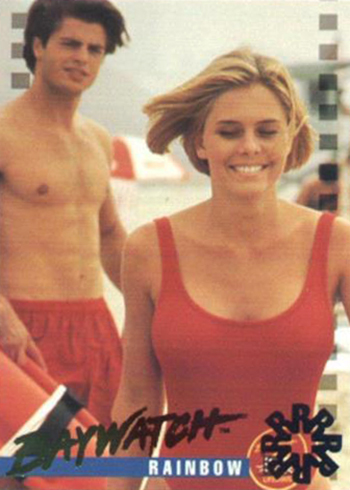 The big difference, if you want to call it that, is in the foil at the bottom of the card front. Colors are switched up for the inserts.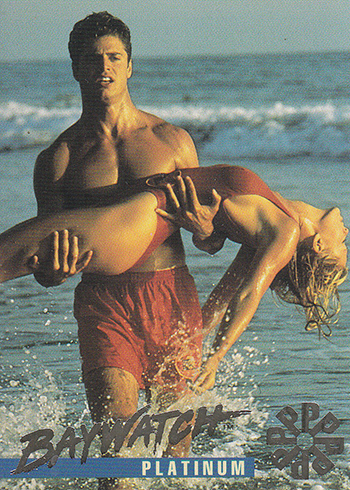 Remember the days when long distance was expensive and phone cards were all the collectible rage? 1995 Sports Time Baywatch has ten of them. Seven were available in packs at a rate of about one per box. The last three were part of a mail-in offer.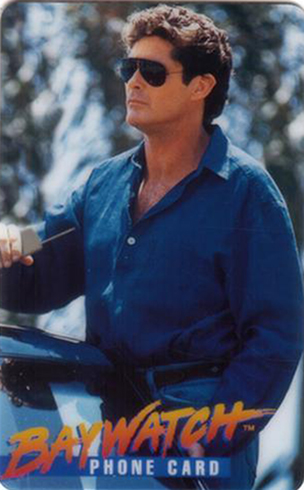 Autographs were extremely tough pulls, landing 1:432 packs. Several base cards were signed and most were numbered. Yasmine Bleeth and Alexandra Paul are the most common by far. However, David Hasselhoff, Jeremy Jackson and a couple of other actors have a small number of signed cards as well.
The 1995 Sports Time Baywatch checklist is rounded out with one promo card featuring David Hasselhoff and Pamela Anderson.
Today, 1995 Sports Time Baywatch trading cards don't cost a lot. Outside of autographs, they're reasonably easy to find. One thing to consider about unopened packs and boxes is that most are like bricks now. The base cards stick together forming bricks. And when you pull them apart, it's common to cause surface damage. Inserts are usually, okay, though.
Looking to add 1995 Sports Time Baywatch trading cards to your collection? Both the Beckett Marketplace and eBay are places to start your search.