1993 Milk Bone Super Stars Is a Baseball Card Set for the Dogs
When you click on links to various merchants on this site, like eBay, and make a purchase, this can result in this site earning a commission.
There are sets of cards that are dogs and then there's 1993 Milk Bone Super Stars Baseball. On the one hand, it has the cute factor picturing players alongside their pets. On the other, some of those fashion choices are woof worthy and deserving of a place alongside the 1992 Bowman yearbook.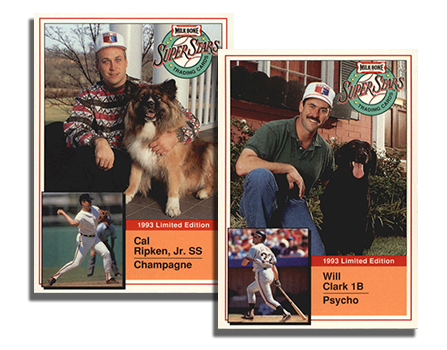 The set is your standard food-issue release (except the fact that the food part was intended for you canine pets). It has 20 cards with two included in specially marked boxes of Milk Bone Flavor Snacks and Dog Treats. A mail-in offer for the full set was available by sending in three Super Star Seals and $2.50.
1993 Milk Bone Super Stars cards aren't licensed by MLB but they are by the Players Association. And all of 20 the players are wearing the MLBPA hats to prove it, reminding us there was a time when we had strings running along the base of our caps. The caps aren't the only dated clothes on display. There are plenty of sweaters that are either colorful enough to give you a headache or cozy enough to make Mr. Rogers proud. And then there's Ben McDonald in his camo shirt sitting on a bench with carved out hearts on it. You can also catch a rare baseball card glimpse at Will Clark's mustache.
1993 Milk Bone Super Stars Baseball Checklist
As far as checklists go, it's not bad. Of the 20 players, five are Hall of Famers with several more on the bubble. Cal Ripken Jr. is the most valuable card in the set. But that's not saying much. Most can be found for a couple of dollars or less. Other key players include Tom Glavine, Barry Larkin and Mark McGwire.
Because we all like to see cute dogs and cringe at the things we used to wear, here's a full gallery of all 20 1993 Milk Bone Super Stars Baseball cards.
1 Paul Molitor/Boomer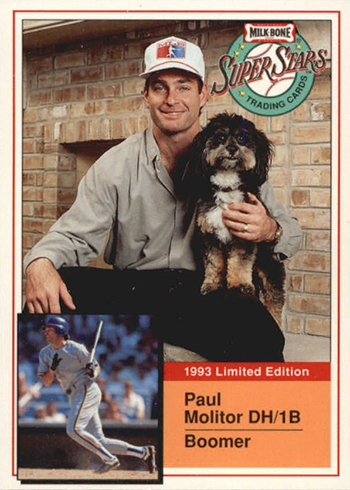 2 Tom Glavine/Golden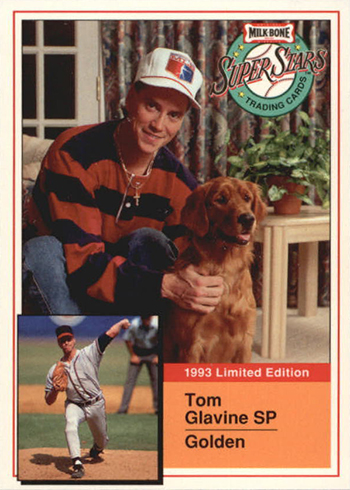 3 Barry Larkin/Kino & Roscoe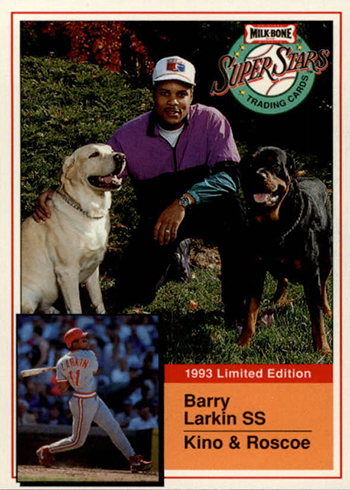 4 Mark McGwire/Ellis & Sam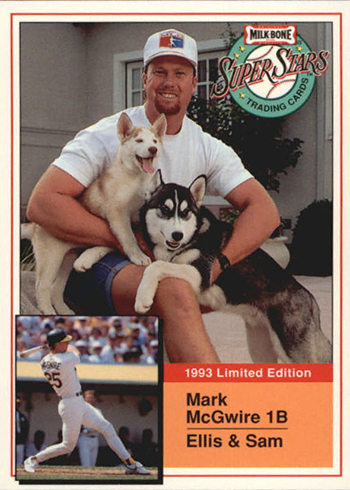 5 Bill Swift/Zach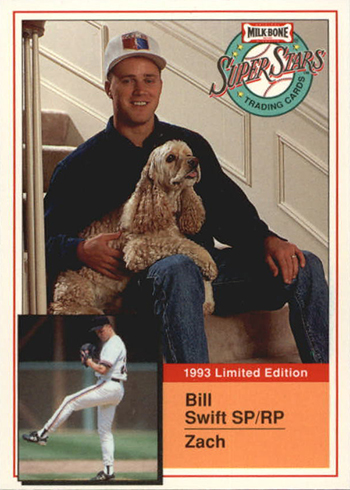 6 Ken Caminiti/Bailey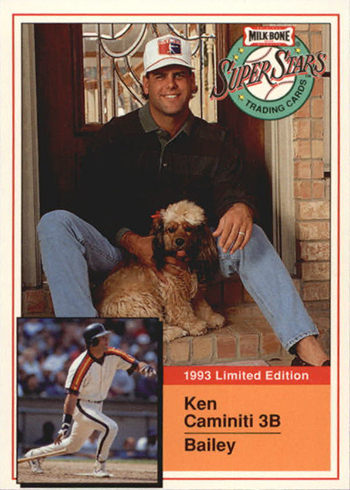 7 Will Clark/Psycho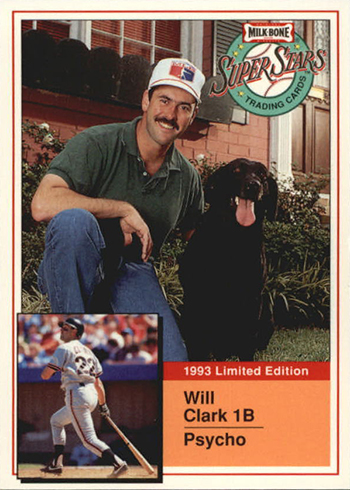 8 Rafael Palmeiro/Kirby & Wrigley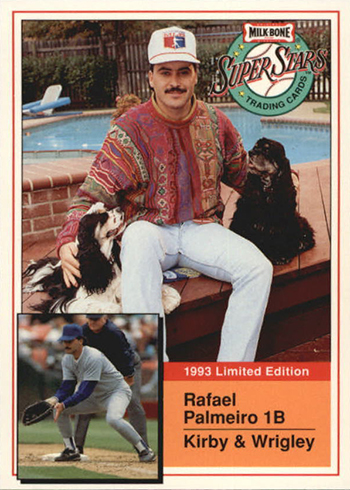 9 Matt Young/Cy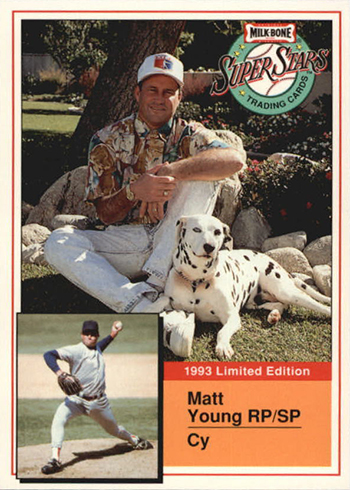 10 Todd Zeile/Tiffany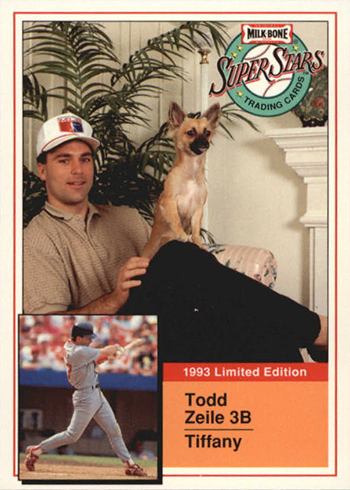 11 Wally Joyner/Chloe & Shadow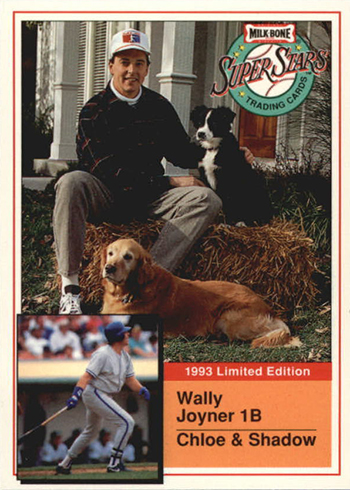 12 Cal Ripken Jr./Champagne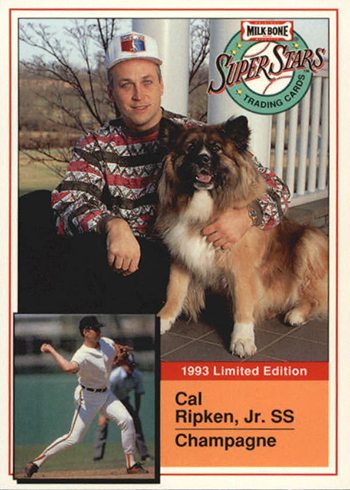 13 Tom Foley/Annie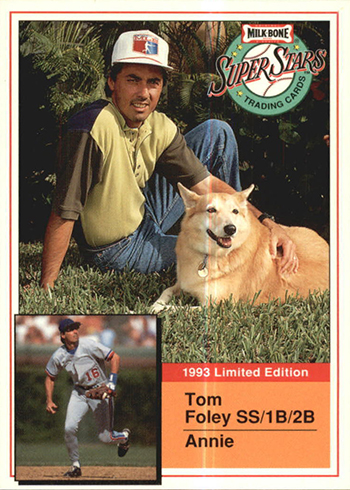 14 Ben McDonald/Ace & Max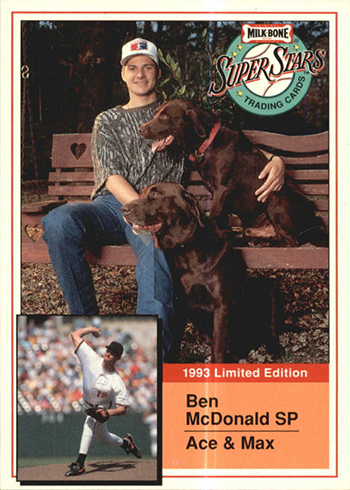 15 Larry Walker/Shami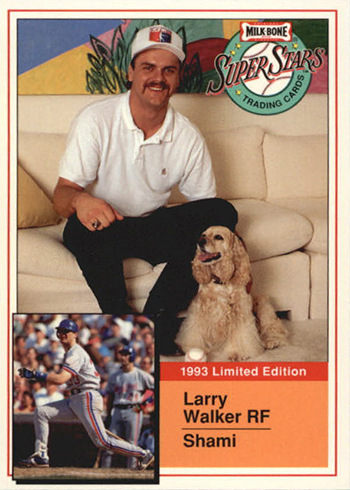 16 Rob Dibble/Taylor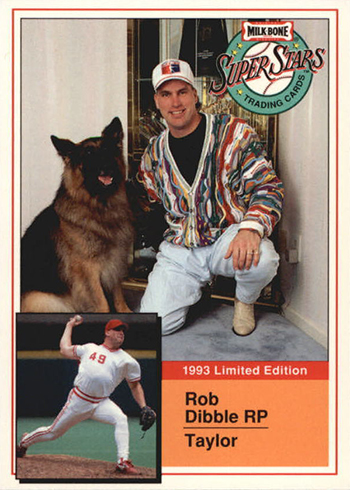 17 Brett Butler/Beenie & Cecil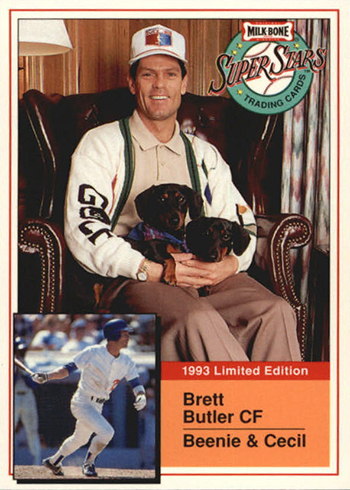 18 Joe Girardi/Nikko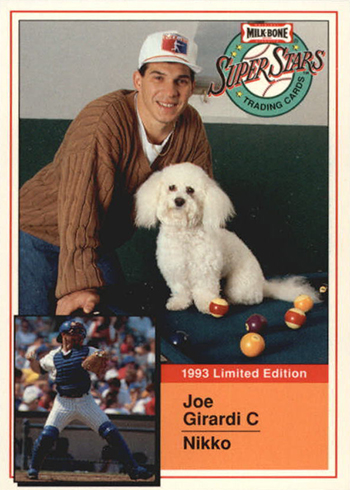 19 Brady Anderson/Daisy & Maggie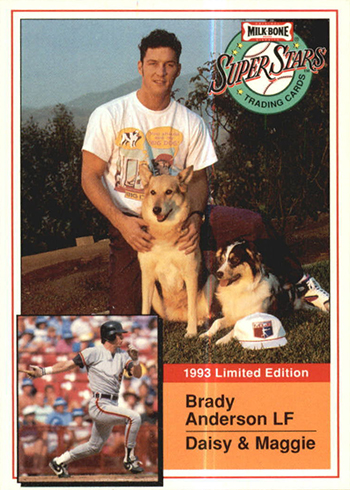 20 Craig Biggio/Shelbee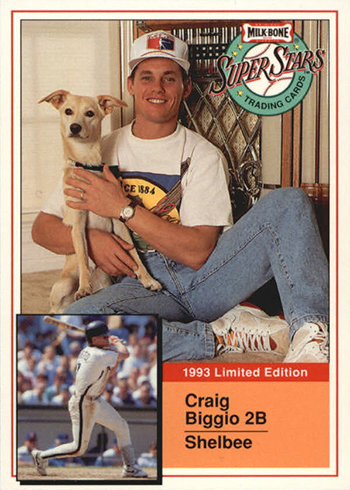 Comments? Questions? Contact Ryan Cracknell on Twitter @tradercracks.