Cheap Wax Wednesday Box Breaks: 1993 Classic Best Baseball
Classic entered the baseball card world through a card trivia board game in 1987. The cards feature major leaguers on the front and trivia questions on the back. Think of it as kind of a baseball version of Trivial Pursuit. The Best brand was created for minor league releases starting in 1991. In addition to a full set release in 1991, Classic Best also produced team sets. The list of teams available in these sets includes everyone from the Appleton Foxes to the Yakima Bears.
The 1993 Classic Best Minor League Baseball release features a 300-card base set including some notable names like Derek Jeter. For those into grading, a Gem Mint Jeter base card has been selling as high as $80 recently. That alone makes this product worth a buy.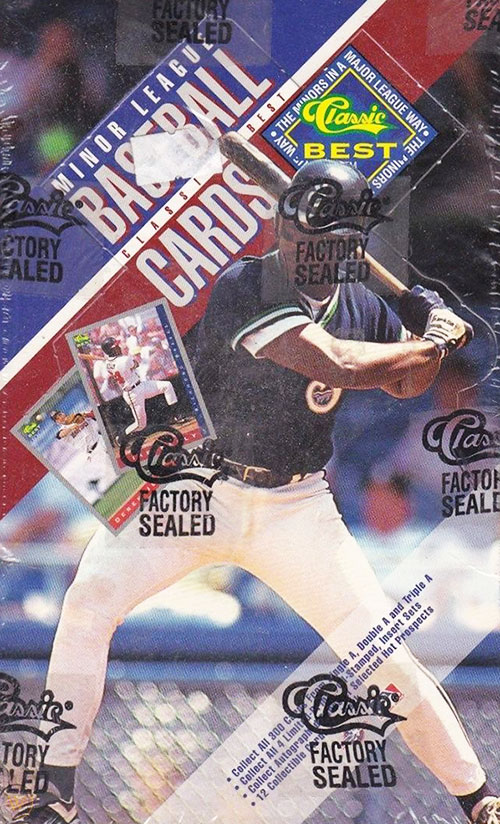 In addition to the base set, 1993 Classic Best also features four foil stamped insert sets: Young Guns, MVPs, Expansion #1 Picks, and Player & Manager of the Year.
Eight autographs are also in there to chase including cover star Carlos Delgado, Cliff Floyd and Derek Jeter. Each is numbered to 1,200 copies.
Fun Facts are provided by Bleacher Report National MLB Columnist Joel Reuter. You can follow Joel on Twitter (@JoelReuterBR) and check out his work at Bleacher Report.
1993 Classic Best Baseball Box Break
Cards per pack: 12
Packs per box: 36
Price paid: $29

Pack 1 highlight:
Steve Karsay
Pack 1 fun fact: Steve Karsay was traded to the Oakland Athletics at the 1993 trade deadline in exchange for Hall of Famer Rickey Henderson.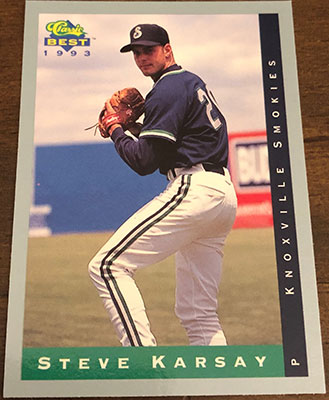 Pack 2:
Rico Brogna. Yes, sometimes the highlights in this product are a stretch.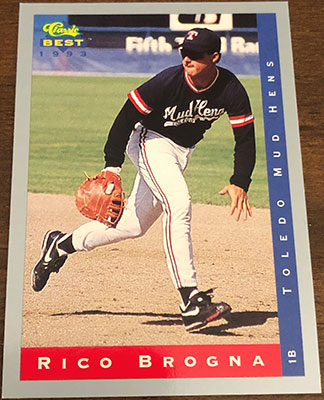 Pack 3:
Matt Stairs & Bobby Bonds
Pack 3 fun fact: Bobby Bonds is the younger brother of legendary slugger Barry Bonds. He spent seven seasons in affiliated ball and five more in the independent league, topping out at the Triple-A level.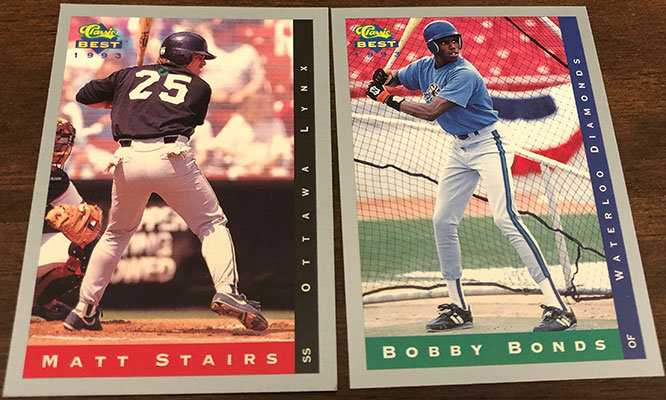 Pack 4:
2004 World Series champion Calvin "Pokey" Reese & Desi Relaford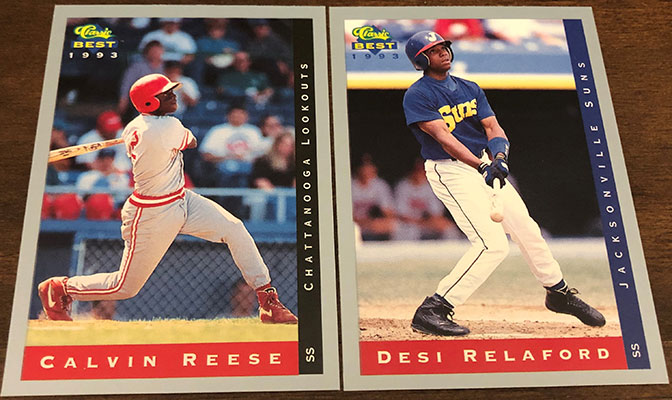 Pack 5:
Paul Shuey. Sometimes you have to feature the only player you've ever heard of.
Pack 5 fun fact: Paul Shuey was the No. 2 overall pick in the 1992 draft, four picks ahead of a Michigan high school standout named Derek Jeter.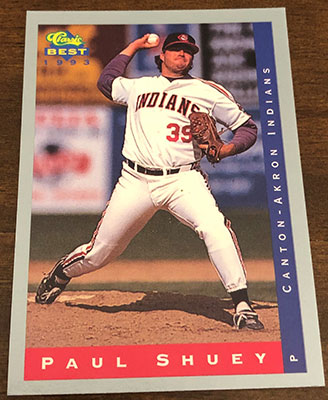 Pack 6:
Jon Lieber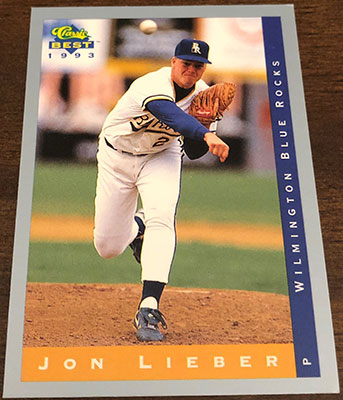 Pack 7:
Alex Gonzalez. Remember him? He was supposed to be a star shortstop, often grouped in with Derek Jeter, Alex Rodriguez and Nomar Garciaparra.
Pack 7 fun fact: All four of those players appeared on the 1995 Baseball America Top 100 prospect list. Alex Rodriguez (1) and Derek Jeter (4) joined Alex Gonzalez (8) in the top 10, while Nomar Garciaparra (22) was a bit further down the list.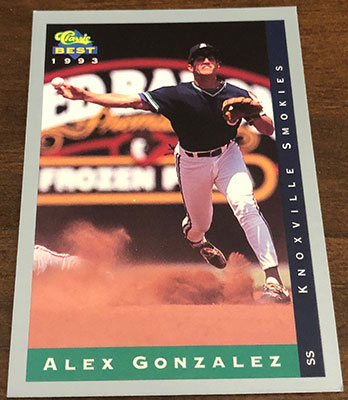 Pack 8:
Brook Fordyce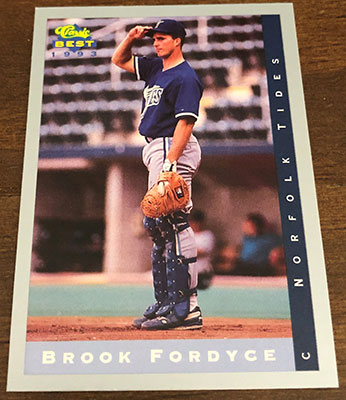 Pack 9:
Bob Abreu, Aaron Sele & 1994 AL Rookie of the Year Bob Hamelin
Pack 9 fun fact: Viewed by most as a one-hit wonder, Bob Hamelin also had a strong 1997 season with the Detroit Tigers. He posted a 122 OPS+ with 18 home runs and 52 RBI in 370 plate appearances.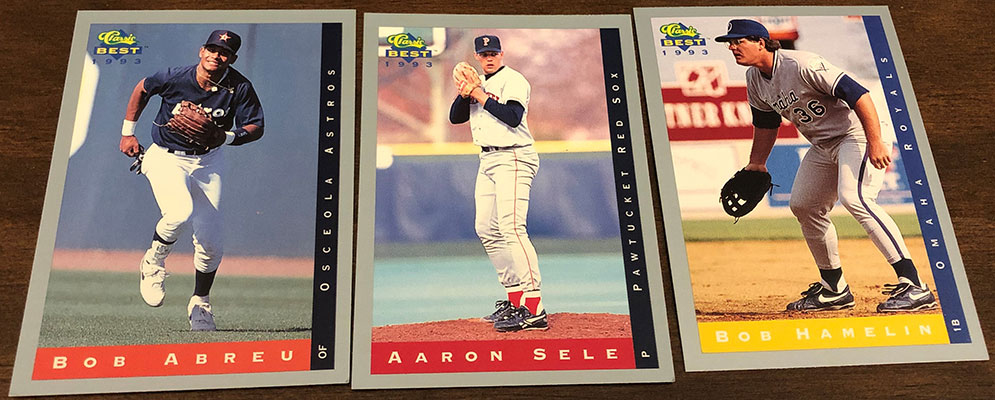 Pack 10:
Bobby Jones & Charles Johnson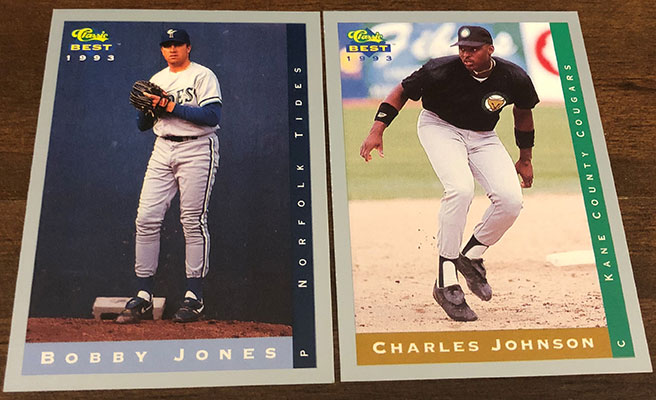 Pack 11:
Jason Schmidt & Sterling Hitchcock
Pack 11 fun fact: Sterling Hitchcock was part of the trade package the New York Yankees used to acquire Tino Martinez from the Seattle Mariners.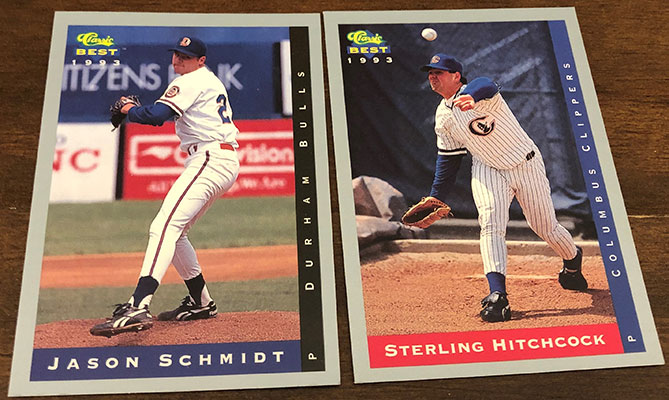 Pack 12:
Jason Kendall, Ozzie Canseco & Tony Womack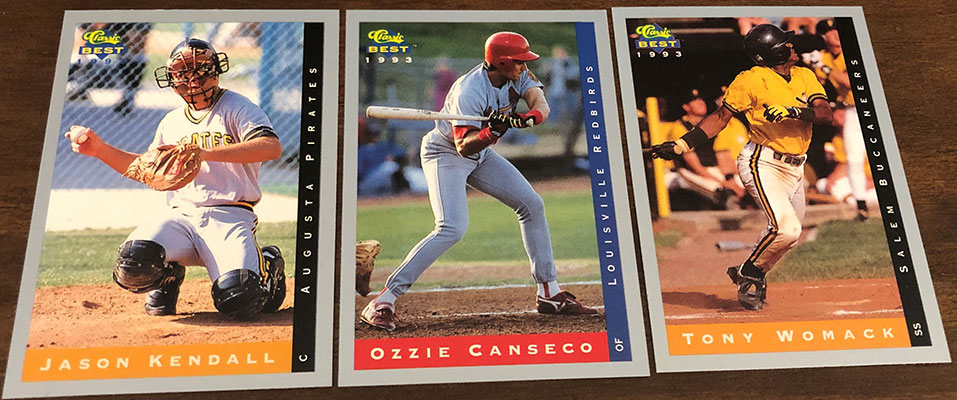 Pack 13:
Shawn Green. Oops. Someone messed up here. Alex Gonzalez is featured on Shawn Green's card.
Pack 13 fun fact: Carlos Delgado was also a member of the 1993 Knoxville Smokies team that included the two confused teammates. They went 71-71 that season.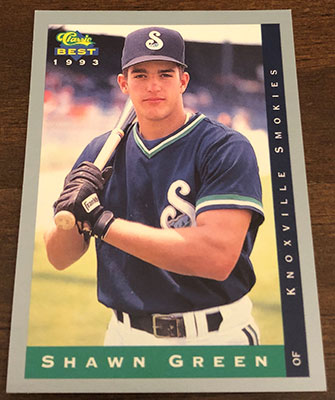 Pack 14:
Pete Rose Jr., Edgardo Alfonzo & Derek Jeter. Now tell me a card featuring Jeter playing for the Greensboro Hornets isn't fun.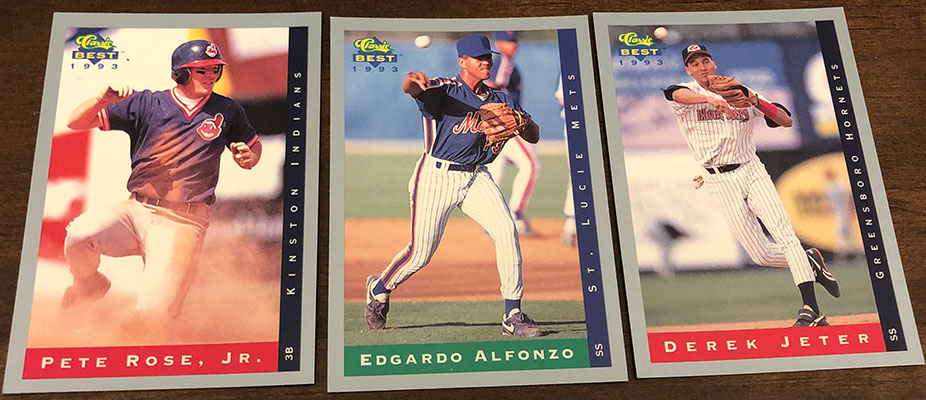 Pack 15:
Joe "The Joker" Randa
Pack 15 fun fact: Joe Randa had a 100-RBI season for the Kansas City Royals in 2000. His 106 RBI that season ranked third on the team, trailing Mike Sweeney (144) and Jermaine Dye (118).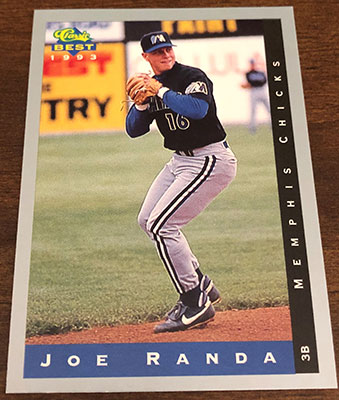 Pack 16:
Rondell White & Gerald Williams.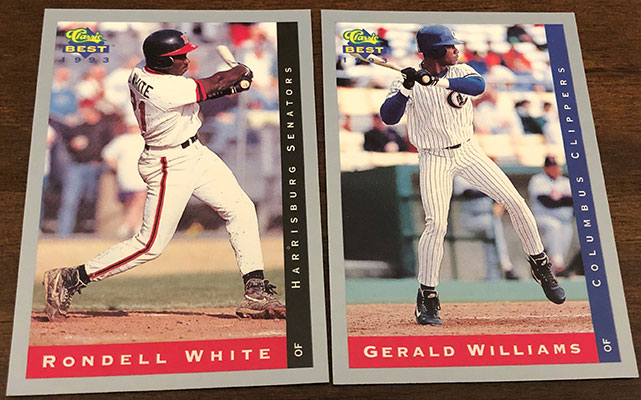 Whenever I think of Williams, I think of him charging the mound against Pedro Martinez!
Pack 17:
A trio of second basemen: Quilvio Veras, Jose Vidro & Bret Boone
Pack 17 fun fact: Quilvio Veras and Bret Boone were traded for each other as part of a six-player deal between the Atlanta Braves and San Diego Padres. The trade also included Reggie Sanders, Wally Joyner and Ryan Klesko.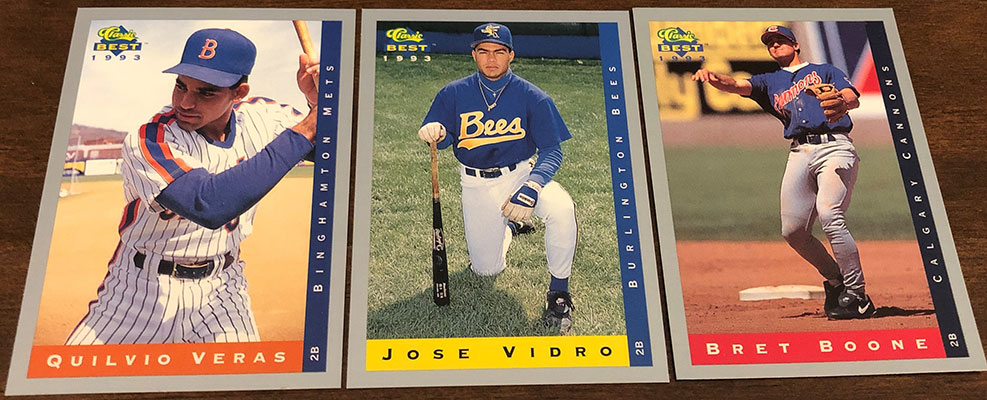 Pack 18:
Jason Giambi & Paul Byrd. Funny story: I play men's wood bat baseball. One of our former pitchers was once traded in a deal involving Paul Byrd.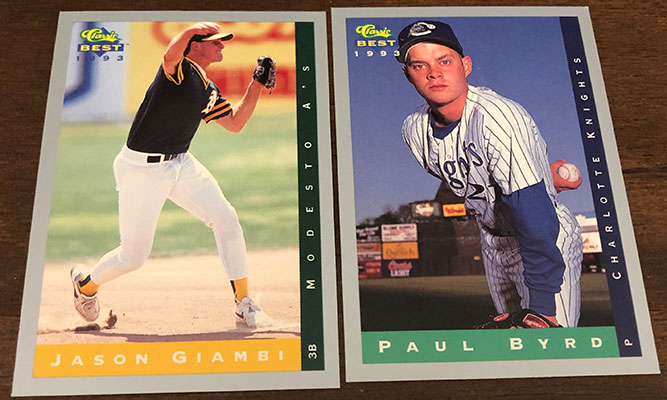 Pack 19:
Jason Bere & Steve Trachsel
Pack 19 fun fact: Jason Bere finished second in AL Rookie of the Year voting in 1993. Steve Trachsel checked in fourth in NL Rookie of the Year balloting the following year.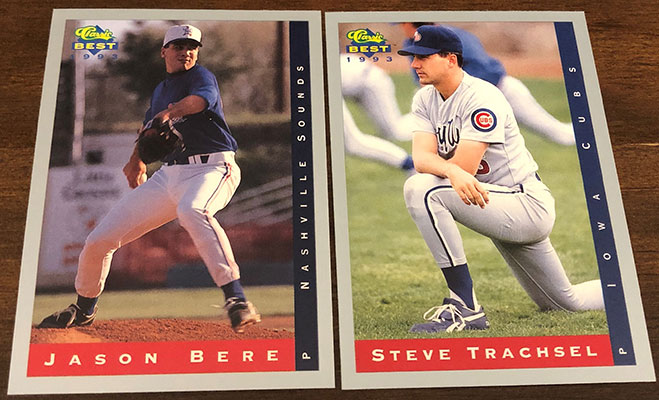 Pack 20:
Mark Wohlers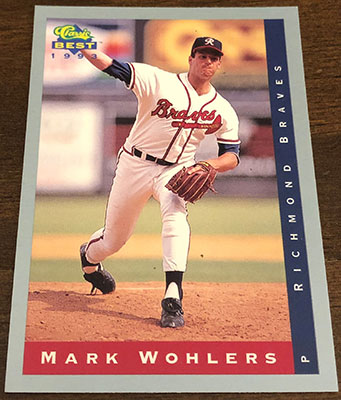 Pack 21:
Jose Valentin & Rick Helling
Pack 21 fun fact: With 249 career home runs, Jose Valentin ranks sixth all-time among players who spent at least 51 percent of their games at shortstop. He trails only Cal Ripken Jr. (431), Miguel Tejada (307), Hanley Ramirez (271), Derek Jeter (260) and Robin Yount (251).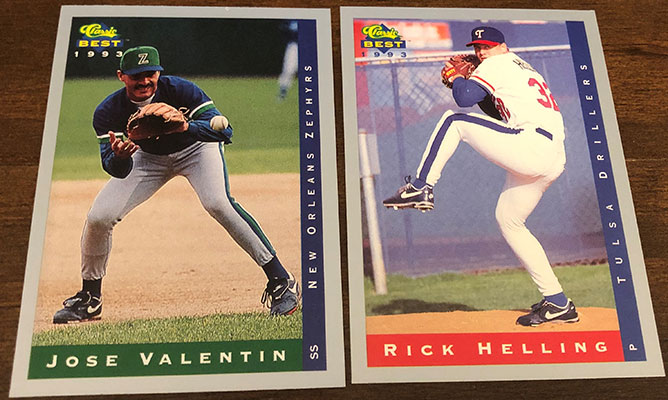 Pack 22:
James Baldwin, Johnny Damon & Carl Everett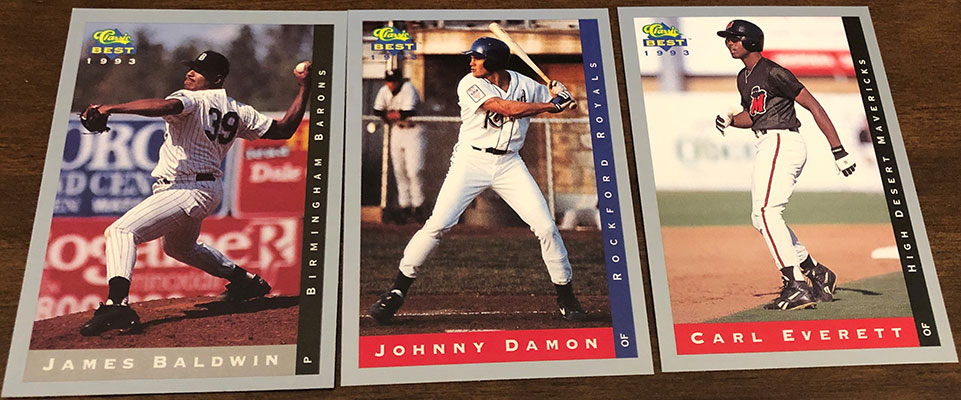 Pack 23:
Dan Serafini, who has made an appearance on Bar Rescue in the last few years
Pack 23 fun fact: Dan Serafini attended the same high school—Junipero Serra High School in San Mateo, California—as future MLB stars Barry Bonds and Gregg Jefferies.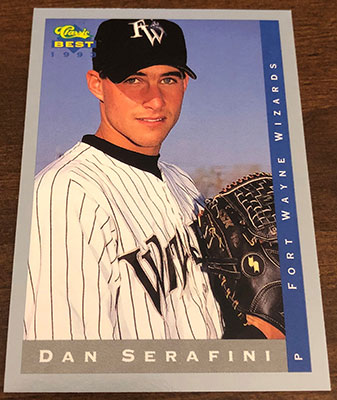 Pack 24:
Scott Hatteberg, Michael Tucker, Brad Ausmus & Bubba Smith MVP. The MVPs insert set featured award winners from each league. Bubba was the Carolina League MVP in 1993.

Pack 25:
Danny Miceli & Tanyon Sturtze
Pack 25 fun fact: Tanyon Sturtze led the AL in losses (18), hits allowed (271), earned runs allowed (129), walks (89) and batters faced (1,008) during the 2002 season.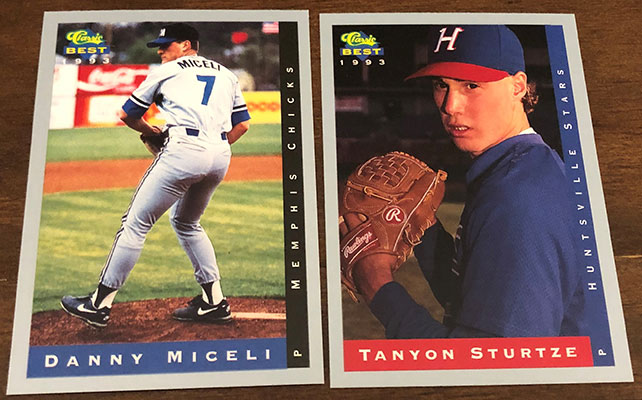 Pack 26:
Matt Stairs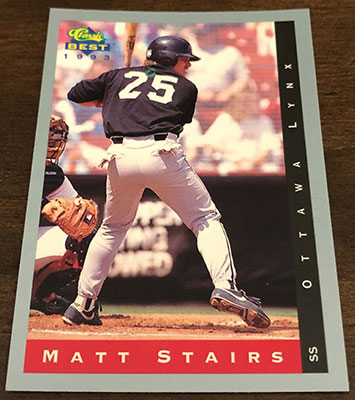 Pack 27:
Todd Hollandsworth
Pack 27: Todd Hollandsworth became the fifth straight Los Angeles Dodgers player to win NL Rookie of the Year honors in 1995. He followed Eric Karros, Mike Piazza, Raul Mondesi and Hideo Nomo.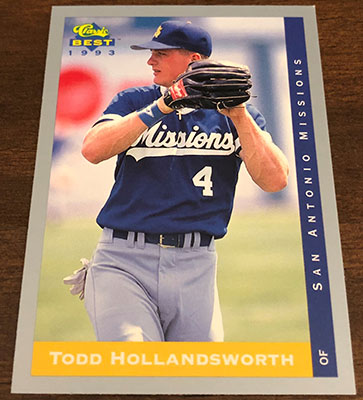 Pack 28:
Doug Glanville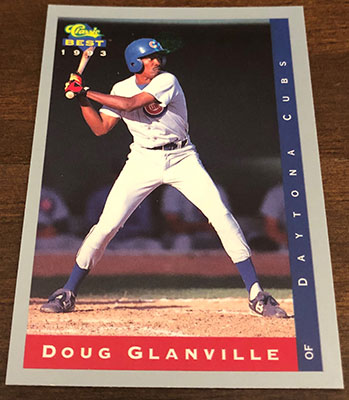 Pack 29:
Calvin Reese & Midre Cummings Young Guns
Pack 29 fun fact: Midre Cummings earned the "Young Guns" tag by hitting .305/.361/.476 with 39 extra-base hits and 23 steals at the High-A level in his age-20 season.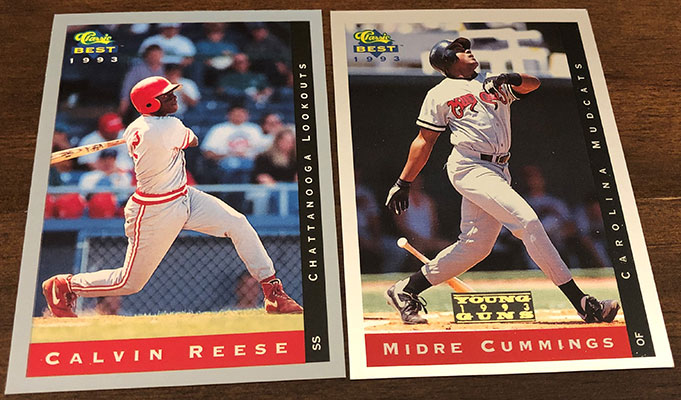 Pack 30:
Another dud pack, with the highlight being Paul Shuey
Pack 31:
Jon Lieber
Pack 31 fun fact: A forgotten 20-game winner, Jon Lieber went 20-6 with a 3.80 ERA in 232.1 innings for the Chicago Cubs in 2001 to finish fourth in NL Cy Young voting.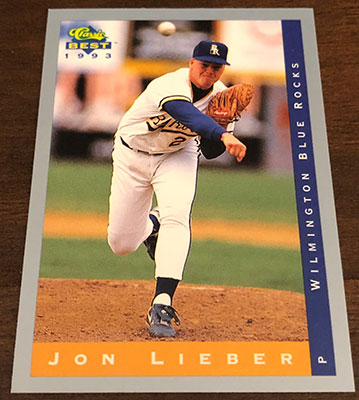 Pack 32:
Bob Abreu & Alex Gonzalez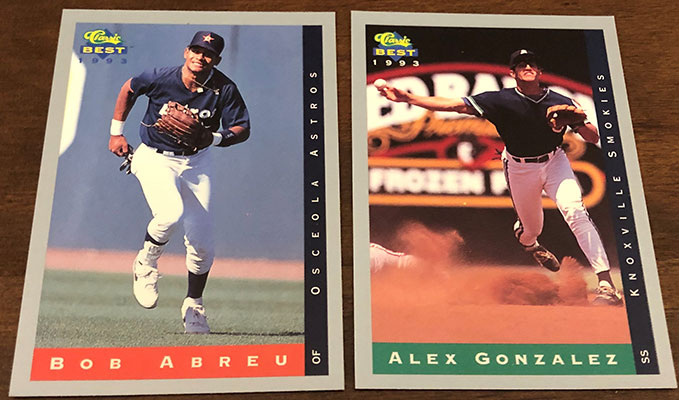 Pack 33:
Jason Kendall & Troy Percival
Pack 33 fun fact: Troy Percival ranks 11th on the all-time list with 358 career saves. He was a four-time All-Star and topped 30 saves eight different times.
Pack 34:
Aaron Sele & Jason Schmidt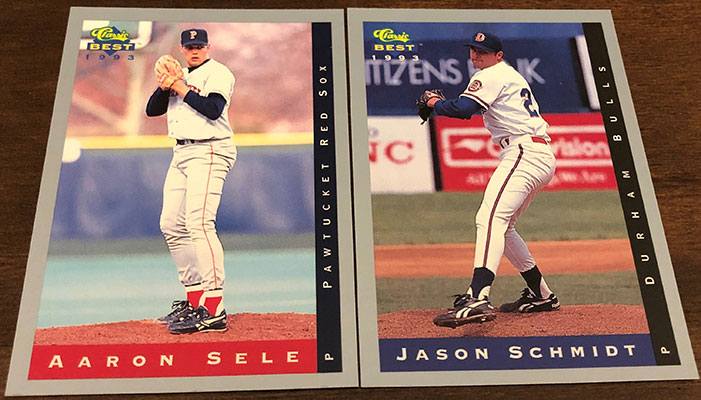 Pack 35:
Bobby Jones, Tony Womack & Charles Johnson
Pack 35 fun fact: Believe it or not, all three of these players were part of the 1997 NL All-Star roster.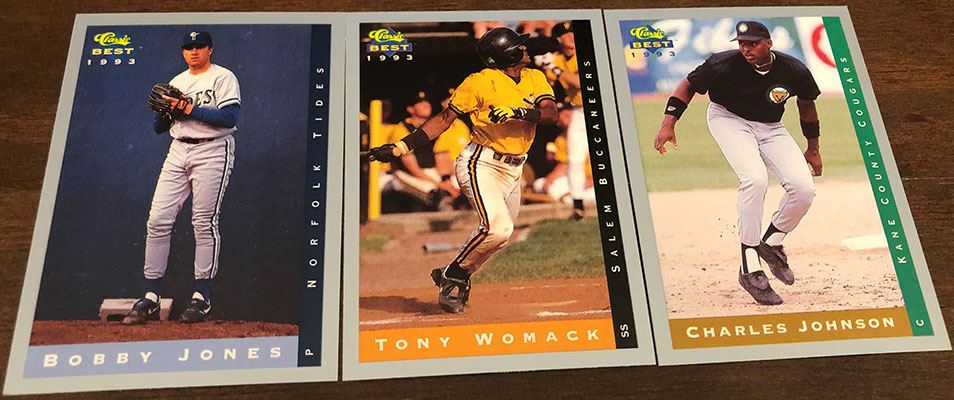 Pack 36:
Shawn Green, but not Shawn Green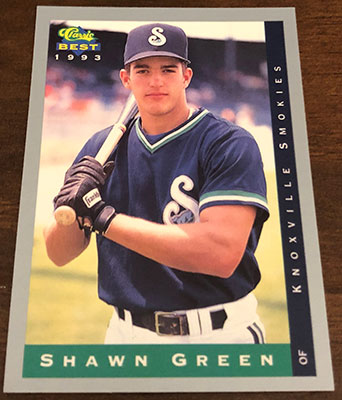 Lastly, the Derek Jeter card back. These are really well done, in my opinion. I like the inclusion of the player's minor league level, in this case Jeter was playing in A ball in 1993. Jeter (19 at the time) started making big strides that year, hitting .295 over 128 games for Greensboro. I am also thankful for the major league team logos in the bottom right. Minor league affiliations change quite a bit, especially when looking back over 25 years! The logos made it a lot easier to sort the cards by team.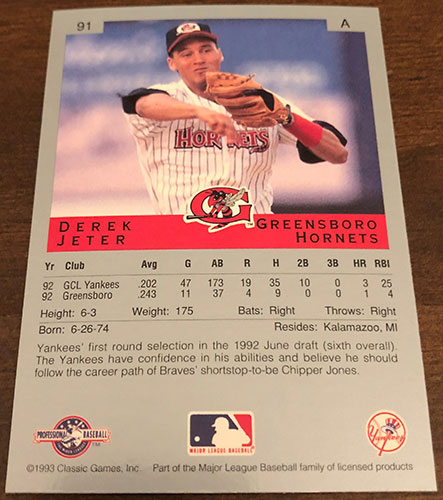 This is another fun minor league product. Not much to find in terms of inserts, and I didn't hit one of the autographs, but it was still worthwhile. As I said above, the Jeter card alone can fetch you a nice return.
Does anyone else see 1993 Fleer when looking at these? That is the first thing that came to mind when I started opening these. How did those two releases, from the same year, look so similar?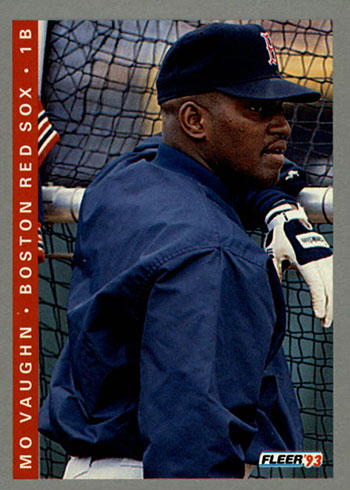 In any event, a fun retro break with some big names, Jeter included! Check back again next week for the last Minor League May feature product. And who knows, there might even me an MJ appearance.
Shop for 1993 Classic Best Baseball on:
Want more installments of Shane Salmonson's Cheap Wax Wednesday? Check out his other breaks in the archives.