More Than Just a Dream: Collecting the 1992 USA Basketball Dream Team
When you click on links to various merchants on this site, like eBay, and make a purchase, this can result in this site earning a commission.
It's impossible to quantify the greatest team ever. It's hard enough to compare the 1927 New York Yankees to the 1996 squad. Different players, different eras — one could argue that baseball itself changed dramatically in those seven-plus decades.
It gets even harder to when you cross sports. Were the Showtime-era Lakers better than the Wayne Gretzky-led Edmonton Oilers dynasty of the 1980s? You can make all the Venn diagrams you want, but you really can't come up with some criteria to say which is better.
But then there's the 1992 USA Men's Olympic Basketball squad — the Dream Team.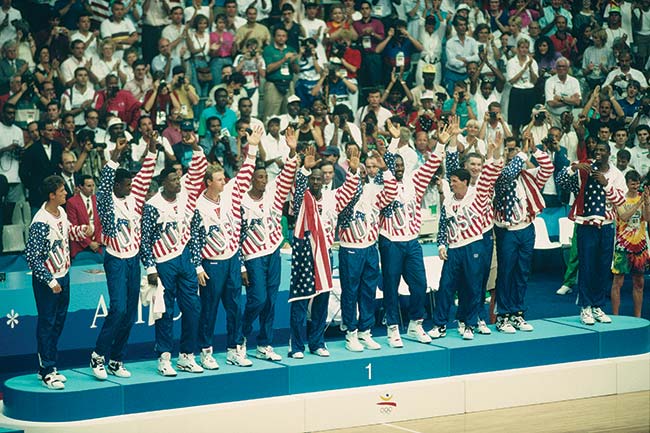 They plowed through the competition — if one could really call it that — in Barcelona. In eight Olympic games, they won every game by more than 30 points. There were no bumps on the road to gold.
Three decades later, the legacy of the Dream Team can still be seen. Eleven of the 12 players on the roster have gone on to the Basketball Hall of Fame. It's a collection of generation-defining superstars: Larry Bird, Magic Johnson, Charles Barkley, David Robinson and, of course, Michael Jordan.
Members of the 1992 USA Men's Olympic Basketball team have appeared together and individually on USA Basketball cards in several sets over the years. Some are subsets in larger NBA releases. Others are standalone products that are nothing but Dream Team cards.
Here's a look at key places where you can find them.
1991-92 Hoops
Buy on:
1991-92 Hoops is one of the first places collectors could find basketball cards of players wearing their instantly iconic Dream Team jerseys. Found in Series 2 packs, ten players and all four coaches are part of the subset. Clyde Drexler, the final NBA star selected for the team, and college standout Christian Laettner, are the only two missing.
These 14 cards all use studio shots with players wearing their jerseys.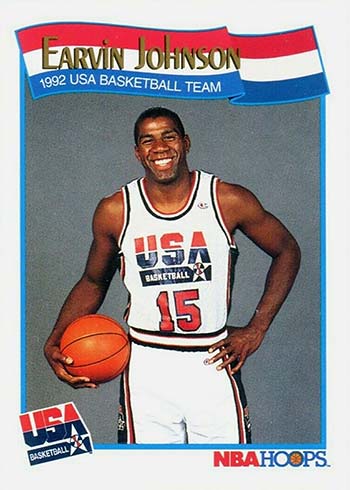 For assistant coaches Mike Krzyzewski and P. J. Carlesimo, both have their RCs in 1991-92 Hoops.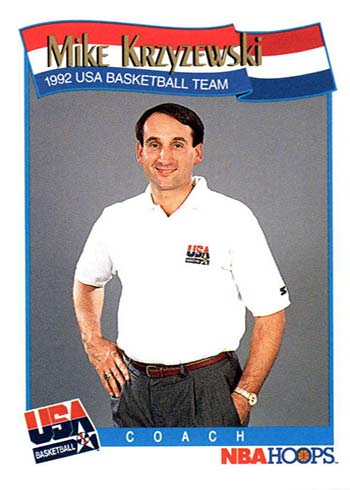 The Dream Team isn't the only Olympic content in the set. A handful of cards highlight players from past USA teams going as far back as Walter Davis in 1976.
There's also a special unnumbered gold foil insert with the USA Basketball logo on the front and a brief background on the initial selections for the 1992 team.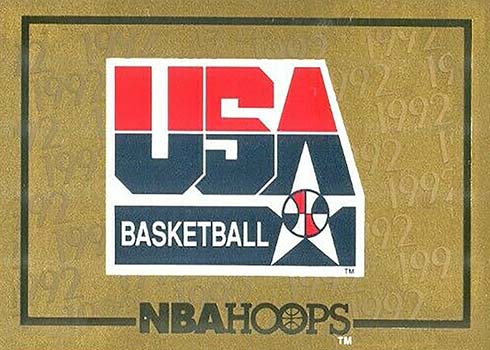 1991-92 Hoops McDonald's
Buy on:
Big Macs and McDonald's fries might not be a healthy choice, but the fast food chain was a major Olympic sponsor in 1992. From a special Gold Medal Meal that was highlighted by a triple cheeseburger to Dream Team collectors cups to a steady stream of television commercials, there was plenty of Olympic content to digest at the time.
For basketball card collectors, there was also a 62-card Hoops set that featured some cards of the Dream Team. For those around the Chicago area, it's actually a 70-card set thanks to an exclusive eight-card Chicago Bulls expansion.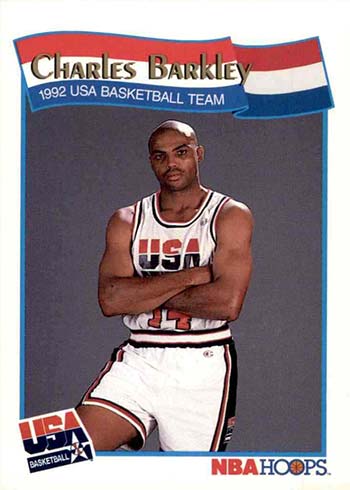 Most of 1991-92 Hoops Basketball checklist is NBA cards. However, there are a dozen USA Basketball cards that were included one per four-card pack. The initial ten selections plus Coach Daly have individual cards. There's also a team card with all 11 on the front.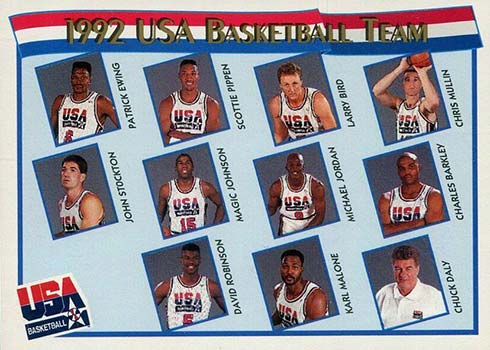 The design is the same are the regular 1991-92 set. Along with card numbers, photos are different.
1991-92 SkyBox
Buy on:
The 1992 Dream Team cards found in 1991-92 SkyBox follow a similar path as their Hoops counterparts. A subset in Series 2, there's the same lineup of ten players and four coaches. Capping things off is a three-card puzzle that forms a panoramic team photo.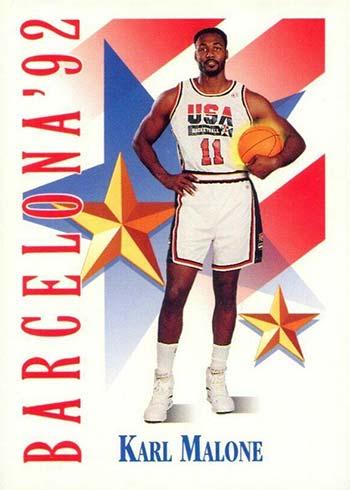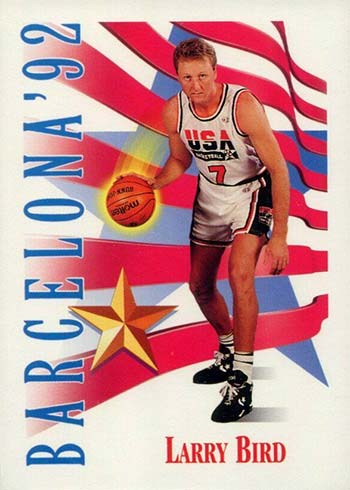 The squad shows up again on a special gold foil non-numbered insert.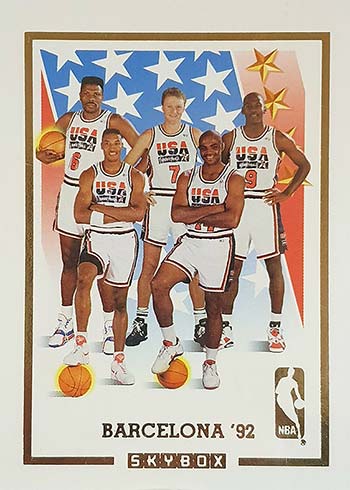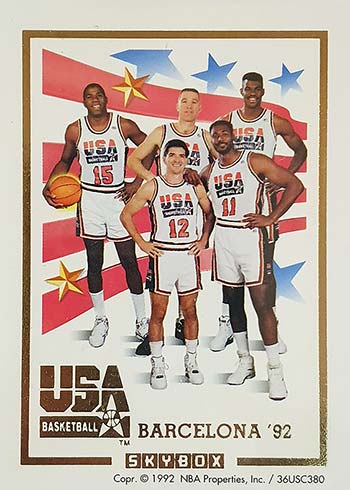 Although he's not available in packs, a Clyde Drexler card was available through a mail-away offer. To receive one, collectors had to send in ten Series 2 wrappers and $1.00. A total of 10,000 of the Drexler cards were available.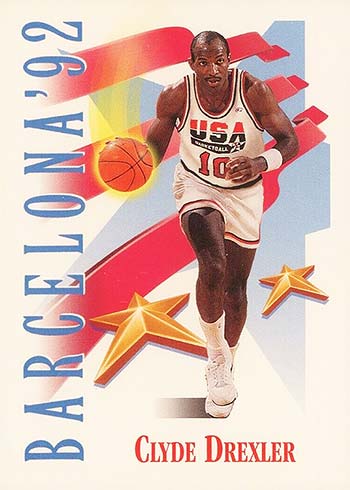 1991-92 SkyBox Mark and See Minis
Buy on:
The SkyBox USA cards were shrunken down and included in a couple of Olympic-themed activity booklets. All 14 total cards were included in the books in the form of perforated sheets. When separated, the standard player cards measure 2 1/4 by 2 3/4 inches. A team photo is also available. In one book, it can be separated into three individual cards. For the other, it's one larger panoramic card measuring 7 1/4 by 3 1/2.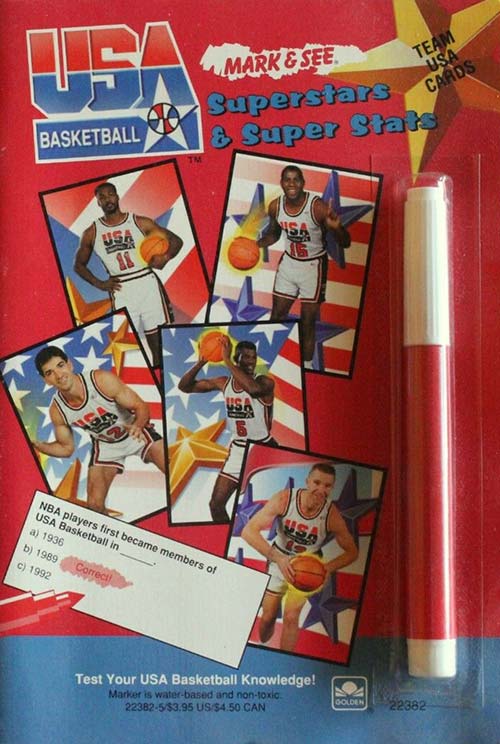 These are some of the toughest 1992 Dream Team cards released for the Olympics. For starters, they were part of a pair of magic marker activity books geared at young children. Similar to a sticker book, they were meant to be used.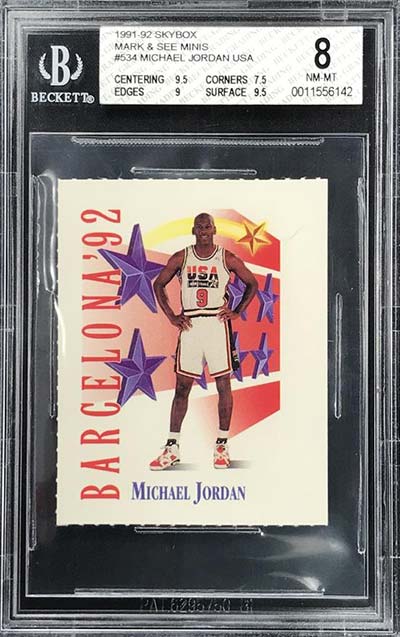 Even those that may have survived the backseat drives to the grocery store and grandma's, there's also the perforated sheet factor. Like Sports Illustrated for Kids cards, they had to be separated carefully to avoid small tears and creases. The thinner stock doesn't help matters, either.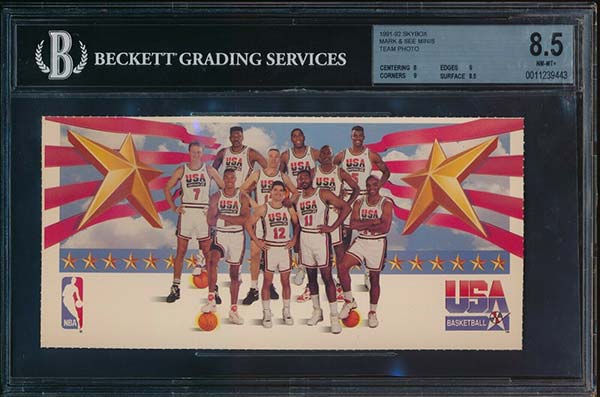 1992 Impel U.S. Olympic Hopefuls
Buy on:
As a whole, 1992 Impel U.S. Olympic Hopefuls (also known as U.S. Olympicards) covers a lot more than just basketball. Just 11 of the checklist's 110 cards are focused on the Dream Team. Still, they're a key part of the multi-sport product. That said, the most valuable card in the set belongs to boxer Oscar de la Hoya.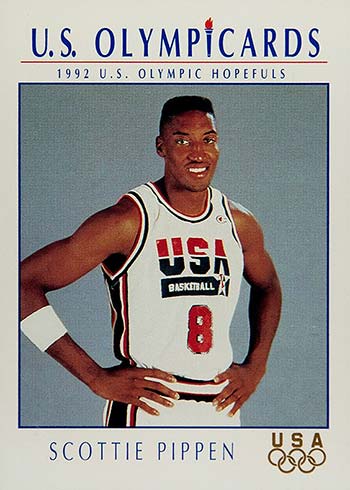 1992 SkyBox USA
Buy on:
Although this full standalone release focuses on the 1992 U.S. Olympic Men's Basketball team, there's only one that actually shows players in their USA Basketball uniforms — and it's an insert.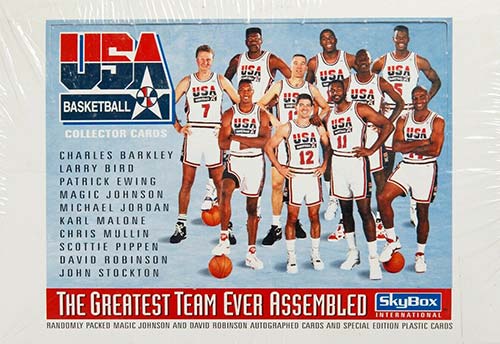 The main set has 110 cards. The first ten players each have nine cards, acting as a resumé of sorts. Cards breakdown individual accolades and accomplishments. It's also perfect for nine-pocket pages. Players, though, are all pictured in NBA uniforms, not the ones they'd wear in Barcelona. The four coaches each have two cards. A pair of checklists follow. The base set rounds out with Magic Johnson offering his thoughts on his teammates.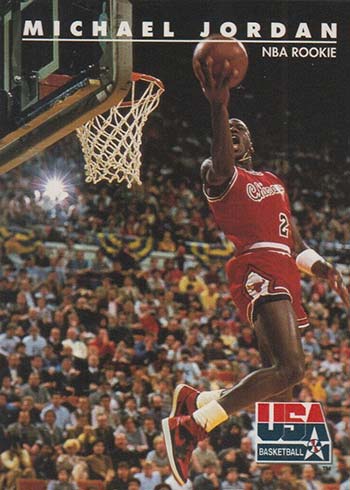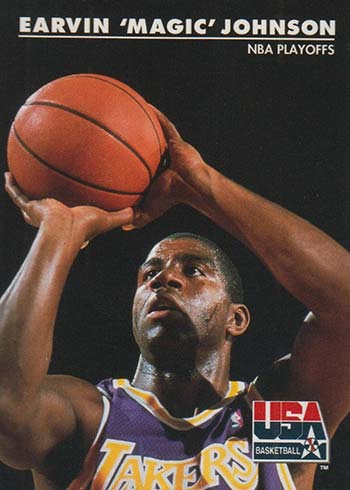 A team card, which is on plastic stock, is where the Olympic threads come in.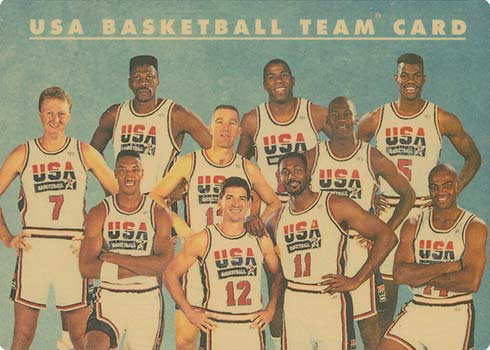 1992-93 Hoops "Tournament of the Americas"
Buy on:
Technically, this 12-card subset centers on the Olympic-qualifying tournament that marked the Dream Team's international debut. Like the Olympics, USA dominated from start to finish and made it to Barcelona with ease. These cards are part of 1992-93 Hoops Series 1 checklist.
Series 1 packs also have a team card.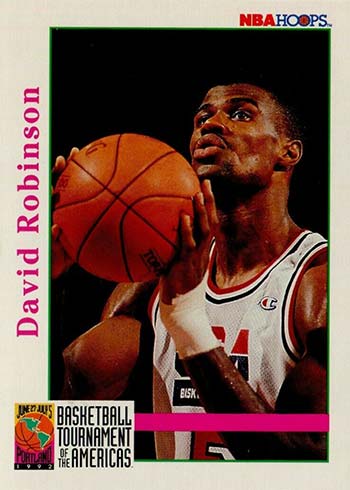 1992-93 SkyBox Olympic Team
Buy on:
Running under the theme of "The Road to Gold," this 12-card insert set highlights everything from exhibition games leading up to Barcelona through to the gold medal. Each Dream Team member appears on their own card. Found in Series 1, these are fairly easy pulls at 1:6 packs.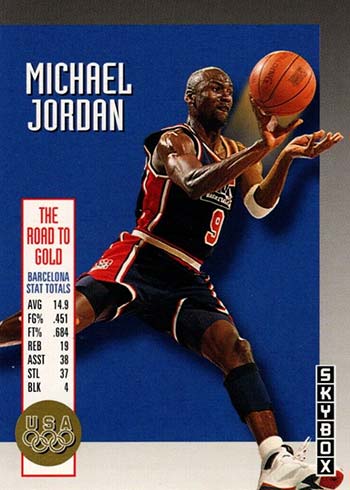 1993-94 SkyBox Premium USA Tip-Off
Buy on:
This insert set, only available through a redemption trade card found in Series 2 packs, is kind of like a passing of the torch. Eleven of the set's 13 cards pair a 1992 Dream Team member with a counterpart representing the United States at the 1994 FIBA World Championships. Michael Jordan is the only player from the 1992 Olympics not to appear here while Tim Hardaway and Isiah Thomas each have solo cards.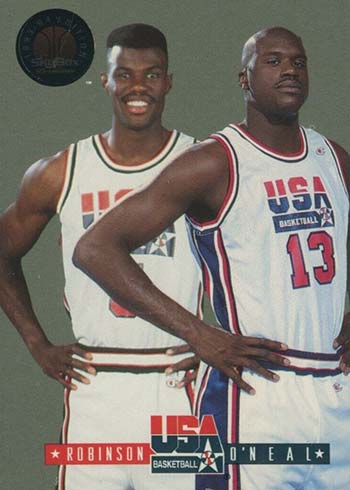 Modern Sets
Since they started producing basketball cards in 2009-10, Panini has worked USA Basketball cards into several products in a variety of ways. Base cards, inserts, autographs and memorabilia cards have all brought modern spins to the USA Basketball program. Not all are exclusive to Dream Team members, but many of the 12 players have been featured on new cards over the years.
Starting in 2014-15 and moving up through the years, several Panini Flawless set have included both autographs and rare base gem cards. Other places to find Dream Team signatures include 2014-15 Panini Eminence, 2015-16 National Treasures, 2017-18 and 2018-19 Flawless, and 2017-18 and 2018-19 Opulence.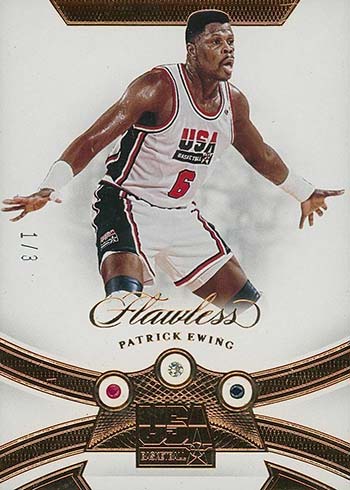 2019-20 Eminence has scarce Dual Autographs with such iconic pairings as Magic Johnson and Larry Bird, Karl Malone and John Stockton, and Charles Barkley and David Robinson.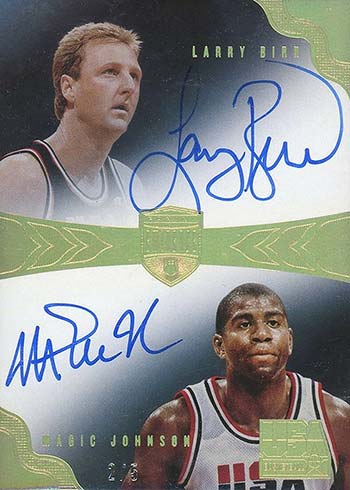 For those who like to build massive player rainbows, 2019-20 and 2020-21 Panini Mosaic both have Dream Team members in the base set. That means lots of parallels as well.
If sports cards were a way to quantify the greatest teams of all time, the scope, longevity and ongoing popularity of cards highlighting the 1992 USA Men's Olympic Basketball members is proof that they're one of the best ever — if not the best.