1992 Upper Deck Denny's Holograms Baseball
Most of the time, Denny's is a matter of convenience and not necessarily pleasant memories. But there was that period in the 1990s when it became a destination of sorts for baseball card collectors. 1992 Upper Deck Denny's Holograms marked the second year of the promotion, offering up a fresh batch of cards alongside pancakes, scrambled eggs and sausages.
Every MLB team is represented on the checklist. Keeping with "grand slam" theme, every player in the set hit one of the bases-clearing homers. Highlights include Cal Ripken Jr., Albert Belle, Fred McGriff and Ryne Sandberg.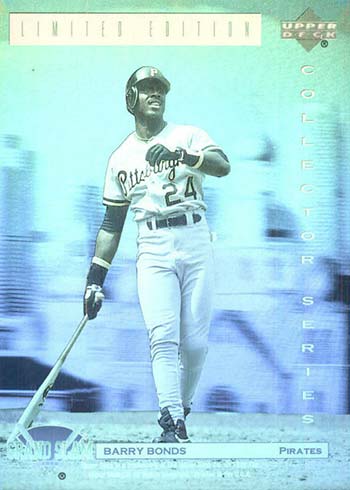 There's also Barry Bonds who starred in a television commercial for the set as well.
Like 1991, card fronts are done as full bleed holograms. They're not the greatest quality that Upper Deck ever did, but there's definitely a premium insert sort of feel to them. It's an angle that helped make the promotion so memorable as well.
Backs are text-heavy, giving some background on the player's grand slam prowess and background on their big hits.
Pack Distribution
Single-card packs were free to those buying a Denny's Grand Slam entree along with a Coke.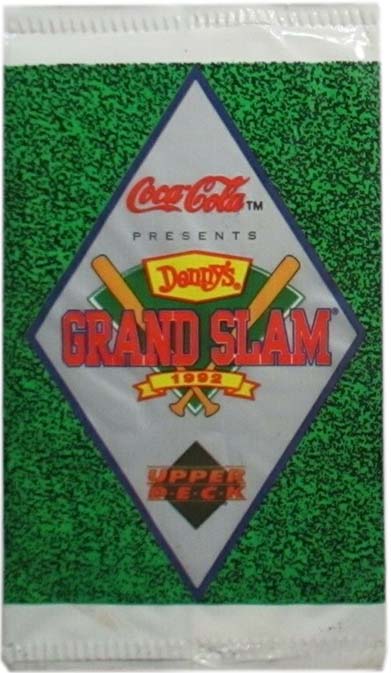 The set also has a custom mini binder to hold the set. It's mostly white with a holographic label on the front and four-slot pages inside.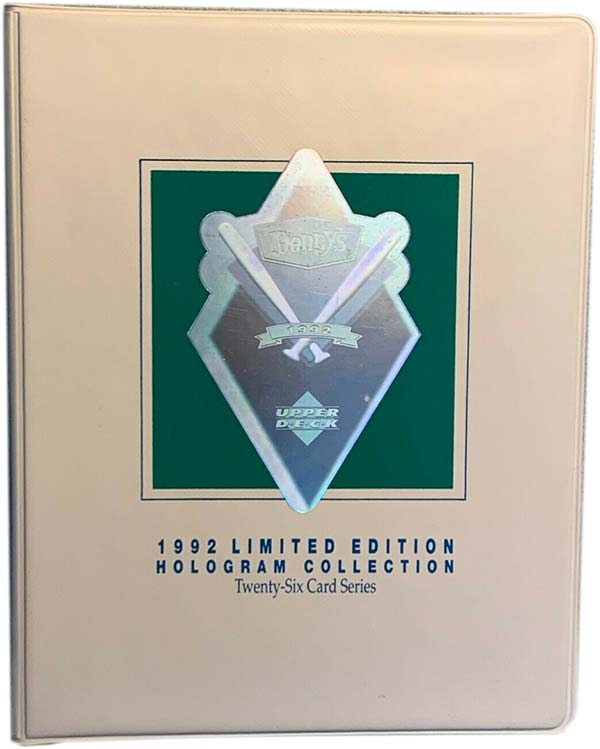 This was a major promotion so there are lots of 1992 Denny's baseball cards out there. While a handful of players command slight premiums, most can be found for a couple of dollars or less. The thing to watch for is the surface. Holograms can scratch easily and when they do, it's often easy to see.
For most, Upper Deck Denny's baseball cards are about fun more than value. They're a throwback to a time where the food was likely average. But for a lot of kids outgrowing fast food kid's meals that came with bootleg holograms or Garfield riding on a scooter, it was a welcome change.
1992 Upper Deck Denny's Holograms Baseball cards at a glance:
Check 1992 Upper Deck Denny's Holograms values in the Beckett Price Guide.
Cards per pack: 1
Set size: 26 cards
Shop for 1992 Upper Deck Denny's Holograms Baseball packs on eBay.
1992 Upper Deck Denny's Holograms Baseball Checklist
26 cards.
Buy on: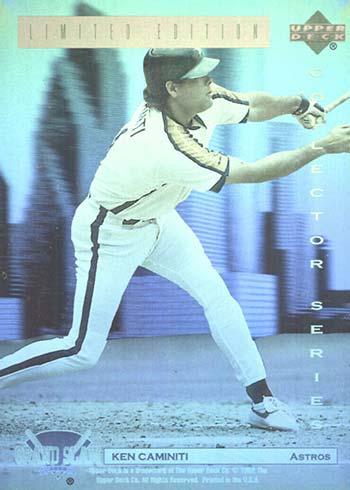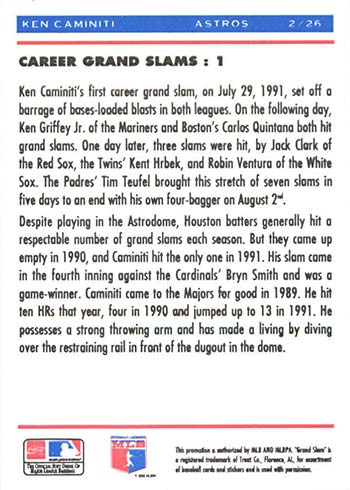 1 Marquis Grissom, Montreal Expos
2 Ken Caminiti, Houston Astros
3 Fred McGriff, San Diego Padres
4 Felix Jose, St. Louis Cardinals
5 Jack Clark, Boston Red Sox
6 Albert Belle, Cleveland Indians
7 Sid Bream, Atlanta Braves
8 Robin Ventura, Chicago White Sox
9 Cal Ripken Jr., Baltimore Orioles
10 Ryne Sandberg, Chicago Cubs
11 Paul O'Neill, Cincinnati Reds
12 Luis Polonia, California Angels
13 Cecil Fielder, Detroit Tigers
14 Kal Daniels, Los Angels Dodgers
15 Brian McRae, Kansas City Royals
16 Howard Johnson, New York Mets
17 Greg Vaughn, Milwaukee Brewers
18 Dale Murphy, Philadelphia Phillies
19 Kent Hrbek, Minnesota Twins
20 Barry Bonds, Pittsburgh Pirates
21 Matt Nokes, New York Yankees
22 Jose Canseco, Oakland Athletics
23 Jay Buhner, Seattle Mariners
24 Will Clark, San Francisco Giants
25 Ruben Sierra, Texas Rangers
26 Joe Carter, Toronto Blue Jays